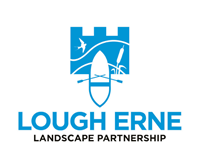 Legacy of Landscape: The People & Heritage of Lough Erne
The Lough Erne Landscape Partnership (LELP) invites you to join us at the virtual launch of our exciting new two-year engagement programme – Legacy of Landscape: The People and Heritage of Lough Erne on Thursday 19th May at 7:30 pm, with guest speaker Ciaran McMenamin – Fermanagh native, author and actor. This event will explore our new project, which is focussed on discovering, celebrating and preserving the culture and traditions of the Lough Erne region, both past and present.
Supported through funding from the National Lottery Heritage Fund and the Community Foundation Northern Ireland, this project will be delivered in collaboration with the Centre for Community Archaeology (CCA) and the Centre for Data Digitisation and Analysis (CDDA) at Queen's University Belfast. The initiative focusses on the built and cultural heritage of Lough Erne, and volunteers can enrol to get access to a suite of FREE 'at home' learning opportunities where they can develop and learn new skills and share valuable stories, capturing and promoting the unique and special heritage of the Erne's landscape and communities. Having completed their online training, our volunteers will have the opportunity to put into practice the skills they have learned in the virtual classroom through fieldwork and engagement.
Elmarie Swanepoel, LELP Programme Manager, says 'We are really pleased to now launch this exciting suite of projects in partnership with QUB. It is going to be an exciting programme; working closely with the local communities that treasure the key heritage assets and special memories with opportunities for people to participate in various learning events and site based activities.'
There are 5 key heritage studies within the programme that are focused around the themes of:
Memories: Life on the Erne
Studying Vernacular Buildings
Enniskillen: The Development of the Island Town
Mapping the Built Heritage of the Islands
Power & Pageantry: Exploring Fermanagh in the Times of the Maguires
In order to address the current restrictions due to the pandemic, the collective QUB team have developed the LELP Online Heritage Campus. Spearheaded by Dr Siobhán McDermott, this exciting new online learning experience offers you a FREE course of five four-week long 'toolkits' or virtual learning experiences that enable you as volunteers to receive tuition from the safety of your own home! All we ask of you is your email address so we can enrol you and that you have a good internet connection to enjoy what we have prepared for you!
Perhaps you have always wanted to learn how to record a good oral history interview? Maybe you would love to know how to read the architecture of a building, even how to record a building? Would you like to know more about island life on the Erne? Have you got stories and memories to share with us? Throughout this two-year project (lockdown restrictions permitting), in addition to our learning sessions, there will be opportunities to participate in the field with archaeological excavations, site visits, buildings recording field schools, as well as a lecture series, online talks, and your chance to contribute towards the development of a dynamic and interactive 'Memory Map', showcasing the rich and unique cultural heritage of the Erne.
So, what do we expect from you? All we expect is an enthusiastic attitude and an interest in conserving and promoting the heritage of the region. Our online tutors will be available to help, advise, and support you from 10am-4pm Monday to Friday. You do not need to have any previous experience in any of our topics. We will see you through!
JOIN US!!
Please join us to hear more about our project on Wednesday 19th May. Our guest speaker, Ciaran McMenamin, will treat us to a reading from his latest book The Sunken Road, in addition to excerpts from his 2017 novel Skintown, sharing with us how the landscapes of Lough Erne have influenced his writing. Amongst musical interludes from Fermanagh singer songwriter Sean Magee, we are also delighted to be joined by Professor Eileen Murphy, Professor of Archaeology at the School of Natural and Built Environment at Queen's University Belfast, and a native of the county, who will provide more information about the innovative work we will be undertaking around Fermanagh.
To register visit https://www.lelp.org.uk/legacy-of-landscape/
For further details about the project, or how to register as a volunteer, please contact:
HAZEL LONG
Heritage Project Manager
Lough Erne Landscape Partnership
Email: hazel.long@rspb.org.uk
Tel: 07548155351
Dr Siobhan McDermott: "We're delighted to be able to offer this resource to people of Lough Erne and Fermanagh. Having worked closely with local communities over the years we know that there is so much important local knowledge out there and we would love to see these toolkits help empower volunteers to connect with their heritage. There are so many exciting things to learn about from Oral History collection, recording old buildings, identifying the heritage of the island and of course, archaeological excavation. It is free and online which makes it all very accessible."
For further information on any of our project partners, please visit:
Lough Erne Landscape Partnership,
Centre for Community Archaeology
Centre for Data Digitisation and Analysis


---
Andrew Jackson VR Tour!
Please visit the Andrew Jackson Cottage VR model which highlights Carrickfergus' strong American and Ulster-Scots connections as well as telling the story of Andrew Jackson, the 7th President of the USA, whose parents emigrated to America from Carrickfergus in 1765.
Museums might remain closed but that doesn't mean you have to miss out!
You can visit the US Rangers Museum, Carrickfergus, from the comfort of your own home with this amazing new virtual tour by clicking here.
This model was designed and created by the Centre for Data Digitisation and Analysis, Queen's University Belfast, to see other VR models click here or for more information contact Anthony Anderson @ a.anderson@qub.ac.uk
---