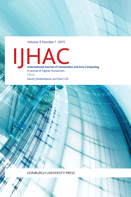 The Centre is not simply a not for profit digitisation unit. We reside in an academic department at Queen's University and carry out significant research using the resources we create.
Centre staff have published widely including two monographs with Cambridge University Press – Rival Jerusalems: The Geography of Victorian Religion and Historical GIS: Technologies, Methodologies and Scholarship. In addition several other books have been published, bespoke educational software created and many journal articles written. Our research publications are both methodological – such as the innovative use of GIS – and address substantive research issues such as work on religion. In addition the Centre holds the editorship of The International Journal of Humanities and Arts Computing published by Edinburgh University Press.
CDDA acts as an advocate for digital resources, particularly in the Humanities, and members of the team regularly serve on national and international committees including the ICT Methods Network, the UC Berkeley based Electronic Cultural Atlas Initiative Management Committee, the JISC Digitisation Advisory Committee, and the European Science Foundation Review Group.
As well as our membership of the ICT Network of Expert Centres we work with some of the leading institutions in the world. We have Memoranda of Understanding with the University of California Berkeley, Indiana University Purdue University Indianapolis and Academia Sinica in Taiwan. We actively work with colleagues at Kings College London, Stanford University and Harvard University, the Northern Ireland Statistical Research Agency, CMC India, the National Archives Ireland, as well as collaborating with the Royal Irish Academy in Dublin.