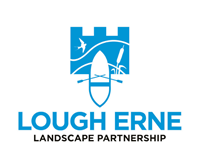 Legacy of Landscape: The People & Heritage of Lough Erne
The Lough Erne Landscape Partnership (LELP) invites you to join us at the virtual launch of our exciting new two-year engagement programme – Legacy of Landscape: The People and Heritage of Lough Erne on Thursday 19th May at 7:30 pm, with guest speaker Ciaran McMenamin – Fermanagh native, author and actor. This event will explore our new project, which is focussed on discovering, celebrating and preserving the culture and traditions of the Lough Erne region, both past and present.
Supported through funding from the National Lottery Heritage Fund and the Community Foundation Northern Ireland, this project will be delivered in collaboration with the Centre for Community Archaeology (CCA) and the Centre for Data Digitisation and Analysis (CDDA) at Queen's University Belfast. The initiative focusses on the built and cultural heritage of Lough Erne, and volunteers can enrol to get access to a suite of FREE 'at home' learning opportunities where they can develop and learn new skills and share valuable stories, capturing and promoting the unique and special heritage of the Erne's landscape and communities. Having completed their online training, our volunteers will have the opportunity to put into practice the skills they have learned in the virtual classroom through fieldwork and engagement.
Elmarie Swanepoel, LELP Programme Manager, says 'We are really pleased to now launch this exciting suite of projects in partnership with QUB. It is going to be an exciting programme; working closely with the local communities that treasure the key heritage assets and special memories with opportunities for people to participate in various learning events and site based activities.'
There are 5 key heritage studies within the programme that are focused around the themes of:
Memories: Life on the Erne
Studying Vernacular Buildings
Enniskillen: The Development of the Island Town
Mapping the Built Heritage of the Islands
Power & Pageantry: Exploring Fermanagh in the Times of the Maguires
In order to address the current restrictions due to the pandemic, the collective QUB team have developed the LELP Online Heritage Campus. Spearheaded by Dr Siobhán McDermott, this exciting new online learning experience offers you a FREE course of five four-week long 'toolkits' or virtual learning experiences that enable you as volunteers to receive tuition from the safety of your own home! All we ask of you is your email address so we can enrol you and that you have a good internet connection to enjoy what we have prepared for you!
Perhaps you have always wanted to learn how to record a good oral history interview? Maybe you would love to know how to read the architecture of a building, even how to record a building? Would you like to know more about island life on the Erne? Have you got stories and memories to share with us? Throughout this two-year project (lockdown restrictions permitting), in addition to our learning sessions, there will be opportunities to participate in the field with archaeological excavations, site visits, buildings recording field schools, as well as a lecture series, online talks, and your chance to contribute towards the development of a dynamic and interactive 'Memory Map', showcasing the rich and unique cultural heritage of the Erne.
So, what do we expect from you? All we expect is an enthusiastic attitude and an interest in conserving and promoting the heritage of the region. Our online tutors will be available to help, advise, and support you from 10am-4pm Monday to Friday. You do not need to have any previous experience in any of our topics. We will see you through!
JOIN US!!
Please click here for further information on the projects and how to register as a volunteer or contact:
HAZEL LONG
Heritage Project Manager
Lough Erne Landscape Partnership
Email: hazel.long@rspb.org.uk
Tel: 07548155351
Dr Siobhan McDermott: "We're delighted to be able to offer this resource to people of Lough Erne and Fermanagh. Having worked closely with local communities over the years we know that there is so much important local knowledge out there and we would love to see these toolkits help empower volunteers to connect with their heritage. There are so many exciting things to learn about from Oral History collection, recording old buildings, identifying the heritage of the island and of course, archaeological excavation. It is free and online which makes it all very accessible."
For further information on any of our project partners, please visit:
Lough Erne Landscape Partnership,
Centre for Community Archaeology
Centre for Data Digitisation and Analysis


---
Staff from the Centre for Data Digitisation and Analysis are currently working on a number of projects, some grant funded, others on a commercial contract basis. Details of these projects are listed below. Some have their own WWW pages. Please look Services and Outputs and see how the Unit can help support your project.
National Council for Voluntary Organisations (NCVO)
The National Council for Voluntary Organisations (NCVO) is the umbrella body for the voluntary and community sector in England. NCVO works to support the voluntary and community sector and to create an environment in which an independent civil society can flourish. NCVO has a membership of over 10,000 voluntary organisations. These range from large national bodies to community groups, volunteer centres, and development agencies working at a local level.

Testimonial

"CDDA have provided a first-class service for us for five years, turning charity account PDFs into useful data, which we use to produce up-to-date statistics on the UK's voluntary sector. CDDA's dedication and attention to detail have been a real asset to our project."


David Kane
Senior Research Officer, NCVO
---
Digitising Scotland
14 million birth records, 4 million marriage records and 11 million death records will be processed by the Digitising Scotland project

The University of Edinburgh Longitudinal Study Centre – Scotland (LSCS) has received funding from the ESRC to create a multidisciplinary research database from historical vital events records. The Digitising Scotland (DS) project will digitise up to 24 million Scottish vital events record images (births, marriages and deaths) since 1856. This will allow research access to individual-level information on some 18 million individuals – a large proportion of those who have lived in Scotland since 1856. At the moment these records are kept as indexed images accessible from Scotland's People, but this means that to extract data for research projects a researcher must first search for an individual record by name, and then manually transcribe the information they need themselves (eg cause of death, occupation, etc). This has made any large-scale research project impossible – a situation that the Digitising Scotland project will change.

Work Packages

The project contains 4 work packages:

Digitising birth, marriages and death vital events records from 1856 to 1973.
Standardising and coding occupation descriptions to the Historical International Standard Classification of Occupations (HISCO).
Standardising and coding all deaths to the International Classification of Disease – 10 (ICD-10).
Linking address information to consistent geographies through time.

For further information please visit :- http://www.lscs.ac.uk/projects/digitising-scotland/
---
Heritage Hub
The Heritage Hub is an initiative that forms part of the University's 'Engaged Research' strategy and programme.

The aim of the Hub is to connect external heritage groups, organisations and bodies to university-based researchers, both at Queen's as well as more widely across the university and HE sector, within Northern Ireland, the UK, Ireland and beyond.

Bridging across Faculty structures and disciplines, the Heritage Hub welcomes all to share our experiences and expertise of heritage research practice and projects, through workshops, events, outreach, training, for mutual benefit, promoting a common belief in 'heritage for all'.

The Heritage Hub @ QUB is the point of contact for all from the wider community interested in how the past lives on today. This invitation is all-encompassing, for community groups, individuals, as well as policy-makers and professionals across the heritage sector, spanning cultural, natural and built heritage.

At the core of Heritage Hub is a group of like-minded researchers from different subjects and disciplines at Queen's, whose interests in heritage are reflected in our Hub's six themes. Each of the themes has a pair of academic leads, and each is open to all those wishing to get involved with our Hub's networks, events and projects.

The Hub is coordinated by Professor Keith Lilley, and the Hub themes are coordinated by Dr Leonie Hannan, Professor Audrey Horning, Dr M. Satish Kumar, Dr Agustina Martire, Dr Will Megarry, and Dr Olwen Purdue.
---
Young Life and Times (Northern Ireland) Survey
All too often the opinions of young people are ignored when decisions are made about many of the issues involving them.

However, the Young Life and Times Survey gives young people the chance to tell us about their experiences of school, and their views on politics, sectarianism and other social issues.

By inviting respondents to suggest topics for the next year's survey, we make sure that the issues covered are relevant to the lives of young people in Northern Ireland today.

From 1998 to 2000, Young Life and Times sought the views of all 12 to 17 year olds living in the same household as respondent to the Northern Ireland Life and Times survey.

However, in 2003, the aims and methodology of the survey were changed. From 2003 onwards, Young Life and Times will record the attitudes of 16 year olds only. Further details can be found in the technical notes of the survey.

Questions within the survey are grouped into modules. The range of modules varies from year to year.

Whether you are at school or at college, work in the media, government or voluntary sector, or whether you are just interested in what the people of Northern Ireland think about the issues of the day, we hope you find something useful in this web-site. Browse the web-site and find out.

Testimonial

'I direct Young Life and Times (YLT) – an annual postal attitude survey of 16 year olds. It is in its 13th year now, which makes it one of the longest running surveys of this nature in the UK and Ireland. CDDA has been contracted to undertake the survey data digitisation for YLT for the last two years – a task which had previous been undertaken by contractors in England. YLT really benefitted from moving data digitisation and input to CDDA. Not only provide they a high data quality, follow a rigorous protocol in terms of data security and have local knowledge which improves data accuracy, but the close proximity of CDDA also meant that we saved time and any queries could be resolved face-to-face very quickly.'

Dirk Schubotz (YLT Director)
---
Heritage NI
| | |
| --- | --- |
| | Heritage NI is for all those interested in exploring the past through getting involved in heritage events and programmes, festivals and outreach activities across Northern Ireland and beyond. |
---
Inniskillings Museum
The Inniskillings Museum is an accredited museum and a registered charity located at Enniskillen Castle in County Fermanagh, Northern Ireland. The museum has an extensive collection relating to the two Inniskilling regiments raised in 1688 - the Royal Inniskillings Fusiliers and the 5th Royal Inniskilling Dragoon Guards. The museum collection comprises more than 30,000 artefacts and 150,000 paper and print archives from all around the world.

Project Aim
This project will aim to create and deliver digital representations of irreplaceable historical documents, letters, diaries, maps and photographs relating to the Royal Inniskilling Fusiliers, in order to improve access to, and foster a greater understanding of, the materials held in the museum's archives. The pre-1900 archives are at greatest risk primarily due to their age, but also due to their use and storage over the past decades, and it is this collection of unique and irreplaceable documents that Access Inniskillings will focus on.

Project Outputs

Digitisation of all pre-1900 paper, print and photographic archives.
Successful protection and storage of the original archives.
Increased numbers of visitors accessing the museum library & archive suite to view the digitised archives.
New online visitors accessing the digitised archives.
Increased numbers of cross-community organisations in County Fermanagh engaging with the Inniskillings Museum annually as a direct result of this project.
Post regular updates to the museum Twitter account on the progress of the project.
Publish an online Story Map with links to digital facsimiles of original archives relating to the Fermanagh Light Infantry recruits and their homes between 1853 and 1865.
Deliver 2 community engagement events per annum showcasing a behind-the-scenes look at the ongoing preservation and digitisation of the museum archives.
Prepare and launch an online exhibition focusing on the preservation and digitisation of the museum archives.
Prepare and launch 2 online exhibitions focusing on archives from the Battle of Waterloo and the Crimean War.
Increase the number of new volunteers enlisted at the Inniskillings Museum through LELP.
Provide training for museum volunteers to deliver Access Inniskillings.
Create a dedicated workspace with an overhead cradle scanner for future digitisation of newly acquired archives by museum staff and volunteers.
Increase in volunteer hours engaged with Access Inniskillings.
---