WW1 AND YOU - Objects, Memories, Resources (Mellon Centre for Migration Studies at the Ulster American Folk Park) (19/11/2014)
No Elephants Allowed (05/11/2014)
WW1 AND YOU - Objects, Memories, Resources (Derry Central Library) (23/10/2014)
East Belfast and The Great War (03/10/2014)
First World War Conservation Open Day, Newry (13/09/2014)
Air Waves Portrush : BBC World War One at Home (07/09/2014)
Air Waves Portrush : BBC World War One at Home (06/09/2014)
Donaghadee Historical Society Roadshow (15/08/2014)
---
WW1 AND YOU - Objects, Memories, Resources
(Mellon Centre for Migration Studies at the Ulster American Folk Park)
On Wednesday 19th November, the Living Legacies team travelled to the Mellon Centre for Migration Studies (MCMS), part of Libraries NI's national network of public libraries
(http://www.nmni.com/uafp/Collections/Emigration/Centre-for-Migration-Studies).
The Centre hosts a world-leading collection on Irish migration and diaspora.
Our roadshow included a series of lectures, given by Dr. Johanne Devlin-Trew, a migration studies specialist from Ulster University, Dr. Colm Donnelly, a historical archaelogist from QUB, Professor Elizabeth Crooke, a museum studies academic from Ulster University, and a series of talks were also delivered by local historians. Philip Faithfull kindly brought along items from his own personal collection, some of which we digitised.
‌
‌
Dr. Johanne Devlin-Trew
Dr Colm Donnelly
Professor Elizabeth Crooke

Dr.

Brian

Lambkin
We received tremendously positive feedback from attendees, who filled the Centre from 11am-4pm. We are grateful to those who came along and shared their stories and objects.
‌
No Elephants Allowed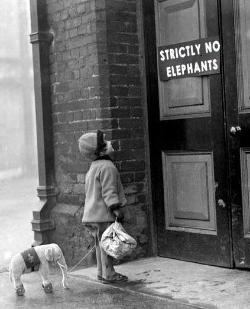 On Wednesday 5th November, the digitisation team and museums expert Professor Elizabeth Crooke, travelled to Linenhall Library in Belfast City centre. We were joined by staff from the Somme Museum, PRONI, NI War Memorial, the Genealogical Society of Ireland and NI Libraries for a public engagement event which invited members of the public to come along and discuss their connection to, and understanding of, the First World War
We were delighted to once again receive a number of interesting objects from members of the public, the most notable of which was a soldier's notebook from a series of lessons on explosives. The notebook contained careful notes made by the Royal Irish solider, along with complex sketches of grenades, missiles and other ordnance. We were able to digitise some sample images from the notebook and will be reviewing these for possible research use.
In addition to the public activity, we were pleased to avail of the opportunity to have productive and useful conversations with other institutions. We are planning a tour of the Somme Museum on the 2nd December to peruse their exhibition and discuss the potential of collaboration. We also made links with the Genealogical Society of Ireland (http://familyhistory.ie/wp/), an archival unit based in Dun Laoghaire in the Republic of Ireland. Furthermore, NI War Memorial kindly presented us with a copy of their new book. We hope to build upon these conversations and work alongside these contributors through the course of the Decade of Centenaries.
WW1 AND YOU - Objects, Memories, Resources (Derry Central Library)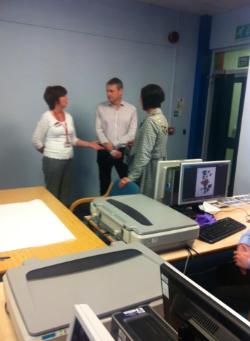 The Living Legacies team set off for Derry as part of our ongoing community engagement work. We arrived at Derry Cetral Library to begin a day-long workshop, entitled "WW1 and You: Objects, Resources, Memories". This was the first in a series of roadshows which we will be staging, in collaboration with Libraries NI.

The focus of the event was local history, and we had appealed to members of the public to bring along any WW1 memorabilia which they may have at home. Whilst one of our first objectives was the digitisation and preservation of these items, we had an additional research agenda. Dr. Johanne Devlin-Trew, one of the Centre CIs, specialises in oral histories, and thus was particularly interested in interrogating and capturing the associated memories which came with the physical objects.

We spent the day examining and discussing a range of objects and obtained some fascinating stories which we hope to build some research upon. We has a number of special visitors throughout the day, including the Mayor and a team from the BBC, who captured some excellent footage of one of our contributors working with Fiona Byrne, a museums expert.

We were incredibly impressed with the knowledge which was shared on the day and look forward to further cooperative work with NI Libraries.
Photo :
Brenda Stevenson (Mayor of Londonderry/Derry);

Ann Duffy (NI Libraries) and Paul Ell (Director of Centre for Data Digitisation and Analysis) dicussing the digitisation aspect of Living Legacies 1914-18.
East Belfast and The Great War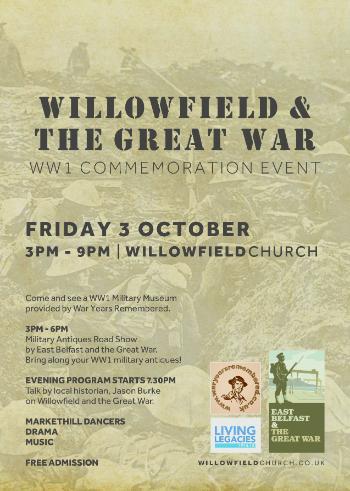 Willowfield Parish Church Military Antique Roadshow
On Friday 3rd October, the Living Legacies team were delighted to provide curatorial and digitisation support for East Belfast's first roadshow. Following the successful application for HLF funding, the East Belfast project has begun to take shape and engage with local communities to fulfl its research aims.
In order to build a complete archive of East Belfast's contribution to, and engagement with the war, the team have appealed to the public and asked for any WW1 memorobilia, stories and memories to be brought forward so that they can be recorded. This will be an ongoing process which Living Legacies, as Northern Ireland's only WW1 Engagement Centre, are pleased to facilitate and support.
Friday saw the first of these appeals come to fruitition as members of the public came forward with what had hitherto been privately held artefacts and objects. We worked hard to take high-resolution images of medals, bayonets, letters, prayer books and photographs. We also sought to capture and record the histories of those items, via interview with the owners of each object.
Willowfield Parish Church had carried out some excellent groundwork in distributing seven thousand leaflets to homes in the surrounding area and there was a great response to this appeal. Further, local newspaper the East Belfast Extra had featured an advert for the roadshow. In addition, EB &GW and Living Legacies had advertised the event via their respective websites and social media platforms. These combined efforts ensured a fantastic turnout and subsequent data capture.
Living Legacies, in collaboration with CDDA (Centre for Data Digitisation and Analysis), have held four public, interactive events to date, and each event has reinforced the powerful attachments which people have to the Great War and its legacy. The work which East Belfast and the Great War are doing will help to explore understandings of the war, whilst digitally archiving the physical objects and personal stories which are left behind.
Photos obtained from https://www.facebook.com/EastBelfastWW1/
First World War Conservation Open Day
13th September 2014 from 10.00 - 16.00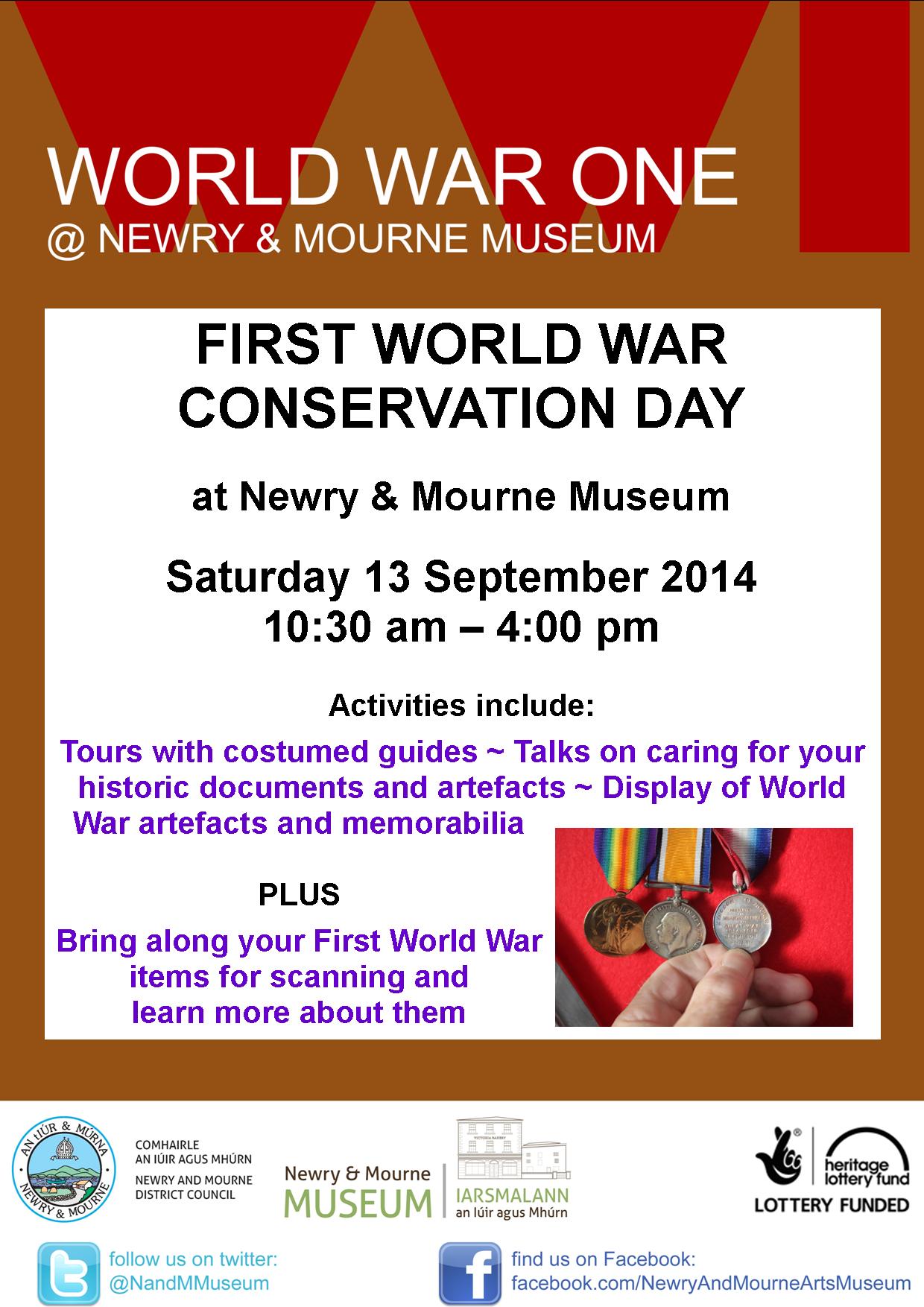 A First World War themed Conservation Open Day will be held at Newry and Mourne Museum on Saturday 13th September, 10:30 am – 4:00 pm, when members of the public can bring along their First World War items and can get advice on how to care for them. There will be tours of the Museum building by a costumed guide (in First World War uniform) at 10:30 am and 12 noon; a guided tour of the temporary exhibition on the "Local Impacts of the First World War" at 2pm, and a talk from 3pm–4pm by one of Ireland's leading conservators, Sean Madden. Sean will explain the best methods of caring for historic items. He will explain how to protect them from the damage that heat, light, dust and insects can cause, as well as discussing how to handle them properly, and how to store and display them in a conservation-friendly manner.
Cost: FREE
Contact: To book a place at any of the tours/talks telephone 028 3031 3173 / 028 3031 3182 or email:Robert.Whan@NewryAndMourne.gov.uk
Click for further infomation
Air Waves Portrush : BBC World War One at Home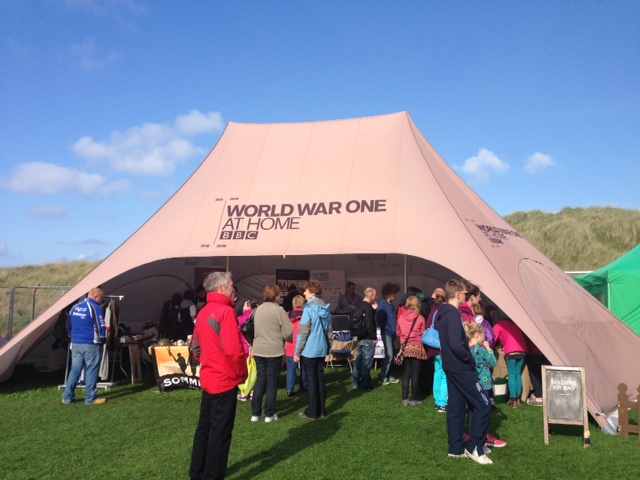 On Saturday 6th and Sunday 7th September, the Living Legacies team set off for Portrush. We had been invited to participate in one of the BBC's flagship 'World War One At Home' roadshows. The BBC held eight of these large-scale, flagship events across the UK, along with seventeen others. The flagship events were held in Wolverhampton, Woolwich, Sunderland, Dundee, Bristol, Rhyl, Nottingham and Portrush. The events were created so that, during this period of commemoration, members of the public could reflect upon the impacts and outcomes of WW1.
The site at Portrush housed a range of tents, groups and interactive stands. The Living Legacies team shared a tent with the Somme Association and the Royal British Legion. Castleton Lanterns were in the adjacent tent. We had brought along the mobile digitisation unit, provided by one of our partner organisations, CDDA (Centre for Data Digitisation and Analysis: http://www.qub.ac.uk/cdda/), so that members of the public could have their artefacts digitised if they wished. The scanners which CDDA own can take high-quality, high-resolution images of 2D items such as letters, photographs, maps and books. By doing this, images of the item can be shared across the internet with friends, family and other researchers. They can also be preserved indefinitely via an online archive or website.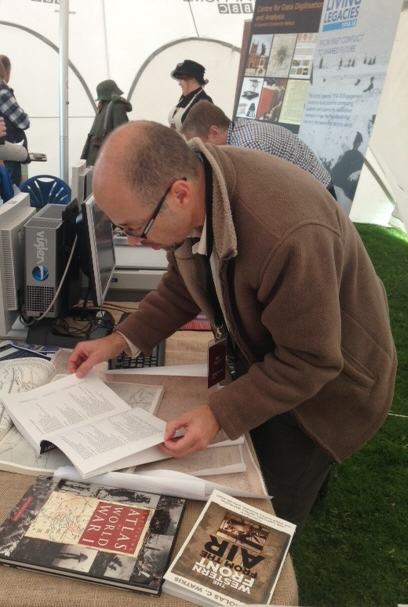 In addition, Dr. Keith Lilley, Principal Investigator for the project and Reader in Historical Geography, brought alone some trench maps to show how the Western front was not fixed, but rather shifted as the war progressed. One of the ways which the Centre hopes to encourage public engagement with WW1 legacy is to challenge popularly held conceptions and to reveal the complex nature of life on the Western front, as well as at home. The maps generated plenty of discussions as members of the public viewed the trench structures of well-known battles, such as the Somme, Guillemont, etc.
Our museums expert, Fiona Byrne, brought along some specialist materials which are used to properly conserve historical items such as letters, medals and photographs. Part of Fiona's role as Historical Engagement Officer is not only to discuss the historical context and rarity of the items which the public bring along, but also to give advice on their conservation. Many of our visitors mentioned that they had objects at home which they hoped to pass onto relatives and Fiona was able to explain how to ensure the items did not degrade over time.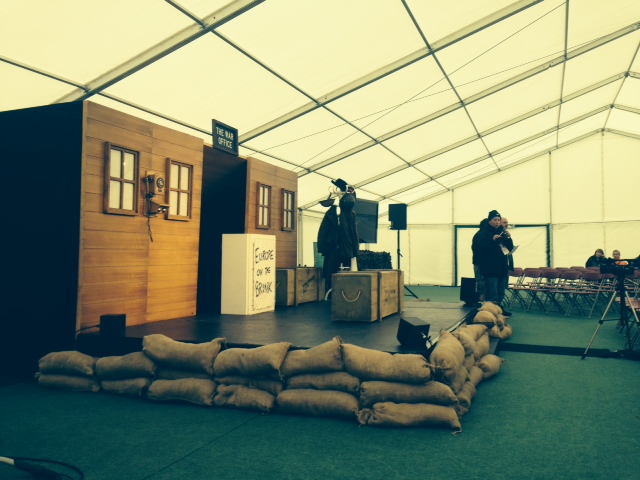 The Briefing Room was the focal point of the event, with a large tent being set up for experts to give talks and hold Q & A sessions with the public. On Sunday, Centre member Professor Richard Grayson delivered several expert lectures to interested members of the public.
The weekend was well-attended, with around 7,000 people being comfortably accommodated across the site. Several of the tents were aimed at younger people, with the Parading Square challenging youngsters to complete a mini assault course, under the watch of a drill Sergeant. In addition to this, there was a Morse Code tent with a Morse decoder, field telephones and communications equipment from the War. Imperial War Museums had partnered with the BBC and the AHRC (Art and Humanities Research Council) to host the events and IWM staff had a well-attended stand with an objects expert of their own.
We were delighted to attend the roadshow and extremely impressed by the level of public interest, across a range of ages, in the heritage which WW1 has left.
Living Legacies and Donaghadee Historical Society Roadshow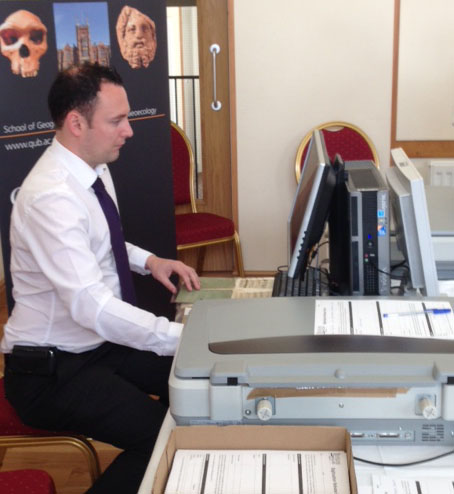 On Friday 15th August the Living Legacies team conducted its first roadshow in collaboration with Donaghadee Historical Society. The event was held at the 1st Presbyterian Church Hall in Donaghadee (many thanks to the ministers for their kindness in providing a venue). The Centre for Data Digitisation and Analysis (www.qub.ac.uk/cdda) provided an interactive stand, which included two high end flatbed scanners, associated computers, a high-resolution digital camera and two senior technical staff who were present to digitise and store materials. In addition to this, our newest member to the LL team, Fiona Byrne, our Historical Engagement Officer and a museums expert, was there on the day to provide advice on conserving artefacts.
The roadshow was part of a broader two week festival (Donaghadee Festival Fortnight) and Donaghadee Historical Society had advertised in advance, appealing to local people to bring along any artefacts which they had from the Great War. They had also brought along some of their own personal objects, giving a well-researched family history which we were able to digitise samples for them. We were delighted to see so many local people attend the event and bring along items which had been passed down through their families.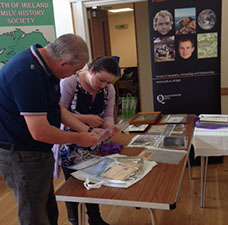 Fiona was able to discuss the history of each item and provided expert advice on conserving medals, letters and photographs. The digitisation team scanned and photographed each item and are in the process of sending the owner a digital copy for their own use.
‌As this was our first roadshow, we were keen to explore the levels of community engagement with WW1 heritage and Donaghadee set an incredibly high standard. Each person we spoke to had taken steps to research their relative's role in the war and were keen to seek our help in digitising and thus preserving their private artefacts. This is one of our primary roles as a centre and we look forward to working alongside interested publics, communities and individuals who wish to preserve and protect their WW1 heritage.