Extrusion
The Centre is equipped to carry out many different aspects of polymer extrusion on a range of modern, full scale equipment including the following:
Two Killion KN-150 extruders, 25mm screw diameter;
Two Killion KN-100 extruders, 38mm screw diameter;
Up to three-layer co-extrusion blown film capability, 350mm maximum lay flat tube width;
Up to five-layer co-extrusion tube production, 12mm maximum outside diameter;
Up to five-layer co-extrusion sheet and cast film extrusion, 550mm maximum finished width;
Extrusion coating and hot melt lamination line up to 550mm width;
Two 25mm diameter Dr Collin single screw extruders;
One 25mm Dr Collin co-rotating twin screw extruder;
Up to five layer sheet and cast film extrusion die, 250mm maximum width;
Up to five layer extrusion tube die, 10mm maximum outside diameter;
Hydraulically closed chill rolls, in three roll up stack configuration, 600mm maximum width with chill temperatures up to 130 degrees;
Two 20mm Dr Collin single screw satellite extruders;
A range of material specific screw designs available for all of the above extruders, including designs suitable for rigid and flexible PVC, Nylons and Linear Low Polyethylene.
All extrusion equipment is portable and can be configured to meet a wide range of specific industrial and academic requirements. The equipment is run and maintained by an experienced team of technicians and process engineers supported by die design/manufacture toolmakers in the School of Mechanical & Aerospace Engineering workshop.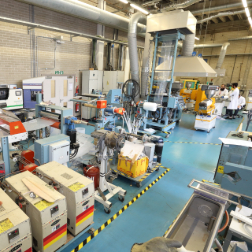 Extrusion Hall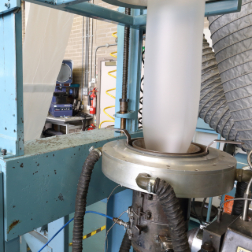 Blown Film Extrusion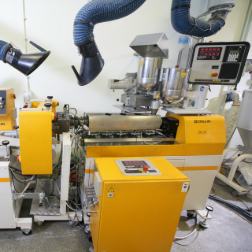 Collins Extruder Line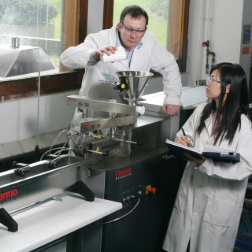 Thermo Fisher Haake Extruder