Analysis & Testing
The characterisation laboratories in the Centre are equipped with an extensive range of polymer analysis techniques catering for many of the thermal, rheological, mechanical and microscopic requirements of the polymer processing industry.
Problems such as:
Identification and classification of unknown materials and contaminants;
Polymer melt flow instabilities and defects in injection moulding and single/multilayer extrusions;
Optimisation of gas barrier behaviour of packages;
Heat seal optimisation for food and beverage packaging;
Impact strength of tanks and containers
can be explored using the range of equipment which includes:
Capillary Extrusion Rheometer;
Controlled Stress Rheometer;
Melt Flow Indexer (MFI);
Oxygen and Water Vapour Permeability (MOCON);
Mechanical Testers (tensile, flexural, compression, kink, tear, peel etc.);
Electronic Densimeter;
Differential Scanning Calorimeter (DSC);
Thermo Gravimetric Analysis (TGA);
Differential Mechanical Thermal Analysis (DMTA);
Charpy / Izod / Falling Dart Impact Testers;
Hardness Tester;
Coefficient of Friction Tester;
Surface Tensiometer;
Fourier Transform Infrared Spectrometer (FTIR);
Heat Sealer;
Shrinkage Tester;
Hot Stage Polarised Microscope;
Stereo Microscope;
Microtome;
Environmental Conditioning e.g. humidity cabinets, ovens, freezers to -40oC.
The Centre also has access to a range of complimentary techniques provided by colleagues in other laboratories in the University such as the Microscopy Unit in the School of Maths and Physics and the School of Natural and Built Environment.
These techniques include:
Scanning Electron Microscopy (SEM);
Transmission Electron Microscopy (TEM);
Atomic Force Microscopy (ATM);
Focused Ion Beam (FIB);
X-Ray Diffraction (XRD).
Analysis & Testing White Papers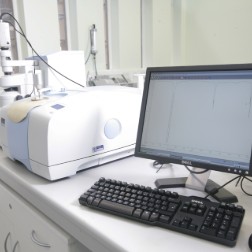 Fourier Transform Infrared Spectrometer (FTIR)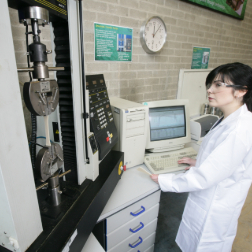 Mechanical Testing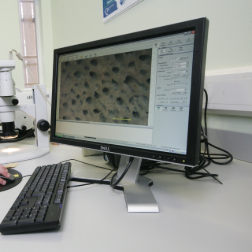 Stereo Microscope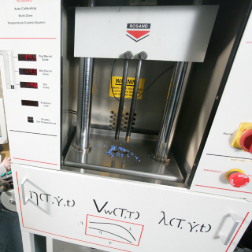 Capillary Extrusion Rheometer