Star international student overcomes adversity to graduate with PhD
Emanuel Patrick Quashie from St Vincent and the Grenadines in the Caribbean will graduate today with a PhD from the School of History, Anthropology, Philosophy and Politics at Queen's University.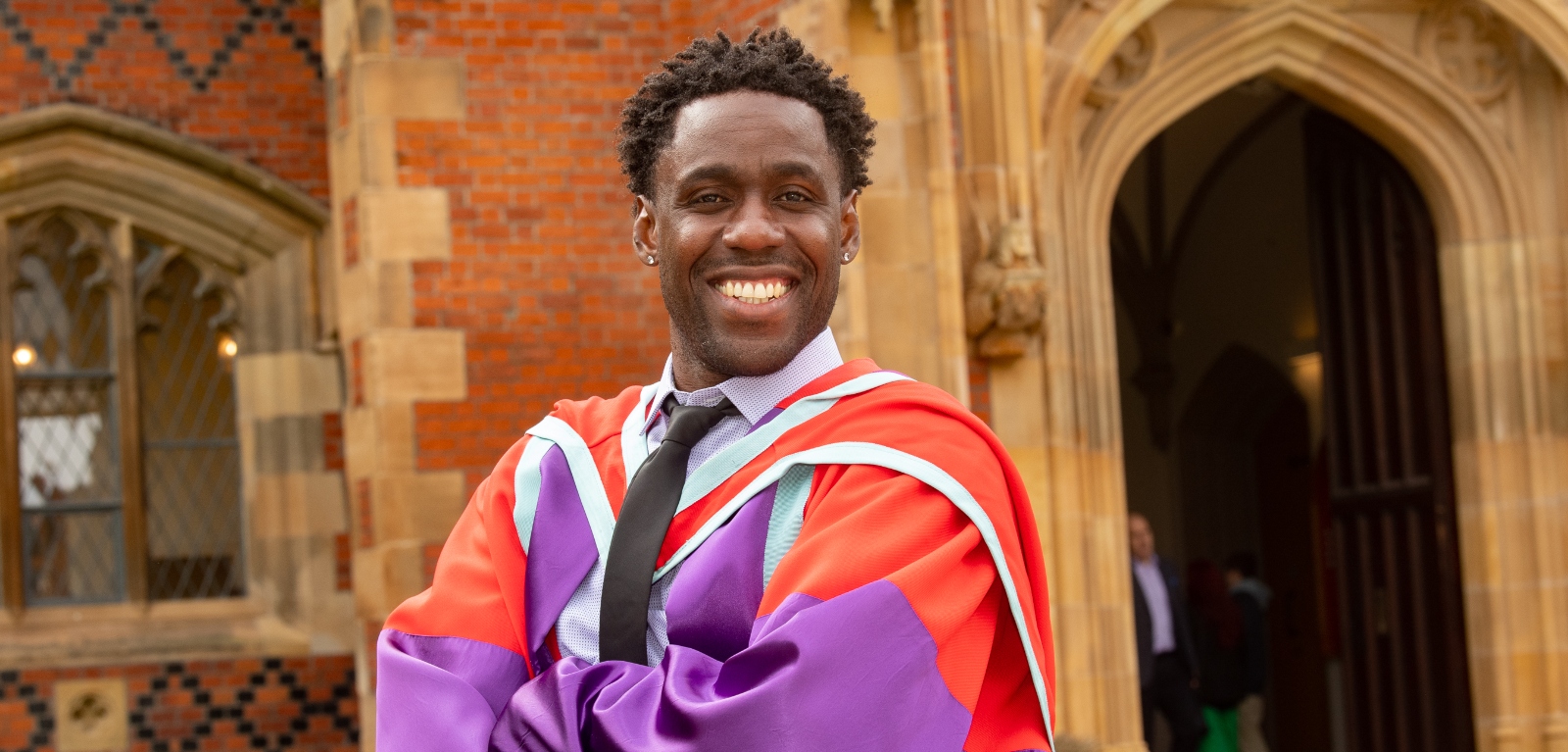 Emanuel has achieved incredible success as a student. He was the recipient of the highly competitive and prestigious UK Commonwealth Scholarship (2018). Before that, he received an award for completing his BSc in International Relations with First Class Honours and was also awarded the Departmental Graduate Staff Prize for Outstanding Final Research Paper in the International Relations concentration of the MSc Government programme.
Moreover, he successfully passed his PhD viva with no corrections. Emanuel said: "I fully enjoyed myself as a student at Queen's University. My supervisor Professor Richard English, administrative staff, library staff and Queen's accommodation staff made me feel like I was part of a family - a Queen's family."
Emanuel has had to overcome many obstacles in life to achieve his dream of getting his PhD. Originally from the small island of Bequia the second-largest island in the Grenadines, Emanuel resided on mainland St Vincent for most of his life.
Emanuel said: "Instability plagued the early years of my life as my mom was unwell, but I was lucky to be unofficially adopted by the most loving, caring and kind-hearted human being, Mrs Berkley and her three wonderful daughters. After living with them for a number of years, I was placed at the Liberty Lodge Boys Training Centre. The institution helped to instill important lessons in me that I have carried with me to this day.

"My family, friends and the people of Bequia all played an instrumental role in earlier years particularly during my high school years; especially my grandmother Dorothy, who I still miss to this day. I am also grateful to have found a few moms along my journey whose unwavering love and support of my academic journey has helped to keep me grounded and developed my razer-sharp focus.

"Most importantly, I want to dedicate my PhD success to my mother Joanne Quashie who resides in the mental institution in St Vincent and the Grenadines. My mom remained a source of my strength, inspiration, motivation and perseverance throughout my struggles and in particular, my academic endeavours. I know she is very proud of me."
Following his graduation, Emanuel hopes to teach international relations and terrorism studies to help others understand the history of conflict and to share his knowledge and expertise in the field.
MEDIA
Media inquiries to comms.office@qub.ac.uk