The Aftermath of Migration in Kos
A exhibition of photographs from the Hotel Captain Elias in Kos, Greece.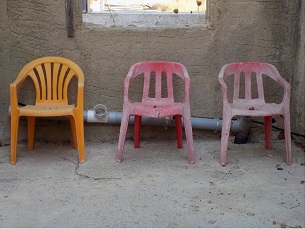 Dates: 4th-11th November 2017
Venue: Belfast Central Library
During the so-called 'migration crisis' of 2015, hundreds of migrants were directed to the hotel where they received food, shelter, clothing and medical treatment. The hotel was closed in September 2015 and remaining migrants were relocated to official 'hotspots'. This exhibition focuses on the material traces left behind by the migrants a year after they were removed from the site.
Saturday 11th November join Professor Debbie Lisle and Dr Heather Johnson, for tea, coffree and discussion between 10-11am