AS History and Anthropology Conference
AS History and Anthropology Conference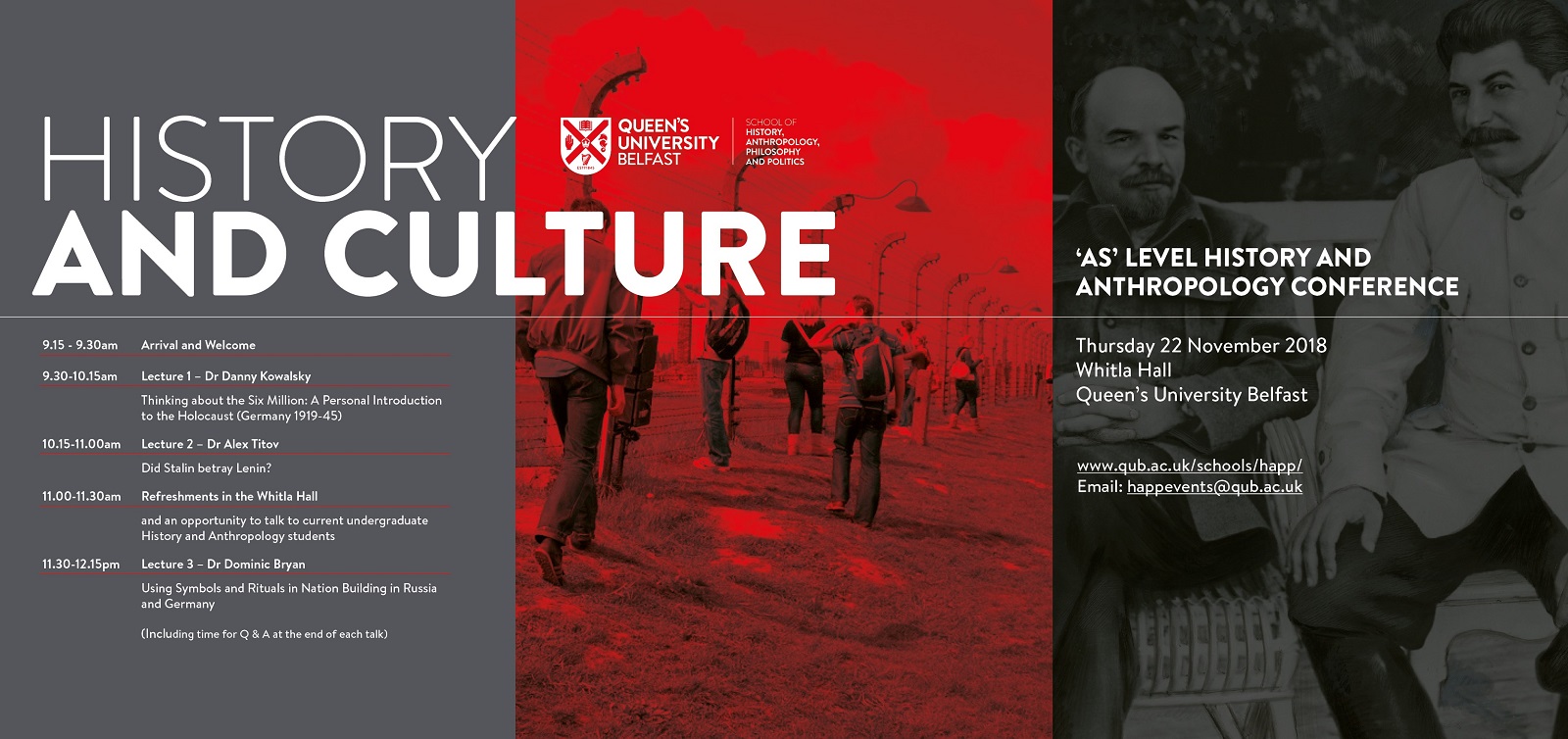 It is with great excitement that the School has invited all Secondary Schools within Northern Ireland (both AS/A Level History Students and History teaching staff) to the next 'AS Level History and Anthropology Conference' being held in the Whitla Hall, Queen's University Belfast on the morning of Thursday 22 November 2018.
This conference draws on the expertise of History and Anthropology staff and covers topics relating to AS level units 'Germany 1919-45' with the title of the talk being 'Thinking about the Six Million: A Personal Introduction to the Holocaust'. The second talk will cover 'Russia 1914-41' with the talk title being 'Did Stalin betray Lenin?'. The third talk is from an Anthropologist perspective and is titled 'Using Symbols and Rituals in National Building in Russia and Germany'.
The Conference is free and AS/A Level history students studying other modules are welcome to attend.
Please see below the programme of events. If as a History teacher you would like to attend please email happevents@qub.ac.uk and a booking form will be sent out to you. Spaces at the conference are limited and will be offered on a first come first serve basis with booking closing at 5pm, Friday 2nd November.
Should you have any queries relating to the conference, please do not hesitate to contact happevents@qub.ac.uk at the earliest opportunity.
PROGRAMME
9.15 - 9.30 Arrival and welcome
9.30-10.15 Lecture 1 – Dr Danny Kowalsky - Thinking about the Six Million: A Personal Introduction to the Holocaust (Germany 1919-45)
10.15-11.00 Lecture 2 – Dr Alex Titov - Did Stalin betray Lenin?
11.00-11.30 Refreshments in the Whitla Hall, and an opportunity to talk to current undergraduate History and Anthropology students
11.30-12.15 Lecture 3 – Dr Dominic Bryan - Using Symbols and Rituals in Nation Building in Russia and Germany
(Including time for Q & A at the end of each talk)