Dr Karine Côté-Boucher
Seminar Series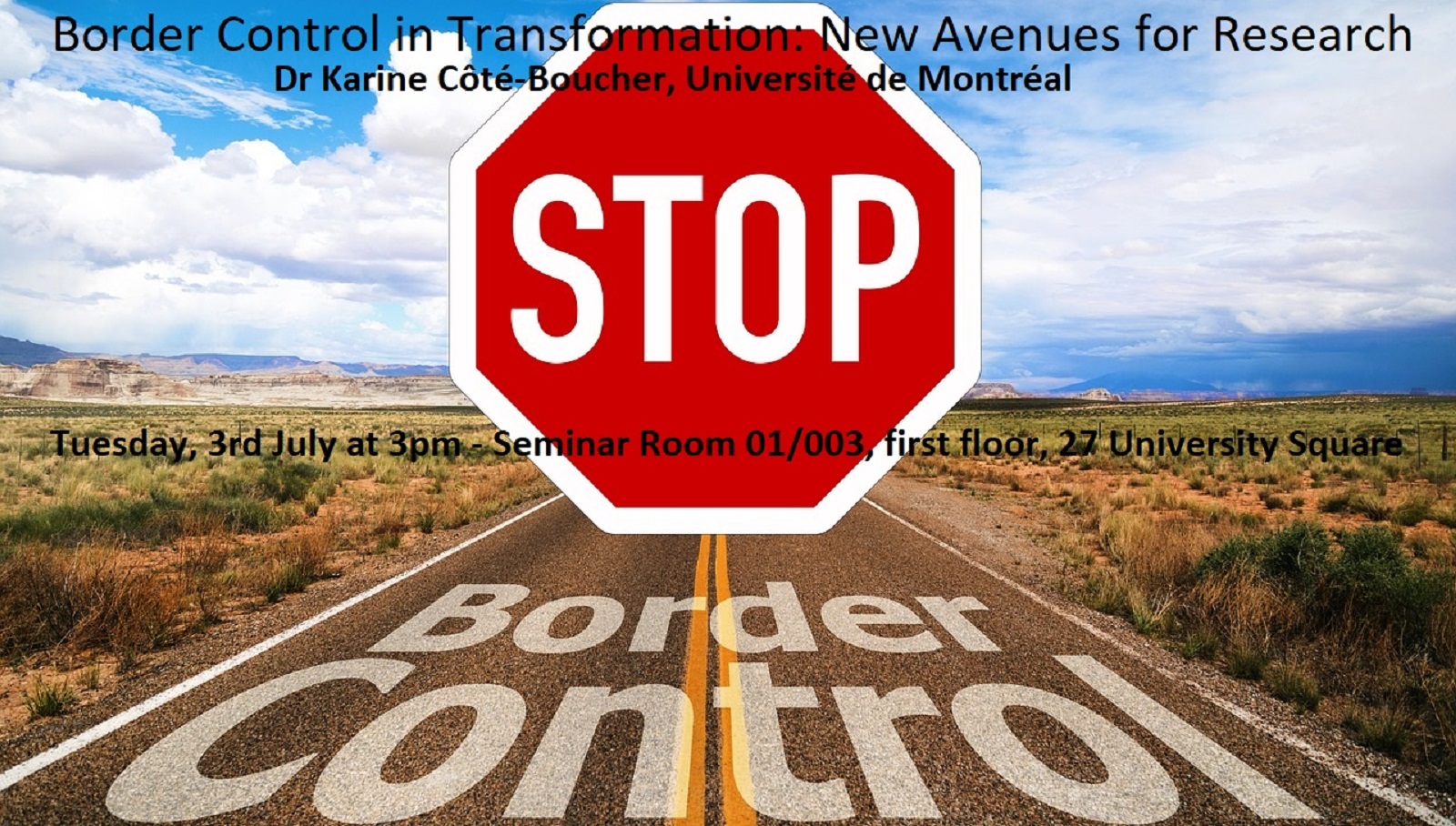 Border Control in Transformation: New Avenues for Research
Karine Côté-Boucher, Université de Montréal
On: 3rd July 2018
At: 3pm
Venue: Room 01/003, 27 University Square
In 2003, Canada created a new mega-border agency bringing together customs, immigration and law enforcement. This significant institutional change was both preceded and followed by a series of organizational, technological, policy and legal reforms. Highly dependent on the United States for its economy, the country was the first in testing preclearance programs for travelers and trusted trader programs for goods. Yet not all new adopted measures focused on trade and mobilities facilitation. Canada also centralized border intelligence and automatized parts of decision-making at the border. It went on to standardize border guard hiring and training. It further granted these frontline officers more legal powers, gave them firearms as well as put them in charge of migrant detention and deportation. As a result, Canadian border services have adopted a more repressive understanding of their role. How are these changes received on the frontline?
Taking the Canada-US border as its case, this seminar looks at the tensions and contradictions involved in transforming a customs agency into a border control organization. More particularly, it details the cultural shift to a law enforcement mentality in border control and draws the theoretical implications of this shift for critical border and security studies. It argues that in order to understand this shift, we need a critique of bordering grounded in border actors' accounts of their changing experience. The seminar thus presents an analytic framework that considers bordering activities as work—or "borderwork". It then outlines five main themes that sustain this thesis: technologies, unions, gender and embodiment, professional socialization as well as generational differences in border control. These themes introduce new insights into studies of border control practices, filtered bordering processes and construction of technologized border spaces.
Biography:
Karine Côté-Boucher is Deputy Director of the International Centre for Comparative Criminology and an Assistant Professor at the School of Criminology at the Université de Montréal where she is responsible for the graduate options in homeland security (Masters and graduate diploma levels). She is also an affiliated researcher at the Van Vollenhoven Institute in Leiden. Her research focuses on entanglements of security and economy in border control.