Curators' Team Internships (2018-20)
The Curators' Team at Historic Royal Palaces is offering one two-year internship (for the academic years 2018-19 and 2019-20).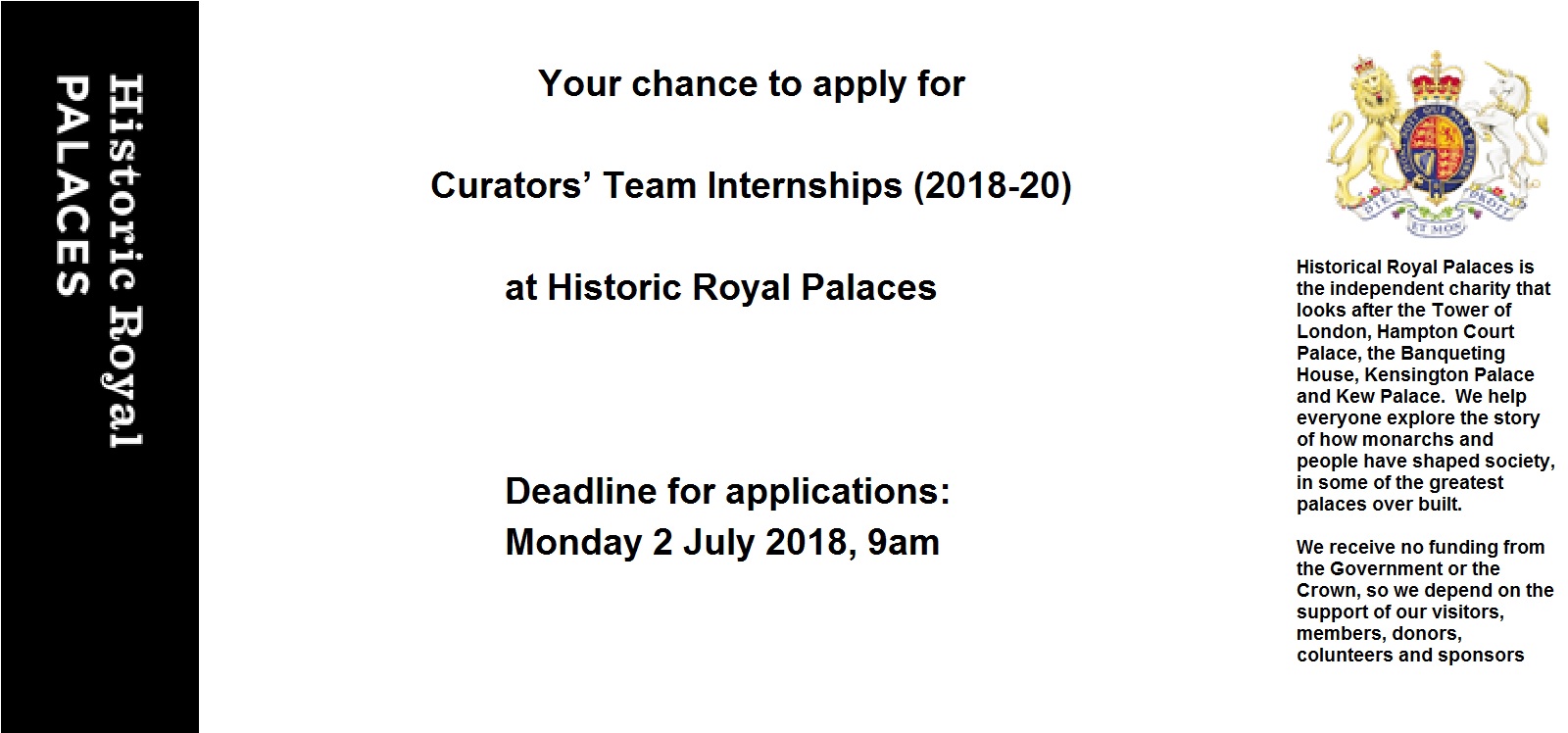 Historic Royal Palaces is the charity which looks after the Tower of London, Hampton Court Palace, Kensington Palace, the Banqueting House in Whitehall, Kew Palace, and Hillsborough Castle near Belfast. Its curators tell the stories of the six sites to more than four million visitors a year. (Visit www.hrp.org.uk).
The Curators' Team at Historic Royal Palaces is offering one two-year internship (for the academic years 2018-19 and 2019-20).
This is open to students who will have accepted an offer for a place on one of the following MA courses by the application deadline and who are UK/EU nationals:
MA Public History, Queen's University Belfast
MA Cultural Heritage and Museum Studies, Ulster University
MA Museum Practice and Management, Ulster University
The internships involve:
Studying

part-time

for your MA course
Spending 2 days a week getting work experience with the curators at Historic Royal Palaces
The internship will be based at Hillsborough Castle
Historic Royal Palaces will pay:
The Home/EU status MA fees of your part-time course, over two years,

and

A bursary of £9681 a year for living expenses (paid through your university)
HOW TO APPLY
Your application should take the form of:
A statement describing your suitability for the post (

not

more than 600 words long). This should state clearly why you would like to work at Historic Royal Palaces
A one page CV
The names and addresses of two personal or professional referees
You should email these to Jasmeet Barker (Jasmeet.Barker@hrp.org.uk). Please put 'curators' team internship application' in the subject line.
The closing date for applications is Monday 2 July 2018, 9am.
If you're shortlisted, you'll be invited to an interview.
Interviews will be held on 19 July at Hillsborough Castle.
Travel expenses from within the UK will be reimbursed. Telephone interviews will be considered for foreign applicants.
WHAT WE'RE LOOKING FOR:
We're looking for interns with:
Plans to make a career in heritage, historic houses or museums; evidence of endeavour in this area
Strong intellectual abilities, as proved by a good first degree
A passion for history, art and architecture, and telling their stories, as evidenced by good communication skills
The ability to reach out to, and to engage, all kinds of audiences
We particularly welcome applications from Black, Asian and Minority Ethnic (BAME) candidates as these groups are currently under represented in our work force.
So whatever your background, if you have the skills, knowledge and attitude we are looking for we would love to hear from you.
If you have any general or specific questions about these internships please email Jasmeet Barker: Jasmeet.Barker@hrp.org.uk