An Early Career Fellowship and two MA Scholarship opportunities
Queen's announce prestigious Hillary Rodham Clinton Awards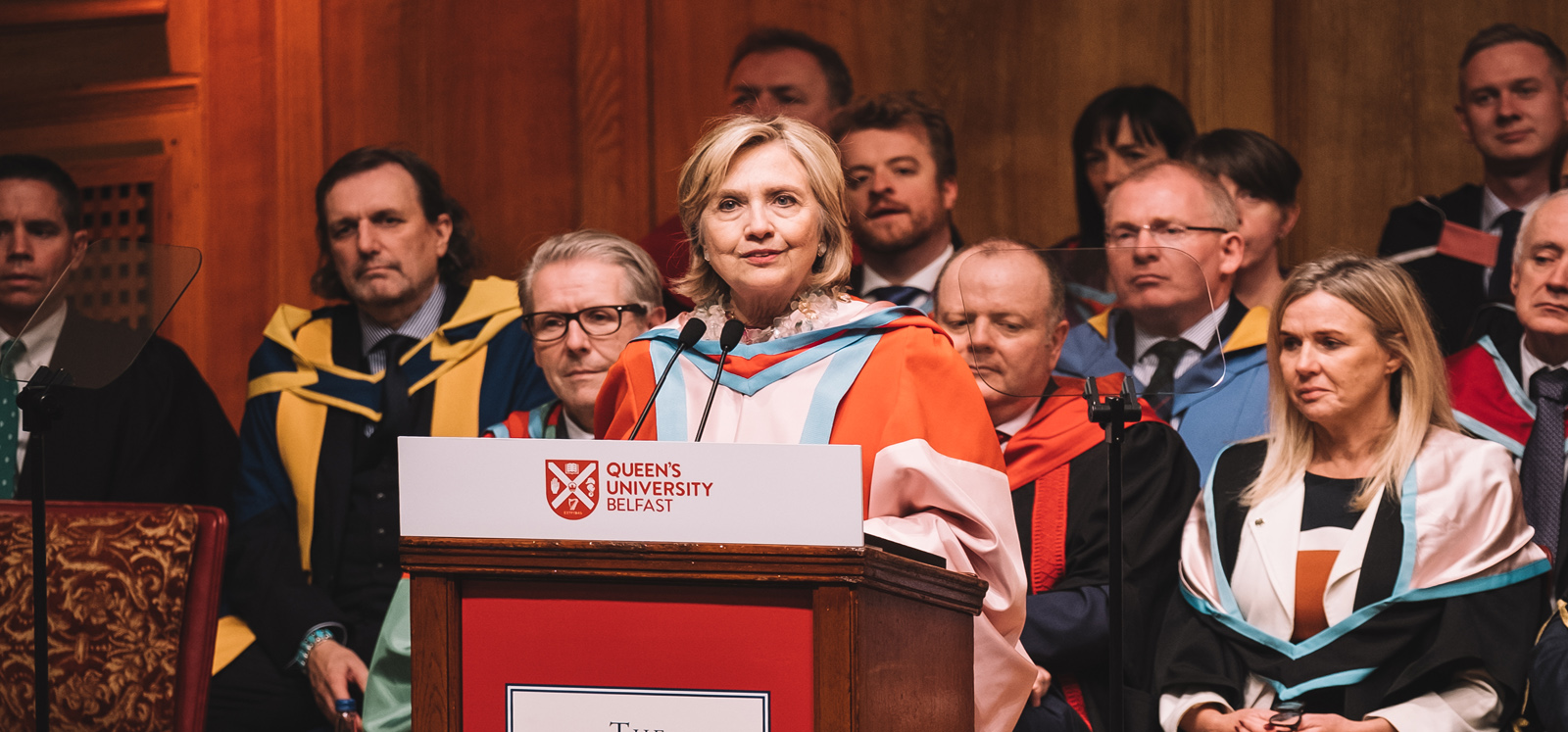 To mark the award of an honorary degree to Hillary Rodham Clinton on 10.10.2018, Queen's Faculty of Arts Humanities and Social Sciences announced an Early Career Fellowship and two MA Scholarships for exceptional female students from the USA.
Hillary Rodham Clinton Early Career Fellowship
A prestigious three-year fellowship, to begin in academic year 2019-20, will provide an exciting opportunity for one early career academic to undertake a significant piece of publishable work and a public lecture. Reflecting Secretary Clinton's interests and career the Fellowship is open to outstanding early career researchers in the following broad areas: conflict transformation; global security and borders; human rights including women's rights and children's rights; international law; international politics; international relations; women in politics. The fixed starting point salary is £36,261 plus a maximum of £4,000 research expenses.
The Hillary Rodham Clinton Award for Peace and Reconciliation
Prestigious MA scholarships will be awarded to exceptional female students form the USA, honouring Secretary Clinton's long-standing commitment to peace, stability and education. One award will be offered for academic year 2019-20 and a second award for 2020-21.
This exciting opportunity will allow female USA students to pursue study in a field related to politics, conflict transformation or human rights. Three of the five MA programmes are in the School of History, Anthropology, Philosophy and Politics: MA Global Security and Borders; MA Politics and MA Violence, Terrorism and Security. The University will provide a full tuition-fee waiver for each scholarship award.
How to Apply and Key Dates
To find out more about these highly competitive awards, contact Dr Mike Bourne, Director of Graduate Studies, School of History, Anthropology, Philosophy and Politics.
Applications for an Early Career Fellowship Open November 2018
Visit 'Hillary Rodham Clinton Early Career Fellowship' for full details
Applications for Scholarships Open on Wednesday 31 October 2018 for 2019 entry
Visit 'The Hillary Rodham Clinton Award for Peace and Reconciliation' for full details