About
The Seamus Heaney Centre is a focal point for creativity in Ireland and is recognised as an international centre of creative and research excellence in the field of literature.
Attached to the School of Arts, English and Languages at Queen's, it is based on University Street, by Queen's iconic Lanyon Building. It brings together the traditions of poetry, writing and criticism, part of the fabric of Belfast for four decades. It is an international centre of excellence, rooted in community, Ireland and beyond.
An academic institution and a public centre, it benefits students and scholars, writers and readers of poetry in the community and the public at large.
It is known for Creative Writing in all its forms on the island of Ireland and is a globally-recognised venue for literary events and research.
It aims to be a centre for a generation of new writing – and thinking about writing – and for new generations of writers across all forms for decades to come.
A flourishing programme of MAs, writing workshops and reading groups, are housed within the Centre, tutored by influential and innovative writers who have offices in the Centre, along with a writer-in-residence and three new Seamus Heaney Centre Fellows.
Seamus Heaney
Seamus Heaney received the Nobel Prize in Literature in 1995 and his first volume of work Death of a Naturalist (1966) is among his best-known works and is recognised as one of the principal contributors to poetry during his lifetime.
After attending Queen's University studying English Language and Literature, Heaney began to publish poetry.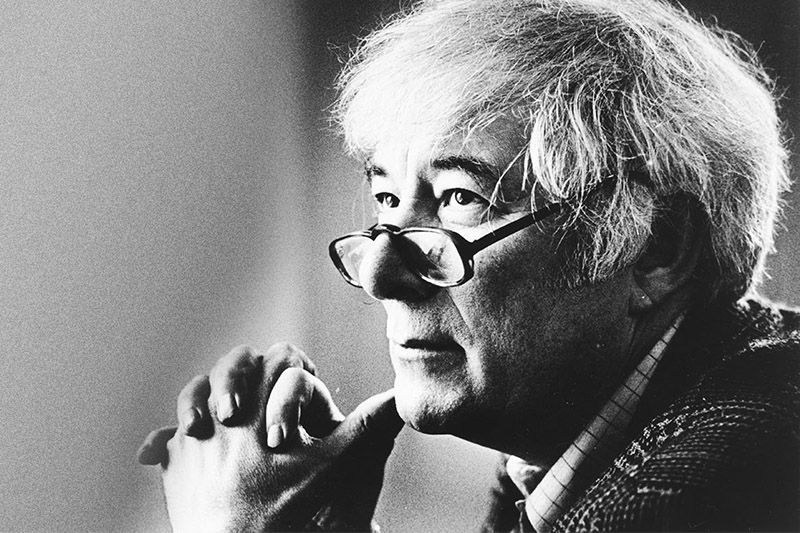 "I didn't have any sense of election or purpose or ambition. My pseudonym at Queen's, in the magazines where I published, was Incertus — Latin for uncertain —I was just kicking the ball around the penalty area, not trying to shoot at the goal. Then in 1962 the current began to flow…" Seamus Heaney
Studying English Language and Literature at Queen's

---

Heaney and The Belfast Group
Heaney was part of the Belfast Group, a poets' workshop organised by Cambridge poet and critic, Philip Hobsbaum, that met at 4 Fitzwilliam Street near to the university. It was a forum in which young poets discussed their work and the craft of poetry. Heaney said the group helped "ratified the idea of writing" giving it "an air of seriousness and electricity."
Born between Castledawson and Toomebridge, Northern Ireland, Heaney's family moved to Bellaghy and the landscape features heavily in his poetry. For Heaney, poetry was transformative: for cultural and personal change. "The vision of reality, he writes, which poetry offers, should be transformative."
All year the flax-dam festered in the heart
Of the townland; green and heavy headed
Flax had rotted there, weighted down by huge sods.
(Seamus Heaney, Death of A Naturalist, 1966)
---
'This centre holds and spreads'
The Seamus Heaney Centre has adopted as its unofficial motto the words from section IV of Heaney's 'Kinship', 'This centre holds and spreads'.
The emblem of the Centre is the blackbird: a symbol of song and freedom; of beauty and mystery; of clarity and beguilement; of voices heard from the margins; of local colour; of flight and cunning.
---
School of Arts, English and Languages (AEL)
The Seamus Heaney Centre focuses all aspects of the craft, feeding into the wider reach of English Literature studies at Queen's.
In the Research Excellence Framework (REF, 2014) English at Queen's is placed in the top twenty-five percent of work carried out at research-intensive UK universities and is one of the top ten schools in the UK.
Over 150 staff, academic and support staff, professional tutors and teaching assistants contribute to the international culture of English Studies.
From Medieval and Early Modern to Eighteenth Century, Modern, Irish and Language, and the internationally renowned Seamus Heaney Centre, every area of English studies has a vibrant presence.
School of Arts, English and Languages