Register here to attend the first ATTR Amyloidosis All Ireland Conference hosted in Gweedore, West Donegal.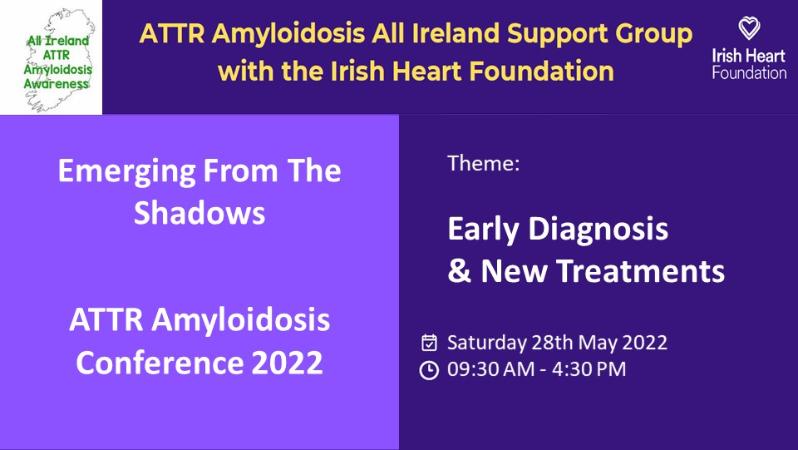 An Chúirt Hotel, Gweedore, Co. Donegal, F92 AP60
---
The first ATTR Amyloidosis All Ireland Conference will be held at the An Chúirt Hotel, Gweedore, Co. Donegal, F92 AP60 on Saturday 28th May 2022 between 09:30 – 16:30.
The following is from the ATTR Amyloidosis All Ireland conference invitation:
Our theme 'Emerging from the Shadows' reflects new and emerging treatments for this previously untreatable condition. Our intention is to share as much awareness and information as possible among the medical profession and wider community.
Our Conference is international, and prospective audience includes patients, consultants, surgeons, doctors, nurses and other health care providers. Join us and hear expert speakers discuss important issues such as;
The need for early diagnosis and speedy access to ATTR specific treatments.
The prevalence of hATTR 60 Ala and its history in Donegal.
Typical 'Red Flag' symptoms for ATTR Amyloidosis.
Learn about new treatments and clinical trials now available.
Network with other medical professionals and patient advocates
Click to view our ATTR Amyloidosis Conference Flyer 2022 to see all the expert speakers we have in store for you.
The venue is situated in Gweedore, in the Gaeltacht (Irish speaking) region of North West Donegal, and overlooked by our majestic Errigal, the tallest mountain peak in the county.
You'll be sure of a very warm welcome with refreshments and lunch provided
You'll also receive a comprehensive information pack to take away with you, and an opportunity to participate in Question and Answer sessions.
We look forward to seeing you on this very historic occasion.
To register please email amyloidosis.ireland@gmail.com