Rare Diseases Public seminar focused on the concept "Living with a Rare Disease"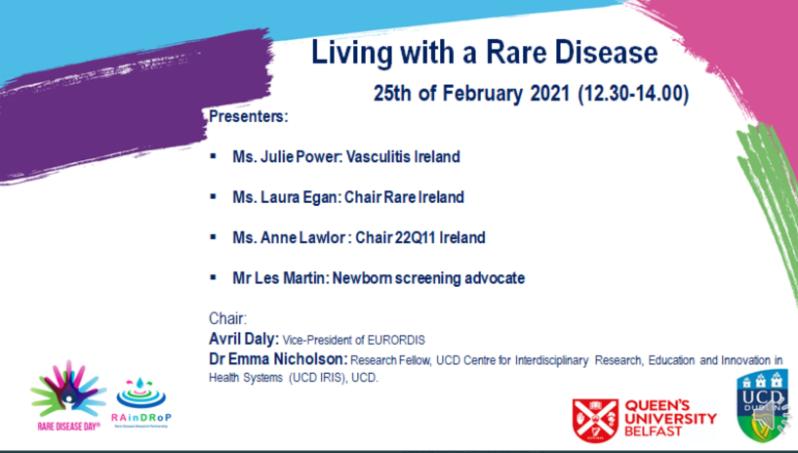 Free of charge - all welcome
---
All welcome.
The third in this series of Rare Diseases Public seminars is focused on the concept "Living with a Rare Disease"
Laura Eagn, Chair of Rare Ireland will address common and unique challenges of children and their families experience of living with rare chromosomal disorders.
Anne Lawlor, Chair of 22q11 Ireland will be discussing life as a Rare Parent.
Julie Power will be addressing the day-to-day challenges of living with a rare illness.
Les Martin will discuss the importance of expansion of newborn screening programme in Ireland.
Please do save the date and take time to join us for a promising discussion!
Remote Webinar: All welcome
25th of February 2021 (12.30-14.00)
Chairs:
Avril Daly: Vice-President of EURORDIS
Dr Emma Nicholson: Research Fellow, UCD Centre for Interdisciplinary Research, Education and Innovation in Health Systems (UCD IRIS), UCD.
Department

Centre for Public Health