Our Annual Rare Disease Day conference will be held in Riddel Hall.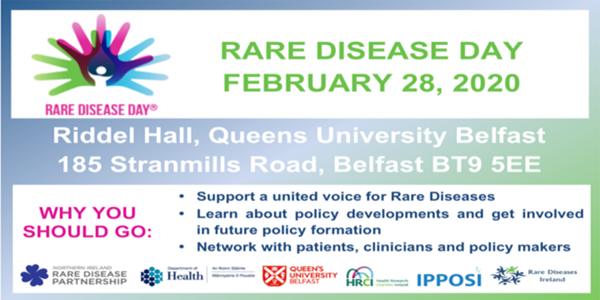 Riddel Hall: https://www.qub.ac.uk/sites/campus-food-drink/RiddelHall/
Free of charge to carers, patients, volunteers, and students. Small charge for others.
---
All welcome.
Please do save the date and take time to join us for some latest updates and future projects to help people living and working with rare diseases.
There is also an open poster competition to submit a poster for our Rare Disease Day annual conference 2020 - all welcome.
We are very keen to showcase some of the excellent rare disease research ongoing across Ireland and the UK in particular; we are happy to display posters that have been prepared for other meetings in the last year… We will be preparing a poster booklet for the meeting, so please do help us by forwarding posters at 300 dpi or higher to julie.mcmullan@qub.ac.uk by 21st February 2020.
Posters from our 2018 conference are available to view here: https://osf.io/7fh9a/
We're looking forward to seeing your contributions & please do not hesitate to get in touch if you have any questions. email AJ