Making life better: improving health and care for individuals with rare diseases
It was a pleasure to present some of our collaborative research at the Northern Ireland Public Health Conference 2015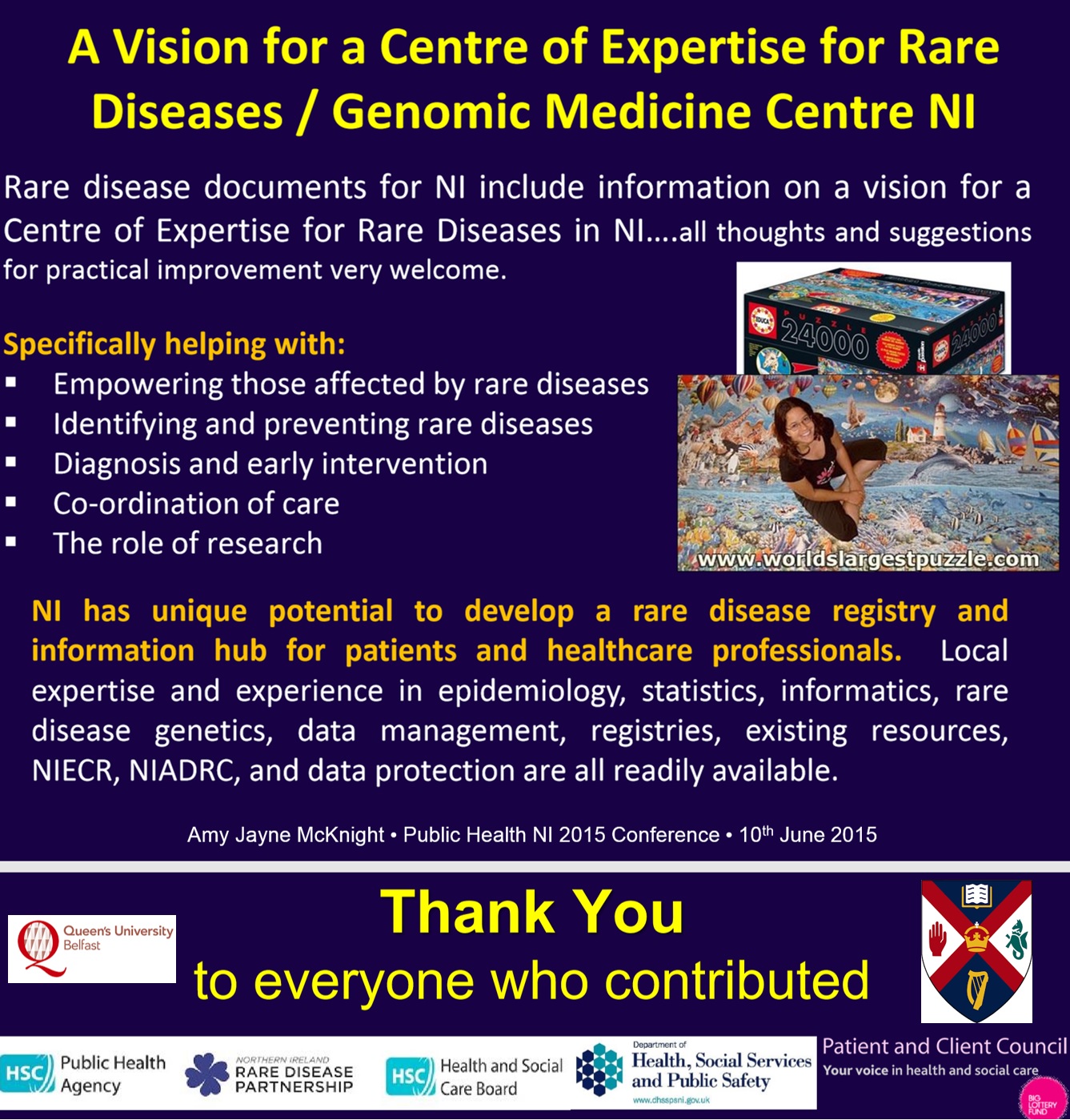 Rare diseases are a significant public health concern. Rare diseases affect more than 5% of the population in Northern Ireland (NI), with many affected adults living with more than one condition. Following publication of the UK Strategy for Rare Diseases, and consultation with a wide range of stakeholders, a NI statement of intent was published, with the subsequent launch of public consultation on the NI Rare Diseases Implementation Plan. This has led to considerable debate identifying where NI excels, where urgent change is needed, and how best to proceed in the short, medium, and longer term. Using an appropriate research framework to seek public opinion is essential to minimise inadvertent bias of results.
We used a variety of approaches to seek views from the rare disease community with data collection tools including a simple online survey, more complex surveys incorporating micro-narratives using SenseMaker® Suite, one-to-one semi-structured interviews, focus groups, and a series of open meetings. Additional information was sought regarding accessibility of information needed by adults living with rare diseases, who often describe themselves as 'feeling isolated'.
The full presentation is available here. Highlights include:
Common themes were consistently identified, including difficulty finding details for health and social care contacts, challenges accessing information in suitable formats, improving diagnosis, accessing rare drugs, and gaining information about individual care pathways. A common concern was the use of jargon and abbreviations, alongside the complexity of issues discussed, making it challenging for some individuals to make an informed response
More than half of respondents had more than 10 GP/practice nurse appointments in the past year, with the majority attending more than 10 consultant/specialist medical appointments in the past five years; some respondents attended more than 40 consultations, while some had no expert contact.
Only 36% of individuals felt they were strongly involved in planning their medical care, with 56% describing accessing expert medical care as difficult.
Approximately one-third of individuals waited up to five years for an accurate diagnosis with 10% waiting more than 10 years; half received at least one misdiagnosis.
UK studies suggest up to 40% of costs could be saved with improved preventative care.
Insufficient expertise of local healthcare providers in highly specialised treatment options for rare diseases is a major problem; respondents felt that primarily doctors, allied health professionals, nurses and politicians should be made aware of these patient views in that order. There is no one-size-fits-all approach.
We have demonstrated that working in partnership with relevant clinicians, academic researchers, the Public Health Agency, Health & Social Care Services, and multiple voluntary groups in NI to hold open meetings, with overview presentations followed by smaller discussion groups, may lead to changes in an individual's or group's inherent belief that would change their personal response to an e-consultation document.
Empowering adults, or facilitating adults to help empower themselves, is helped by making information readily available and accessible in a variety of formats. Our data suggests that using multiple tools to seek public opinion returns the most information, however open meetings were the most cost-effective tool and gained the most positive public response enabling individuals to make informed decisions and engaging more of the rare disease community.
Strategies should be developed to improve the diagnostic process, strengthen collaborative partnerships using a whole system framework, and enhance communication and coordination of care for individuals living with rare diseases. Improved strategies for data collection, information sharing, alongside training and network opportunities would be beneficial. This may enable affected individuals and families to maximise their health and wellbeing, whilst streamlining health and social care, which may lead to substantial financial savings
Media
For more information, please do get in touch via email