The project involves a series of events including regular Post-Brexit Clinics, a series of workshops and seminars for a range of stakeholders, policy-makers and journalists, and two academic workshops.
The Post-Brexit Clinics are open the public and organized in collaboration with Queen's Policy Engagement team. Their purpose is to provide regular academically-informed assessments of key developments in the Brexit process and promote awareness of the terms and implications of the UK's withdrawal from and post-Brexit relationship with the EU, particularly as they relate to the implementation of the Protocol on Ireland/Northern Ireland. They are also designed to increase awareness of Brexit/Protocol implementation issues of concern to stakeholders in Northern Ireland and to encourage informed discussion of Brexit-related issues within Northern Ireland.
Each Post-Brexit Clinic will normally last c90 minutes and involve 3-4 x 10-minute presentations on key 'Post-Brexit' issues particularly as these relate to Northern Ireland and the Protocol on Ireland/Northern Ireland. These will then be followed by a facilitated discussion/Q&A session. Presentation slides are made available online via Queen's Public Engagement along with a recording of the presentations. To receive information about forthcoming Post-Brexit Clinics, please register here. Recordings of and slides from Post-Brexit Clinics are available below.
Other Project events
Journalist Training Workshops: annual workshops on the Protocol and its implications for Northern Ireland with a view to increasing understanding of the Protocol and its implementation, developing an informed appreciation of the economic, political, legal and constitutional challenges implementation poses, and disseminating key findings of the project so as to inform journalistic coverage of the Protocol and its significance for Northern Ireland.
Stakeholder Workshops: regular workshops involving groups of stakeholders, the events are designed to disseminate information relating to the implementation of the Protocol and the evolving UK-EU relationship, gather views regarding the effects of the Protocol from sectors most affected by it, quantify stakeholder concerns/issues, facilitate informed conversations on the Protocol's implementation and evolution, identify problems arising from the Protocol's implementation in and across sectors, identify potential solutions to the problems identified, increase transparency around the implementation and effects of the Protocol.
A series of Joint seminars will be held with policy officials in London and Brussels
Two Academic workshops are planned: one exploring multilevel governance and the UK-EU relationship; and a second on EU external governance arrangements in comparative perspective.
Recordings of Events
The following are recordings of events which have either been organized as part of the project (e.g. Post-Brexit Clinics) or involved presentation of the work of the project.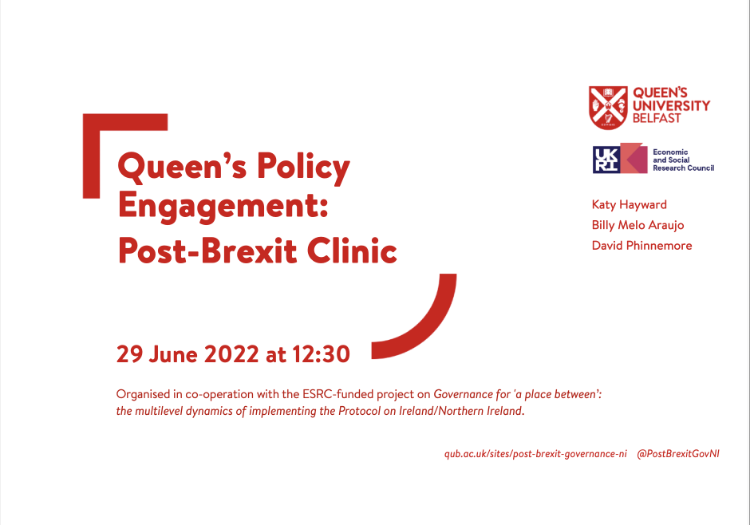 Date: 29/06/2022
Time: 12:30PM - 2:00PM
Location: Online
Category: Lecture / Talk / Discussion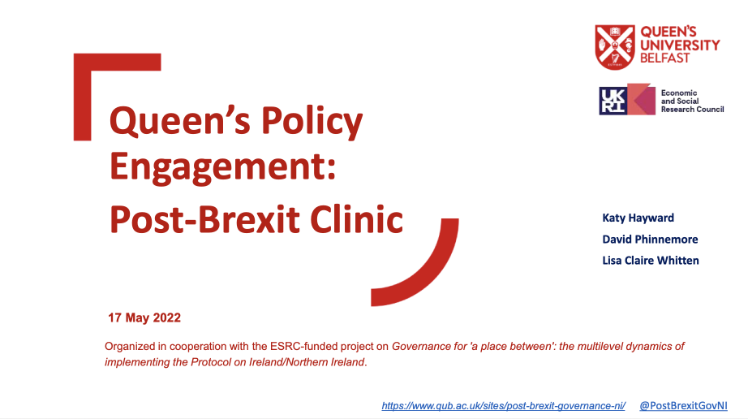 Date: 17/05/2022
Time: 12:30PM - 2:00PM
Location: Online
Category: Lecture / Talk / Discussion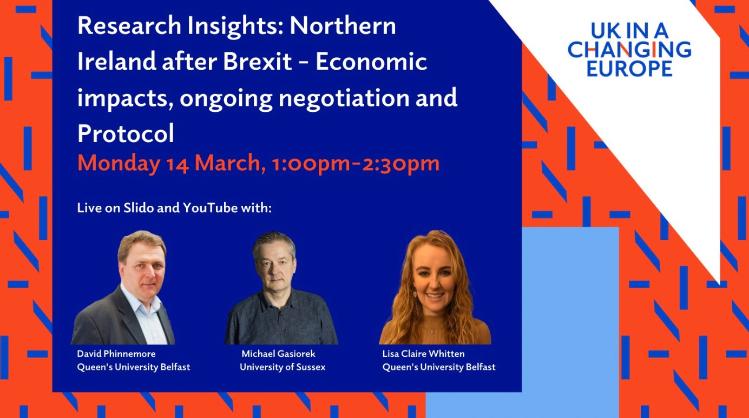 Date: 14/03/2022
Time: 2:00PM - 3:30PM
Location: Online
Category: Lecture / Talk / Discussion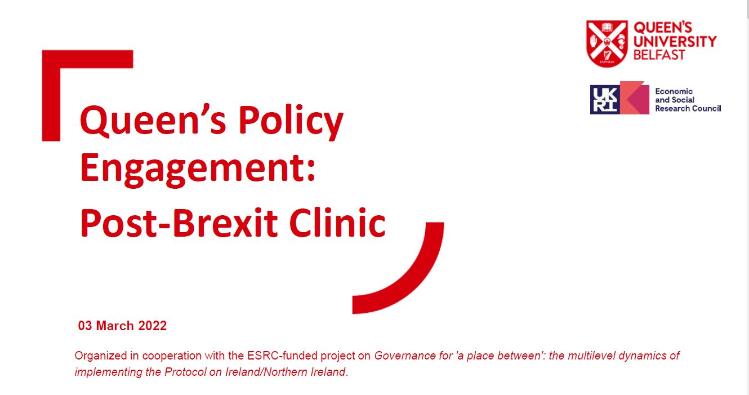 Date: 3/03/2022
Time: 12:30PM - 2:00PM
Location: Online
Category: Lecture / Talk / Discussion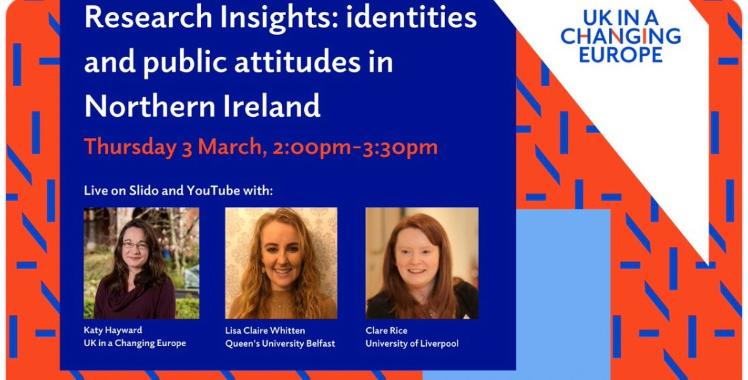 Date: 3/03/2022
Time: 2:00PM - 3:30PM
Location: Online
Category: Lecture / Talk / Discussion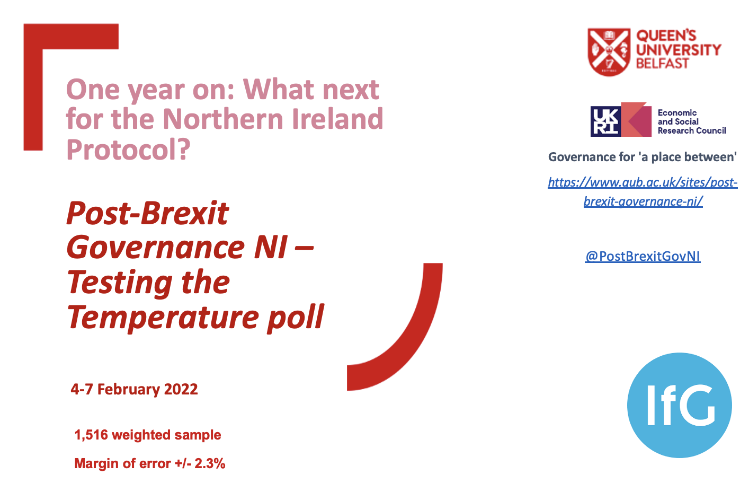 Date: 28/02/2022
Time: 1:30PM - 2:30PM
Location: Online
Category: Lecture / Talk / Discussion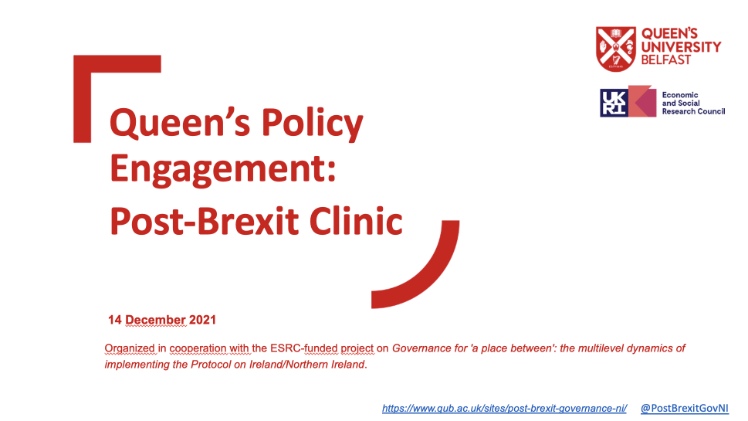 Date: 14/12/2021
Time: 12:30PM - 2:00PM
Location: Online
Category: Lecture / Talk / Discussion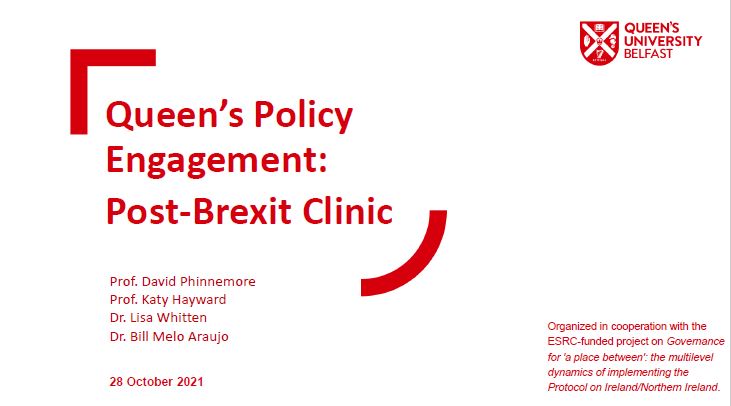 Date: 28/10/2021
Time: 12:30PM - 2:00PM
Location: Online
Category: Lecture / Talk / Discussion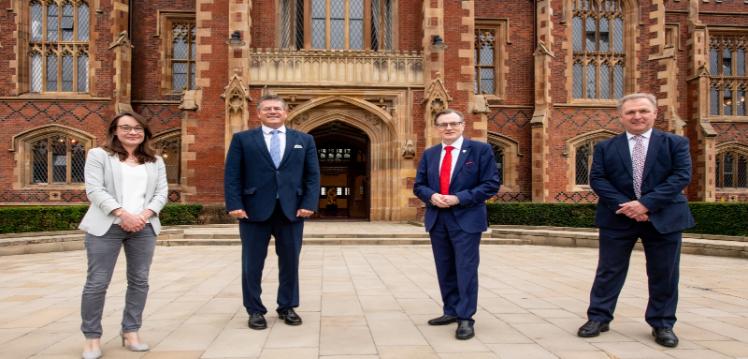 Date: 10/09/2021
Time: 9:30AM - 11:30AM
Location: Online
Category: Lecture / Talk / Discussion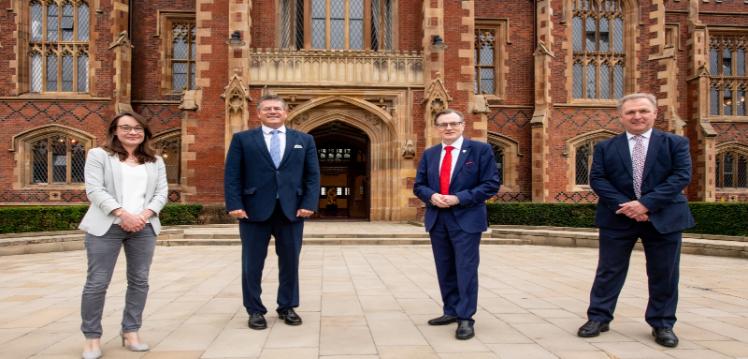 Date: 10/09/2021
Time: 9:30AM - 11:30AM
Location: Online
Category: Lecture / Talk / Discussion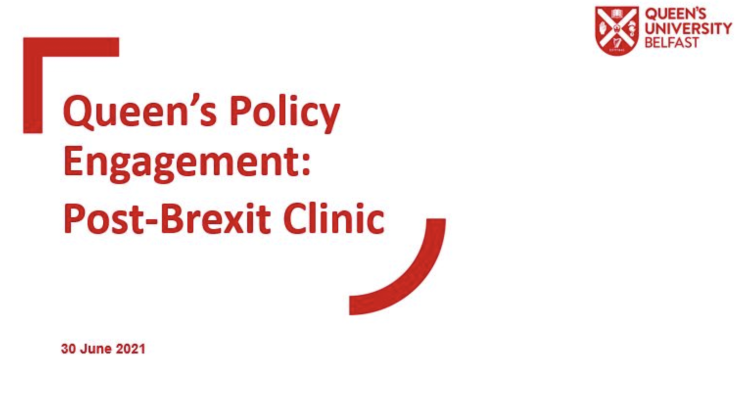 Date: 30/06/2021
Time: 12:30PM - 2:00PM
Location: Online
Category: Lecture / Talk / Discussion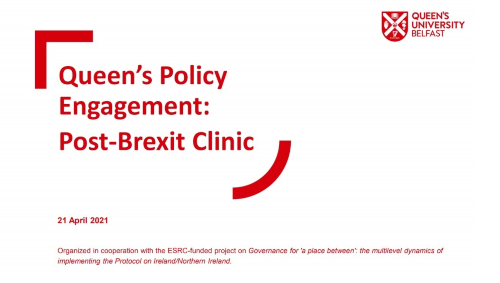 Date: 21/04/2021
Time: 3:00PM - 5:00PM
Location: Online
Category: Lecture / Talk / Discussion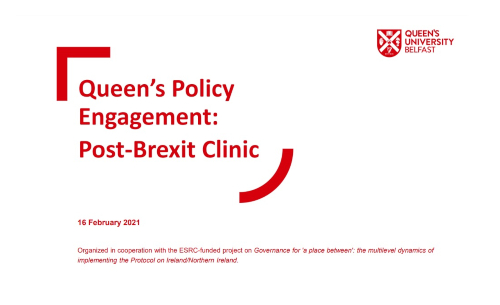 Date: 16/02/2021
Time: 3:00PM - 5:00PM
Location: Online
Category: Lecture / Talk / Discussion