Children, Learning and Inclusive Places
Queen's University Belfast is developing a collaboration with colleagues at the University of Glasgow on a project that expands our work on student voice, the capabilities approach in research, and the role of place-based learning.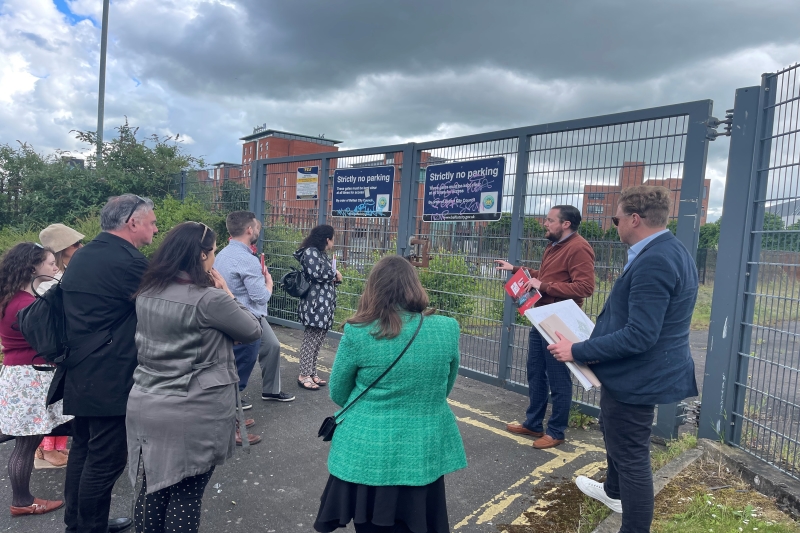 Queen's University Belfast is developing a collaboration with colleagues from The Network for Social and Educational Equity (NSEE) team at the University of Glasgow on a project that expands our work on student voice, the capabilities approach in research, and the role of place-based learning.
The project aims to bring together and learn from two of our largest research-led community focused activities - Children's Neighbourhoods Scotland (CNS) in Glasgow and Queen's Communities and Place (QCAP) in Belfast.
Both CNS and QCAP focus on the role of children and young people in making a difference to their communities, specifically in areas with high levels of deprivation. CLIP asks what role universities can play in place-based co-production work and how this strengthens and builds sustainability in the work of current and future community partners.
Knowledge sharing
Much of CLIP involves strategic meetings between the two universities, sharing knowledge, methodological expertise and experiences, as well as collecting primary data. This involves youth-led activities delivered by the team.
In Belfast, QCAP is engaging with the children of a local primary school in their partner community, as well as a group of young people who attend a local youth group in the same area. In Glasgow, the NSEE researchers are working with some of the schools that were previously engaged with Children's Neighbourhoods Scotland and then with the project Young People's Voices for Climate Change.
While the recruitment takes place in local schools, activities are not constrained to education. Rather, they explore young people as citizens in their communities and ask important questions, such as where do young people feel listened to, and how organisations act upon the views of young residents. This may include issues of climate change, of active travel, town planning, and service provision.
Rights of the Child — and student voice in action
In keeping with the United Nations Convention for Rights of the Child (UNCRC), these activities also focus on how to amplify young people's voices in matters of local decision making. In Glasgow, this will involve two schools in Clydebank (St Eunan's Primary School and St Peter the Apostles). Both schools were mid-way through projects focused on climate change:
Community gardening (St Eunan's)
Sustainable clothing initiative, developing food larders (St Peter the Apostle's)
To understand how to promote youth voices, CLIP also seeks to speak with adult community members and leaders regarding their attitudes towards youth participation and the pathways to impact.
In Belfast, researchers are working with a range of both primary and secondary school children in the Market area of the city. Although the Market area has been subject to overdevelopment throughout the last number of years, the community has created several activist campaigns that have challenged unsustainable and exclusive development proposals. The engagement of local children has been central to the successes of these campaigns. However, as of yet, there has been little research to fully understand the engagement of children with activism in the area or to explore how children can be supported to further their participation in campaigns.
CLIP will move beyond passive consultation with children and will use a transformational action paradigm. This will include the creation of a photo elicitation exercise with children, where they will document and discuss how they navigate their local community and how the built environment could be changed to accommodate for the specific social, economic and environment needs of the Market community.
Knowledge exchange visits
In April, a delegation of QCAP researchers visited the University of Glasgow as part of a knowledge exchange trip. This took the form of interactive workshop discussions around the use of big data presented by the Urban Big Data Centre at Glasgow and housing evidence through the UK Collaborative Centre for Housing Evidence (CaCHE). Additionally, the trip involved a visit to the two schools that NSEE has partnered with.
In return, the NSEE team visited QCAP in Belfast in May, where they discussed children's rights and participation with academics from the Centre for Children's Rights and the Excluded Lives Project, and Democratising Data with the International Public Policy Observatory and the Northern Ireland Longitudinal Study (NILS). The knowledge exchange trip also included a visit St. Malachy's Primary School and walking tour of the Market community, led by the Market Development Association's Fionntán Hargey.
Next steps
Researchers in Glasgow will now be visiting their partner schools once a week to collect valuable data and working with teachers, community members and young people on the community garden and the sustainable food and clothing initiatives.
The community garden at St Eunan's has been used to facilitate many new and innovative ways of learning—from finding out how to grow food, to creating self-watering planters, exploring food miles, improving health and wellbeing, teaching empowerment, building young people's confidence and resilience, and extending the school's reach in the community.
Professor Chris Chapman, who has worked extensively with the schools in Clydebank and who played a key role in last year's Young People's Voices for Climate Change project ahead of COP26, said:
"We're very much looking forward to continuing to work with St Eunan's and St Peter the Apostle's to explore ways we can strengthen and build sustainability of the activities already in place. As well as, eager to engage with colleagues from Belfast to develop frameworks for co-production of knowledge".
In Belfast, researchers will continue with their use of participatory methods (narrative walkabout, mapping exercise, photo elicitation, and focus groups) with a cohort of children in the Market area to understand their use and perception of the built environment. The first of four sessions has already been completed, with the remaining sessions anticipated to be finished by the end of June.
Professor Kathryn Higgins, Director of Queen's Community and Place (QCAP), added:
"In the past few years, Queen's Communities and Places has worked with communities in the Market area in an attempt to understand the key development pressures around sites, development and potential, but we want to move beyond passive consultation with children to create more effective pathways to impact and focus on their role as activists in their local area and beyond. The Sunshine Not Skyscrapers was a children-led campaign that led to the successful rejection of an office development in the Market area. Moving beyond that, and using the Causeway Approach to conceptualise how different groups can influence others' ability to achieve their goals, we are looking forward to co-producing alternatives for these places with children and young people".