Tackling Homelessness through Applied Research, Policy, and Practice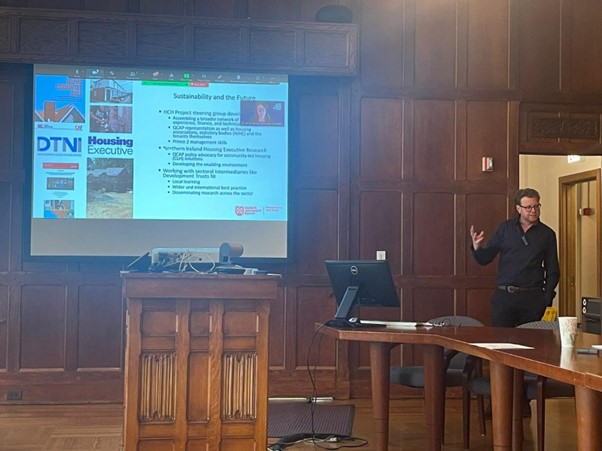 Along with Chapin Hall policy research staff, Dr. Andrew Grounds and Prof. Brendan Murtagh from QCAP contributed to a session entitled Place: Community Wealth and the Social Economy. This session of the symposium reflected on both institutions' understanding around the prevalence of homelessness but also how applied research methods need to be developed to enact progressive policy reform but critically stimulate more effective place-based sectoral practice.
QCAP's research presentation was organised around the practice of a local social enterprise called East Belfast Mission and their efforts to develop a community-led housing project called Hosford Community Housing (HCH). The aim of HCH is to increase local housing supply and provide transitional housing options for 'tenancy ready' individuals that are currently trapped in hostel accommodation, in particular migrants and the working poor. Working with the Hosford team, QCAP academics have utilised a Social Return on Investment (SROI) methodology to forecast the blended types of value that could be returned by East Belfast Mission investing in a new transitional homeless housing model. The applied research has been critical to leveraging wider engagement with a social investor called Commonweal who has provided the Hosford project with a £500,000 loan to spot-purchase 5 residential units across the East Belfast. This investment has brokered an invitation from the Department for Finance for HCH to apply for an additional loan to scale the model in the long term. QCAP academics have provided ongoing support for this process through sectoral research, local housing market analysis and technical assistance to develop a business plan and subsequent loan application.
In contrast, the Chapin Hall research was focussed very much on developing and enacting preventative approaches or programmatic models, particularly those targeted at youth homeless populations. One example of this was providing direct financial assistance through 'cash transfers' along with other supports to youth people experiencing homelessness. To date, Chapin's Hall research has shown how COVID-19 has exacerbated many existing socio-economic inequalities and has also disrupted many conventional homeless shelter programmes, and the need for flexible, cost-efficient approaches like cash transfers is now increasingly more relevant. In partnership with Point Source Youth, Chapin Hall have facilitated a collaborative response with other youth government agencies and private sector funders to develop and evaluate a direct cash transfer programme (DCTP), for young people experiencing homelessness. This preventative approach drew on links with Chapin Hall's Upstream project, which is a place-based model that aims to connect schools or community services to provide support to young people and their families at high risk of homelessness or school drop-out.
The findings from this symposium session but also the implications of the research more broadly will be shared in the forthcoming special issue of the symposium journal. Despite the contrasting approaches being developed by each respective institution, (investing in prevention vs. increasing homeless housing supply) both responses demonstrated the need to develop the evidence base but also explore ways to adopt robust monitoring and evaluation processes. Moving forward, both QCAP and Chapin Hall will aim to explore how these evaluation processes' can be applied to stimulate broader engagement and action with the policy and investment community within both respective institutional contexts. This will help to sustain but also potentially scale place-based interventions that aim to reduce homelessness trends as well as provide much needed support or services for those living in housing crises.