2019-06-13 # LL Newsletter - June 2019
NEW PROJECT: 'Access Inniskillings Digitisation Project'

2019 BBC news report - Ballykinlar History Hut
---
NI Museums Council Forum 'Digital Museums'
9.30 – 3.30 on 11 December 2019
at Public Record Office
of Northern Ireland


‌

Digital technologies and ways of working are rapidly impacting on audience behaviour and expectations, the nature of our collections, as well as how we fulfil our missions. These areas will be explored throughout the forum through a mix of digital interactions and more formal presentations as well as group discussions. Up to date research will be presented as well as an array of case studies; from enhancing visitor experience and engagement, digitising collections and making them available online, to managing efficient and sustainable organisations. Discussions throughout the day with peers from across the UK and Ireland will help provide insight into how we can better harness the potential of digital in the museum sector.

For more information please click here
---
Updated News November 2019 SASH - "The Great War Project"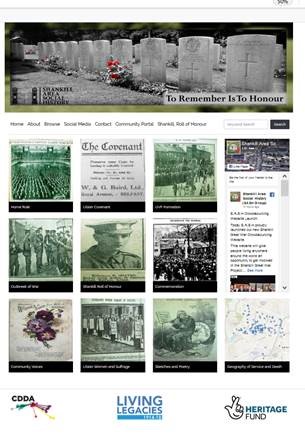 Living Legacies 1914-18 Engagement Centre with The Centre for Data Digitisation & Analysis were delighted to be able to support the launch of 'The Shankill Great War Project', crowd-sourcing web site. Funded by The National Lottery Heritage Fund and launched by Shankill Area Social History (SASH GROUP) on the 11th November 2019 @ 11 am.
We have very much enjoyed working with everyone and hope that in some small way we have helped to bring this project to fruition. Creating an online presence for this valuable research will hopefully help to raise the profile of the community group, share this research with a wider audience and moving forward support the digital legacy and creation of new content.
Please follow http://www.shankillgreatwar.com/

---
Updated News August 2019

Come join us at the Inniskilling museum open day, enniskillen castle, bank holiday Monday 26th August,
12 noon to 4 pm.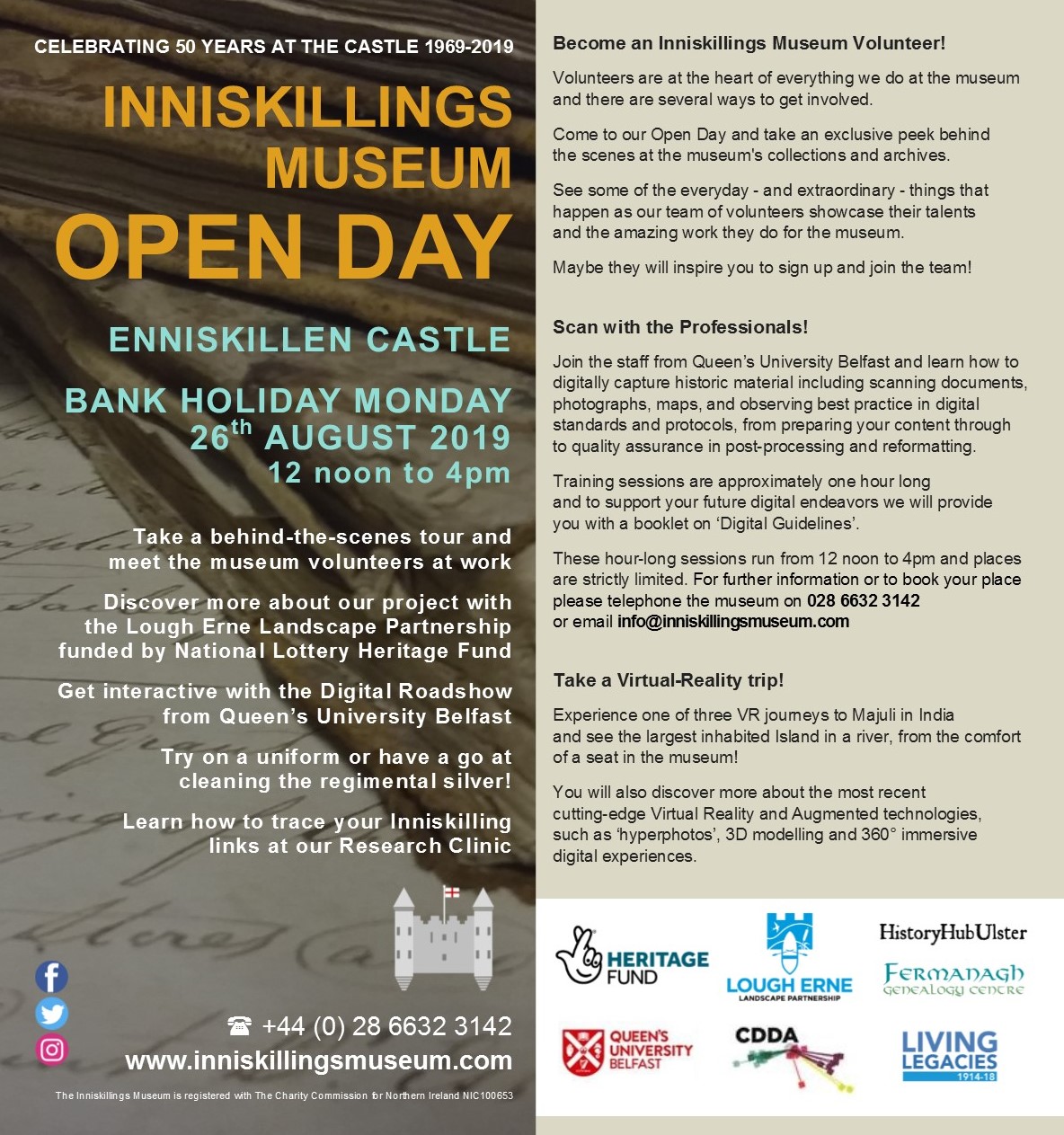 Please click here to read in full or go to the Inniskillings Museum website.
---
Updated News August 2019
The CDDA digital team have been very busy in Enniskillen, where they have been working with the The Inniskillings Museum and The Lough Erne Landscape Partnership as part of the 'Access Inniskillings Digitisation Project'.

They had a very busy and enjoyable Bank Holiday Monday, when the team were delighted to run a series of digital upskilling training sessions, where volunteers, trustees and members of the public learned how to digitally capture, review digital standards and archive historic material in museum collections. The demonstrations of cutting-edge immersive 360° digital experiences via Virtual Reality headsets really went down a treat!!

The team then spent several days digitising and recording much of the pre-1900 collections held by the Inniskillings Museum, from historic maps to portraits and paintings.

To learn more about their ongoing Access Inniskillings project, read about it here

To learn more about The Inniskillings Museum visit http://www.inniskillingsmuseum.com/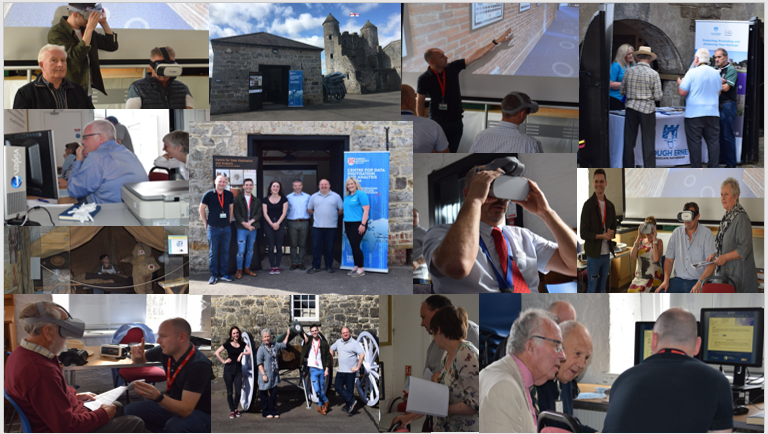 ---
Updated News July 2019

BBC news report on Ballykinlar History Hut - Recreating County Down historic military hut.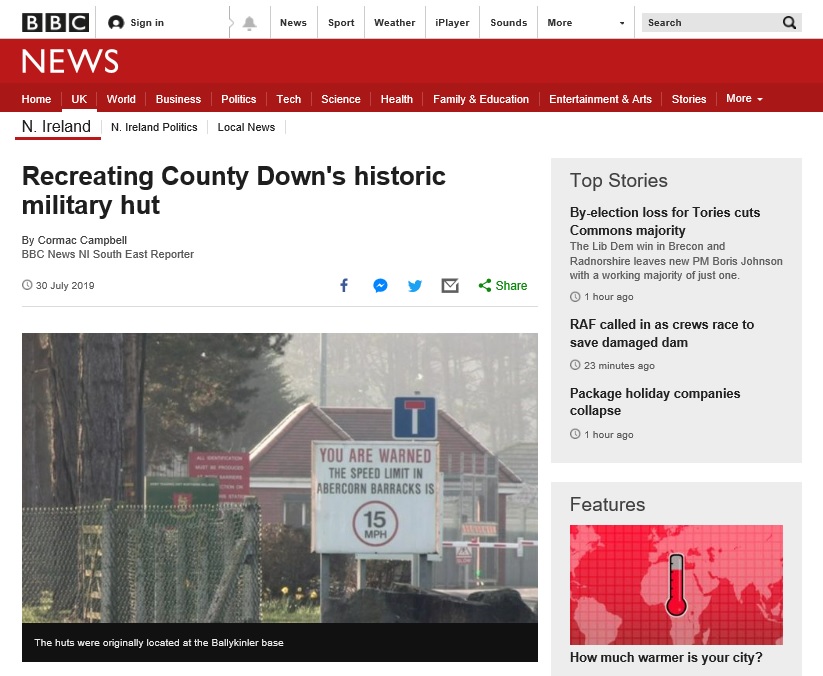 To read in full please click here
---
NEW PROJECT: 'Access Inniskillings Digitisation Project'
The Centre for Data Digitisation & Analysis is delighted to launch this new project with the Inniskillings Museum, digitising their irreplaceable pre-1900 historical archive. The research materials include letters, diaries, maps and photographs relating to the Royal Inniskilling Fusiliers; this project is looking to foster a greater understanding of the materials held in the museum's archives and we are very excited to begin the work.
Inniskillings Museum just celebrated its 50th anniversary, charting the history of one of Ireland's oldest regiments. Watch Inniskillings Museum: 50 Years to learn more and why not follow them on Twitter @Inniskillings.
---
On Tuesday 21st May, The Centre for Data Digitisation & Analysis officially launched the World War One Community Platform at the Public Records Office of Northern Ireland.
This platform was made possible through generous funding from the Arts & Humanities Research Council. We are grateful to our colleagues at the National Lottery Heritage Fund who developed the First World War: Then and Now grant scheme, and supported community research projects into the legacy of the First World War. We are indebted to the many project contributors for making such valued contributions to public understandings of WW1 histories and heritage, and for graciously sharing their research with us and allowing us to use it on our platform.
Thanks also go to the project management, research and design teams – Elaine Reid, David Hardy, Dr Rachel Tracey, Dr Heather Montgomery, Joshua Montgomery and Artisan Web NI – whose combined expertise was vital in bringing this platform to fruition.
LINK: http://ww1digitalportal.org.uk/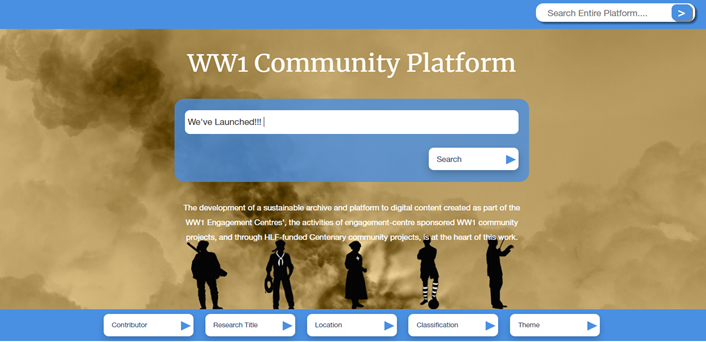 ---
Living Legacies 1914-18 News Update # June 2019 External url :- https://www.qub.ac.uk/cdda/FlipBook/LivingLegaciesNewsUpdateJune2019/

Updated News History Hut June 2019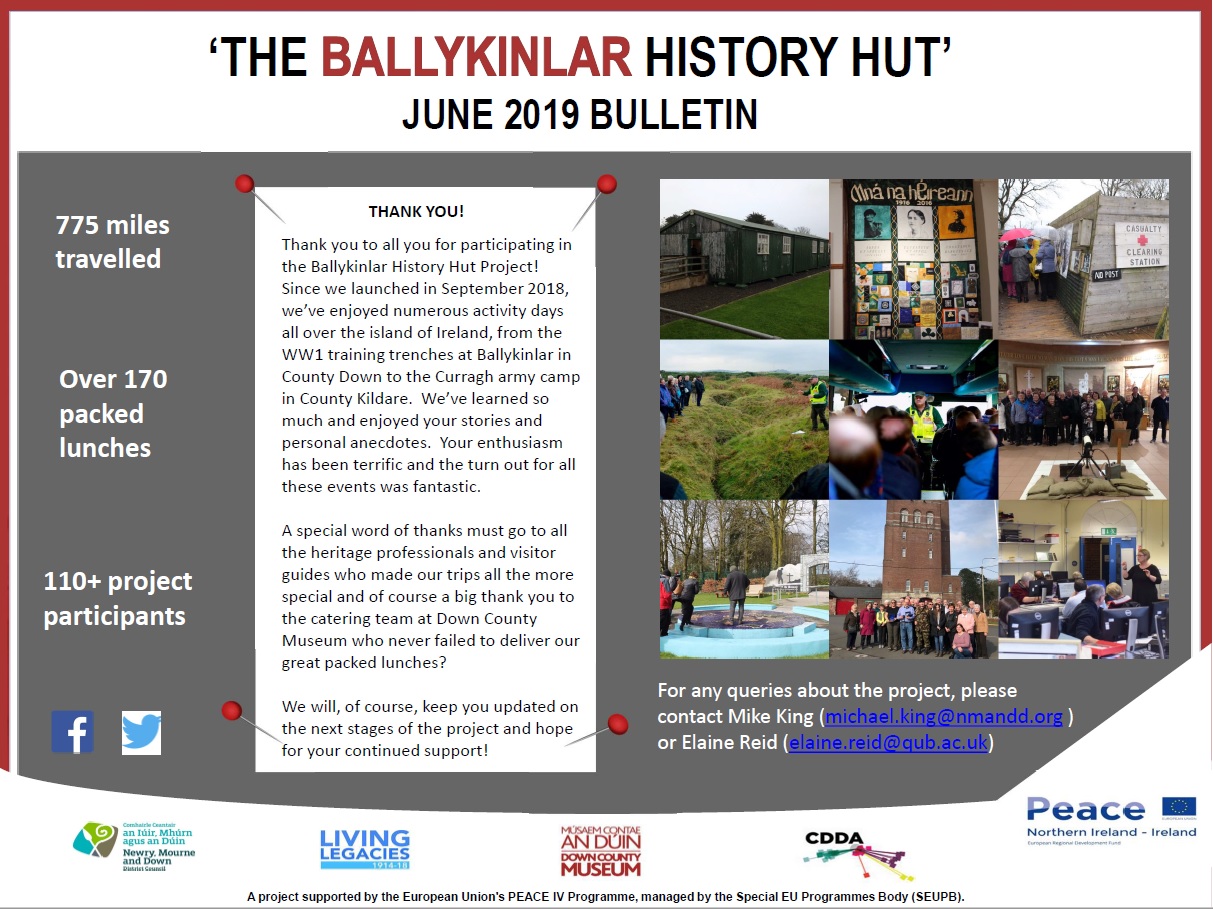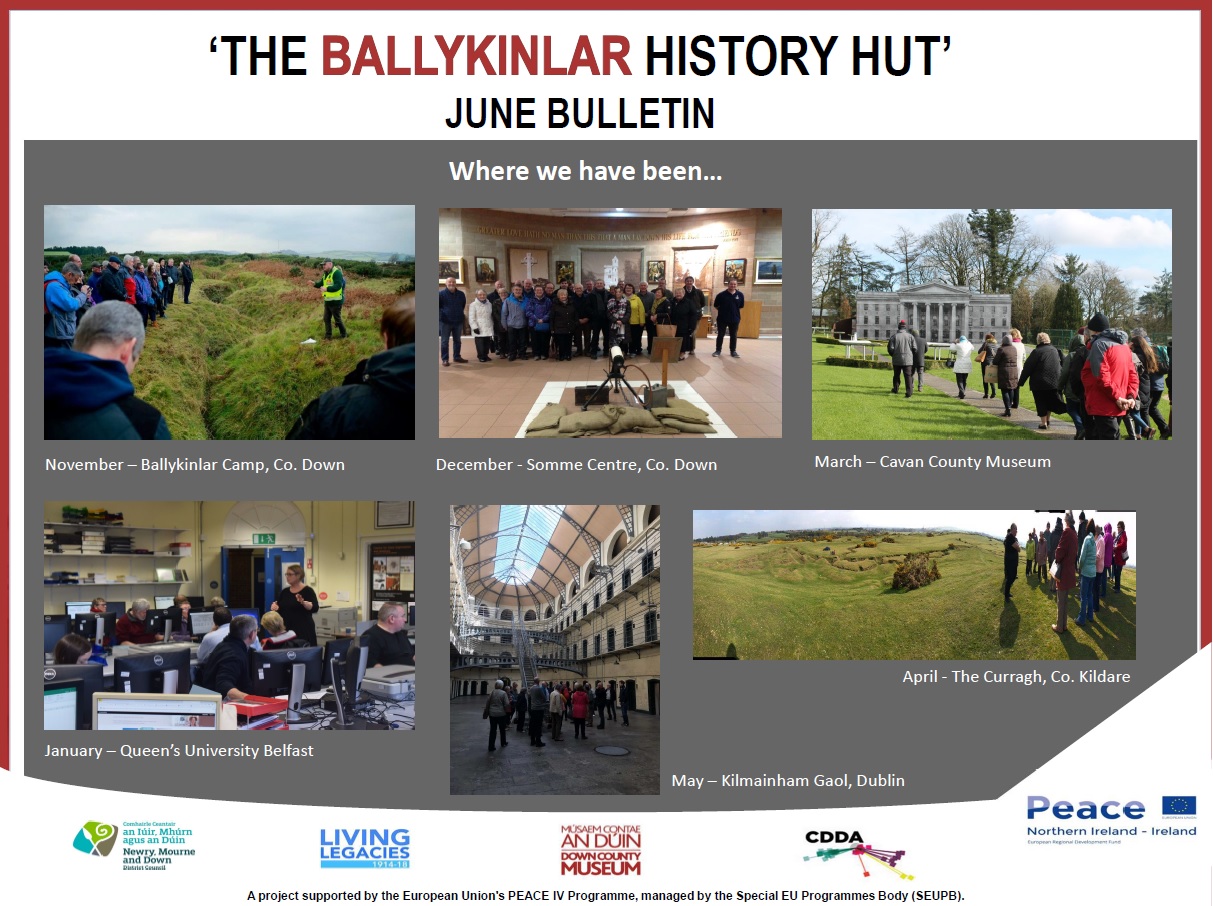 Please click here to read in full.
---
Updated News 2019 WW1 Engagement Centres Festival –
'Legacies of the First World War' Shared Heritage -
Legacies of the First War, 18th – 22nd May 2019
What's it all about?
To mark the end of the Centenary of WW1, a week of free public activities and events will be held across Northern Ireland, on the theme of Shared Heritage. The idea is to bring together heritage groups, projects and stakeholders to share experiences of exploring the legacies of WW1. These legacies connect the past with the present and we want to use Shared Heritage as a way of connecting communities from all across these islands, to help deepen our understanding and appreciation of the war in Britain and Ireland and its significance to us today. Our week-long Shared Heritage events are open to all, and cover topics such as archaeology and landscape, drama and creative arts, digital technologies, museums and exhibitions, led by the 'Living Legacies 1914-18' engagement centre and our partners. You can now sign up to the events by following the links below:


Please click here to read in full or see below for links to each event:
LANDSCAPE LEGACIES—CLEENISH, COUNTY FERMANAGH
18 May 2019 09:00

COMMEMORATIVE WALKING TOUR—WEST BELFAST
20 May 2019 10:50

PERFORMING THE PAST— SYMPOSIUM
20 May 2019 14:00

PERFORMING THE PAST— PLAY
20 May 2019 18:30

DIGITAL CENTENARIES
21 May 2019 10:00

COLLECTING CONNECTIONS
22 May 2019 12:30
---
Living Legacies - Shared Heritage.
This video depicts our 'Shared Heritage' festival back in May, we documented the many discussions, debates, performances, displays and site visits we made to explore the legacy of the First World War and the Decade of Centenaries. Check out our video of some of the highlights!
---
Updated News History Hut March 2019
Next event 6th April 2019 - The Curragh Army Camp, Co. Kildare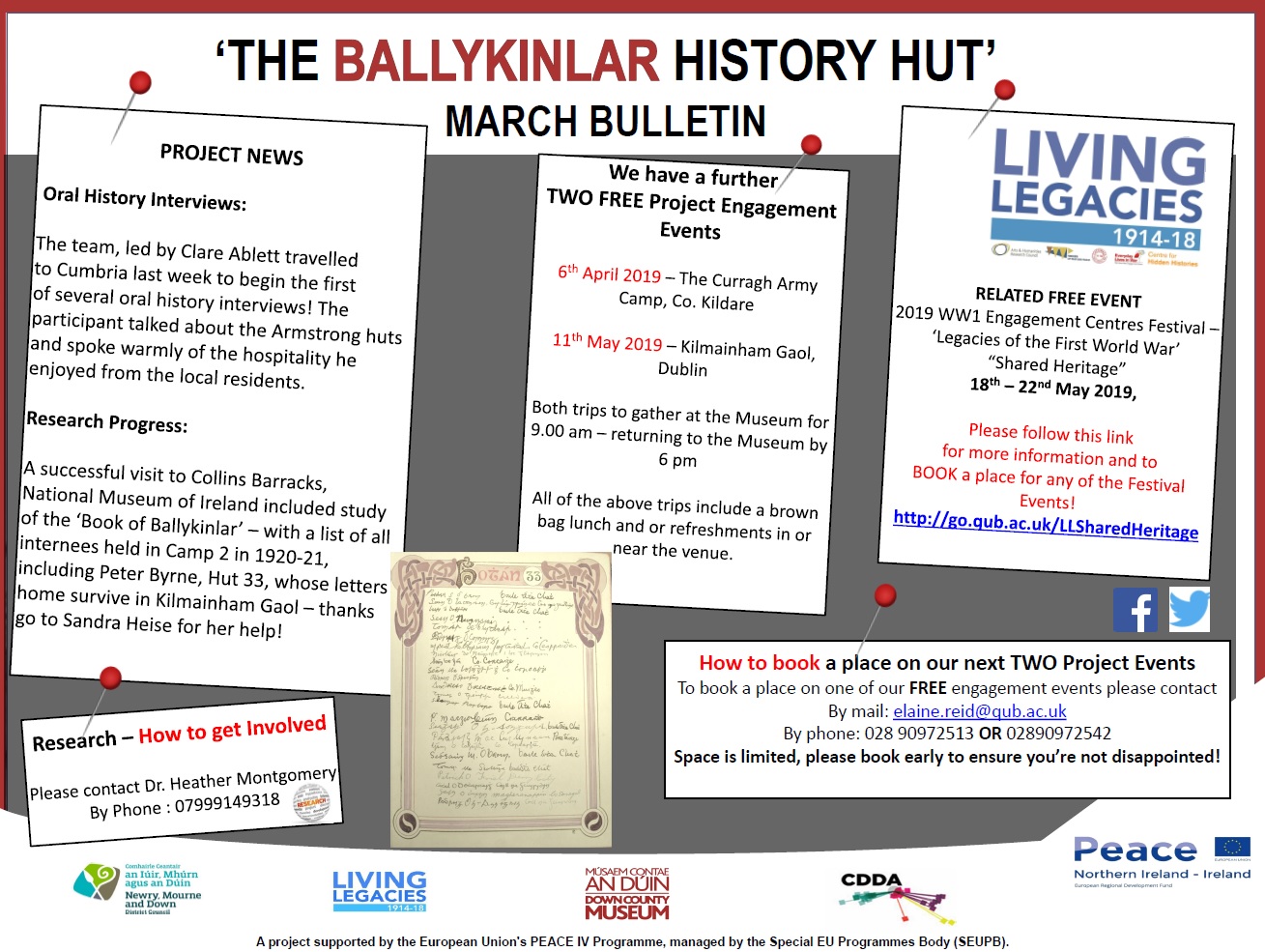 Please click here to read in full.
---
Updated News History Hut February 2019
Next event 9th March 2019 - Cavan County Museum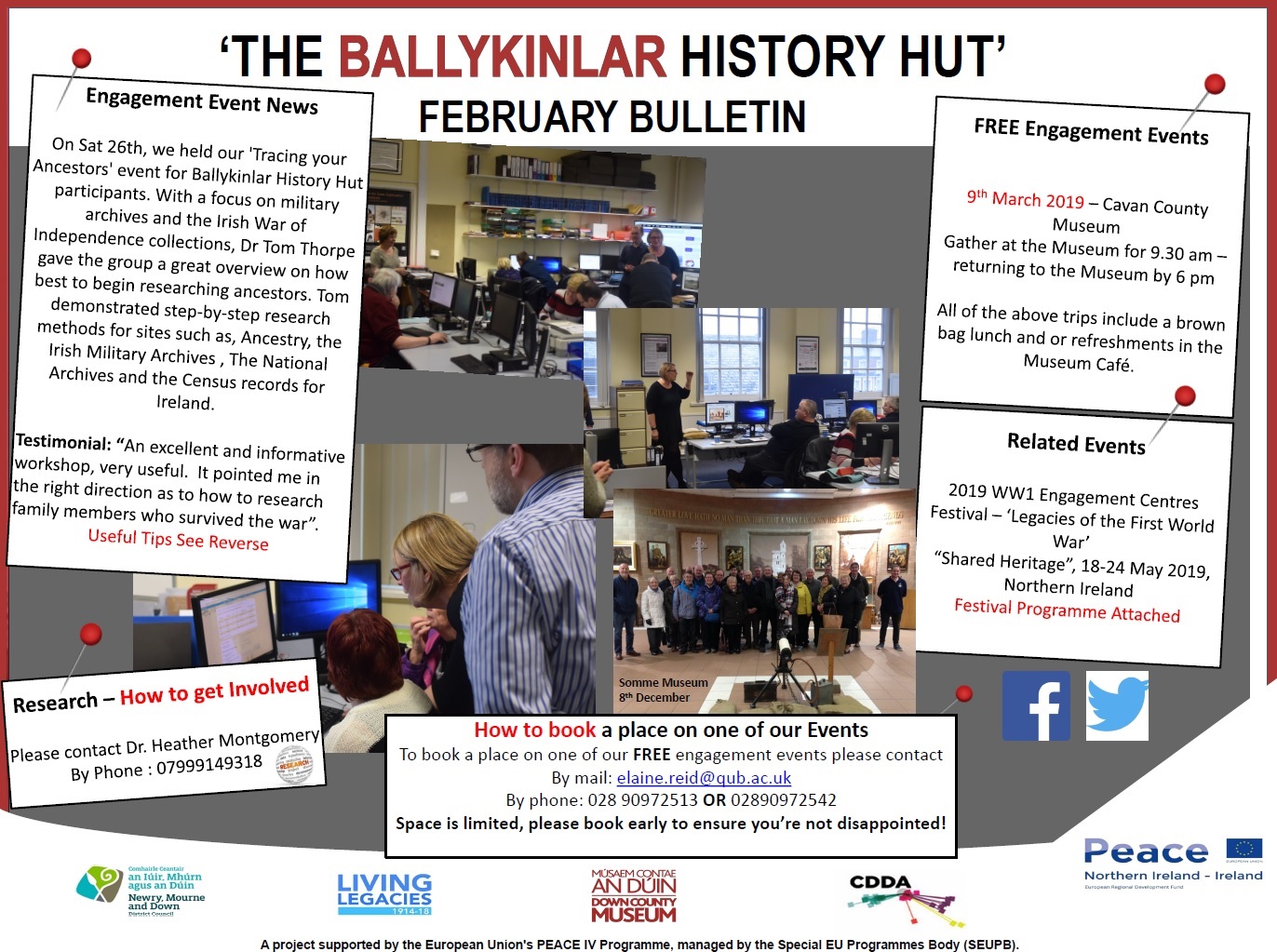 Please click here to read in full or to view our festival programme please click here.
---
Updated News 11 January 2019 - T:BUC Engagement Forum
On 18th Sept, The Executive Office (TEO) and over 150 community practitioners, policy makers and academics gathered in Lisburn Island Centre for the seventh meeting of the Together: Building a United Community (T:BUC) Engagement Forum. The event focused on the T:BUC theme Children and Young People and placed a strong emphasis on what central government and practitioners can do to develop and engage with young people and explore actions that could enable greater participation by young people in promoting good relations.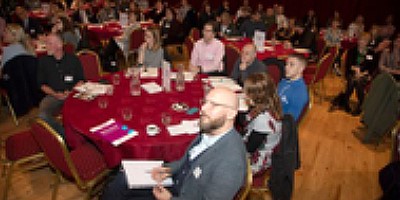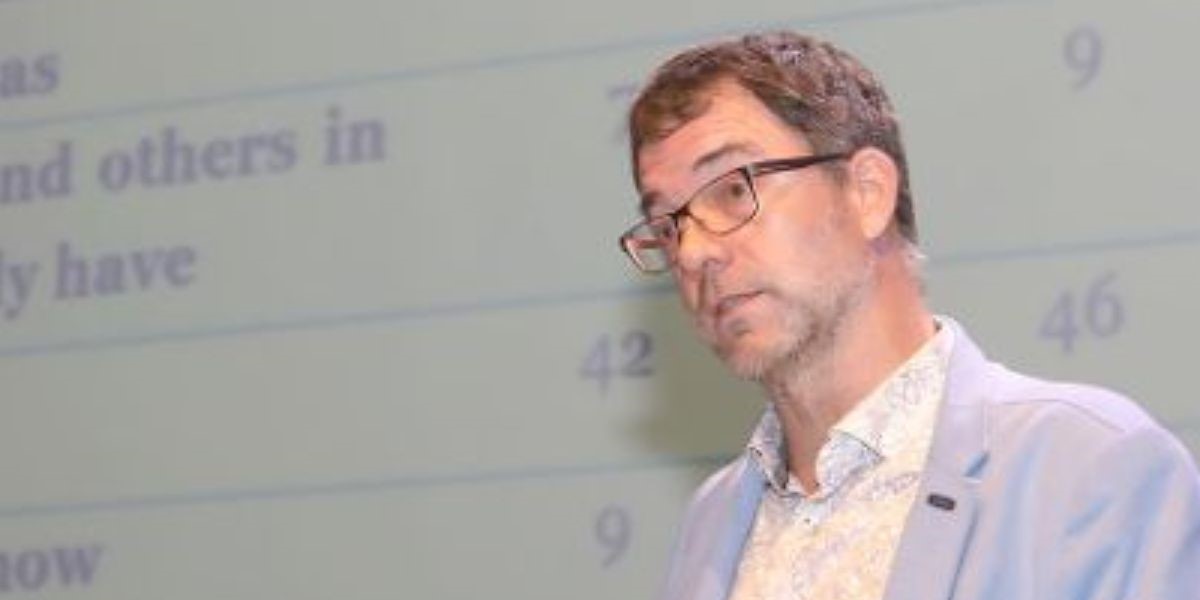 Dr Dirk Schubotz,Senior Lecturer, School of Social Sciences, Education and Social Work, QUB and a member of ARK organises the annual Young Life and Times (YLT) survey made a presentation at the event. The presentation covered data from the surveys and analysis around four main areas.
These were young people's participation in good relations projects and programmes, attitudes to minority ethnic communities, attitudes to good relations, and respect. You can see Dirks presentation by clicking on the link below.
Please click here to download Dr Dirk Schubotz presentation
CDDA have worked with Dr Dirk Schubotz for many years to assist with the Young Life and Times (YLT) survey click here to read testimonial
---