Image and Content Enhancement Services - (16/09/2013)
Centre wins almost £1 million in grants - (01/02/2012)
Arsenic-free water provides hope to millions of people in South East Asia - (11/11/2008)
Historical Hansards: 50 Years of NI Parliamentary Papers Available - (21/11/2006)
---
Imaging and Content Enhancement Services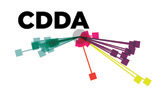 The Centre for Data Digitisation and Analysis (CDDA) www.qub.ac.uk/cdda within the School of Geography, Archaeology and Palaeoecology contains a high-quality digitisation unit which is able to scan, image enhance, process through optical character recognition a vast range of content. The processing quality is unrivalled in the UK and has been instrumental in attracting a large number of Research Council grants. In RAE 2008 the Centre assisted a number of Schools in preparing content for the Exercise. The Unit has received a number of requests for REF.
If you are interested in preparing content for REF submission, please contact the Centre's Project Manager on 028 9097 3883 or Elaine.Reid@qub.ac.uk
Centre wins almost £1 million in grants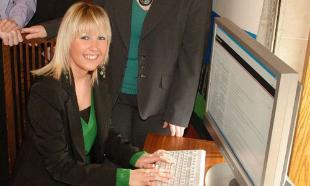 Queen's Centre for Data Digitisation and Analysis (CDDA) has been awarded three grants totalling almost £1 million.
The Centre, which is based in the School of Geography, Archaeology and Palaeoecology, has received the grants from the Joint Information Systems Committee (JISC) Digitisation Content Programme call for 2012-13.
The awards recognise CDDA as a world-leader in the development and use in research and teaching of electronic resources in the Humanities and Social Sciences.
CDDA is unique in that it not only digitises key analogue content to make it available over the internet, a process often based in university libraries, but it also develops new methodologies to use the digital content, and deploys the electronic material and new methodologies to address major traditional research questions.

Under the latest JISC call, the Centre and its partners received almost £1 million of the £5.4 million available, representing 20 per cent of total funding under the programme. The awards allow ongoing development of three existing research projects.
Under a £673,270 JISC award, Exposure of English Place-Names (DEEP), CDDA will computerise and make available the most comprehensive gazetteer of place-names anywhere in the world. Until now, place-names have only been accessible through the 86 printed volumes of the Survey of English Place-Names.
The new funding ensures that scholars will be able to find location-specific content using virtually any form of a place-name that has ever existed. In so doing digital collections will become far more accessible than has been the case to date resulting in better use of e-content by research and teaching communities.
Under its second award to CDDA and partners, JISC has provided £138,088 to Linking Parliamentary Records through Metadata. This allows the Centre to develop technologies to facilitate the seamless comparison of parliamentary proceedings for past and current administrations in Northern Ireland, Westminster, Scotland and Wales. The scheme has inbuilt functionality to allow its use for any parliamentary materials based on the 'Westminster' system. This will allow, for example, debates at Stormont to be compared with debates on the same issue at Westminster or for legislation to be compared across the UK.
Finally, in an award to the University of Portsmouth, with CDDA as a collaborator, JISC has funded a project to create a virtual map library. Old Maps Online: Finding and referencing historical mapping as a platform for research and teaching, through a £139,900 grant, will draw together disparate scans of historical maps from around the world to create a map collection far larger and more comprehensive than any single institution could hope to house.
These latest awards bring the number of grants to CDDA over the last 10 years to almost 80, worth in excess of £8m. To find out more about the Centre and its activities see www.qub.ac.uk/cdda
Photo :- Karleigh Kelso, a member of the CDDA team which has attracted almost £1 million in grants
Arsenic-free water provides hope to millions of people in South East Asia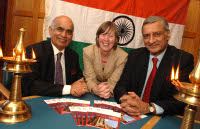 An EU-India consortium led by Queen's University Belfast has led to the development of technology which could provide safe drinking water for over 70 million people in South East Asia. The joint collaboration has resulted in the world's first low-cost technology to provide arsenic-free water to people in India and surrounding countries.
This week researchers from Queen's will travel to India to officially open the Eastern India Water Research Institute (EIWRI) in Kolkata. EIWRI will be located at Bengal Engineering and Science University (BESU) and include a second Indian partner, the Institute of Environmental Management and Studies.
Work on the collaboration with the Bengal Engineering and Science University (BESU), Kolkata has been ongoing for two years and it is hoped the technology will benefit other regions of the world with similar problems.
Recognising the work of Queen's in this area, the British Council will also announce the University's selection as a provider of training to improve groundwater management in regions of eastern India affected by arsenic.*
The opening of the new Institute forms part of a ten day visit to India by a Queen's delegation, led by its Vice-Chancellor, Professor Peter Gregson. The visit will build on key research and teaching partnerships in Kolkata and New Delhi.
In Kolkata, Queen's will announce an expansion of its India Welcome Scheme for Indian Postgraduate students. Designed to develop science and technology leaders of the future, 30 scholarships will be on offer to encourage leading Indian students to come to Queen's.
Queen's will also announce the establishment of its new Centre for Contemporary Indian Studies on its Belfast campus, during a meeting with Dr Karan Singh, current President of the Indian Council for Cultural Relations (ICCR) and former Governor of Kashmir.
The Centre will house the single largest private collection of books and monographs on India, namely the Bill Kirk India Collection, which has been endowed to the University by the Kirk family.
Professor Gregson will also meet with India's industry confederations and the Indian Chamber of Commerce and focus on trade collaborations between companies in Northern Ireland and India.
One of the first beneficiaries of such partnerships will be Queen's Centre for Data Digitisation Analysis (CDDA). CMC, a leading Kolkata-based IT Company will announce a £400,000 deal with CDDA to digitise Indian government records.
Speaking ahead of the visit, Professor Gregson said: "International cooperation in research and education is vital for the joint economic futures of Northern Ireland and India. The opening of the Water Research Institute in Kolkata is a clear demonstration of the benefits of such cooperation and one that will benefit people around the globe.
"Queen's values its relationship with India and we are delighted to announce the establishment of our new Centre for Contemporary Indian Studies which will further strengthen the links between our countries."
In addition to new collaborations, the Queen's delegation will also build on partnerships established over previous years with India. These include a second international cancer conference in conjunction with India's National Institute of Immunology (NII).
Last year, Sir Reg Empey, Minister for Employment and Learning launched the first conference in New Delhi, and representatives from the NII will this week confirm that the Centre for Cancer Research and Cell Biology at Queen's will host the second global event in 2009.
New opportunities in research and education for staff and students will also arise from the trip as Queen's signs agreements and extensions to those already agreed with several of India's leading universities, including Jawaharlal Nehru University (JNU).
Photo - Queen's-India Lecture Series: Lord Diljit Rana; Prof Ellen Douglas-Cowie; His Excellency The High Commissioner of India to London and Mr Kamalesh Sharma.
Historical Hansards: 50 Years of NI Parliamentary Papers Available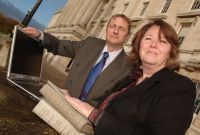 As the 24 November deadline for the restoration of devolved government in Northern Ireland looms, a new website being launched today at Parliament Buildings, has made all 92,000 pages of Hansard of the House of Commons for the Stormont-based Government of Northern Ireland, between 1921 and 1972, available online for the first time. It has been created by the Centre for Data Digitisation Analysis (CDDA) at Queen's University Belfast and the Arts and Humanities Data Service (AHDS) at King's College London.
Casting a unique and valuable light on political, social, and economic developments within Northern Ireland, these important papers were previously held by very few institutions as reference only copies, and with no comprehensive subject index they were inaccessible and difficult to use.
Now http://stormont-papers.ahds.ac.uk will offer users the opportunity to access this important and intriguing collection of papers and the ability to search by key subjects or people, many of whom are still involved in the ongoing political discussions today.
The website has been indexed by subject heading and an introduction to the political figures has also been provided.
Explaining the rationale behind the project, Dr Paul Ell, Director of the CDDA at Queen's said: "The 92,000 pages of Hansard on Northern Ireland, from post-partition in 1921 to the establishment of Direct Rule in 1972, were a vast virtually untapped resource that paid specific attention to social and economic matters of importance and debate, many of which remain of great significance today.
"Access to the papers was very limited and, as the resource is one of the primary sources for following the development of Northern Ireland, the CDDA at Queen's felt it was vital that it be made available to the wider community.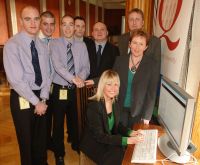 "There is no wider community than that offered by the Internet and now anyone can access this site to find out how issues such as health, education, social services, local trade, agriculture, law and order, planning and industry have developed in Northern Ireland. I would like to pay tribute to the Arts and Humanities Research Council for their support, without which this project would not have been possible."
Sheila Anderson, Director of the Arts and Humanities Data Service added "I congratulate the CDDA at Queen's for this timely new website will brings both the history of Northern Ireland to life and makes it available to a whole new audience. A myriad of colourful information is available on political figures and their opinions, several of whom are still featuring strongly on the political scene today."
Commenting on the importance of the new website, Eileen Bell, MLA, Speaker of the Assembly, who helped officially launch the resource said: "This is a significant and very exciting project. The papers from the old Stormont Parliament are a unique and hugely important source of information on the history and development of Northern Ireland. They help us to understand exactly how and why previous generations made decisions that, in one way or another, have helped shape the way we live today.
"However, until today, that rich archive has not been widely available. Now, thanks to the CDDA and AHDS, that has changed and people all over the world will be able to access the information. The period covered by the papers includes not only some of the most crucial times and events in local history, but in world history. By learning from the contents of the papers, I believe that we will all be better informed and equipped to make decisions that will benefit all the people of Northern Ireland, not just today, but in the future"
Preparing the data for the website took over two years and during that time the project also assisted five young people gain NVQ level II and III qualifications in IT and administration. CDDA has contributed to this Government Scheme for the past eight years working closely with the Belfast Centre of Learning.
Further information on the work of the CDDA, which, with project partners both nationally and internationally, has secured close to £6m of funding over the last few years, is available by visiting www.qub.ac.uk/cdda. Information on the Arts and Humanities Data Service is available at www.ahds.ac.uk
Notes to Editor
1. http://stormont-papers.ahds.ac.uk is being launched in the Long Gallery at Parliament Buildings today (Tuesday, 21 November). Media Opportunities are available from 11.15am.
2. The Centre for Data Digitisation Analysis at Queen's is a research unit with interests in temporal Geographical Information Systems, the development of electronic research resources, e-Science and Grid technologies. It provides a comprehensive digitisation service to create key e-resources including capture of material, quality assurance, data post-processing and data delivery to user requirements and also offers NVQ full-time work experience training opportunities for suitable candidates.
3. The Arts and Humanities Data Service (AHDS) is a UK national digital library aiding the discovery, creation and preservation of digital resources in and for research, teaching and learning in the arts and humanities. Its executive office is based at King's College London. It is funded by the Joint Information Systems Committee and the Arts and Humanities Research Council.
4. The Arts and Humanities Research Council supports research within a huge subject domain from traditional humanities subjects, such as history, modern languages and English literature, to the creative and performing arts. The AHRC funds research and postgraduate study within the UK's higher education institutions. In addition, on behalf of the Higher Education Funding Council for England, it provides funding for museums, galleries and collections that are based in, or attached to, higher education institutions in England. For further information please contact Lisa Mitchell, Communications Office, 028 9097 5384 or m0781 44 22 572
Photo 1 - Dr Paul Ell, Director of the CDDA at Queen's University Belfast and Sheila Anderson, Director of the Arts and Humanities Data Service at Kings College London pictured at Parliament Buildings, Belfast.
Photo 2 - The Team from CDDA who created the Historical Hansards website