NIO Minister visits ahead of event to shape future of £98m advanced manufacturing facility
Minister of State for Northern Ireland Conor Burns has visited Queen's University ahead of a two-day event which will bring together over 70 leaders in advanced manufacturing to shape the future of a £98m world-class facility for the industry.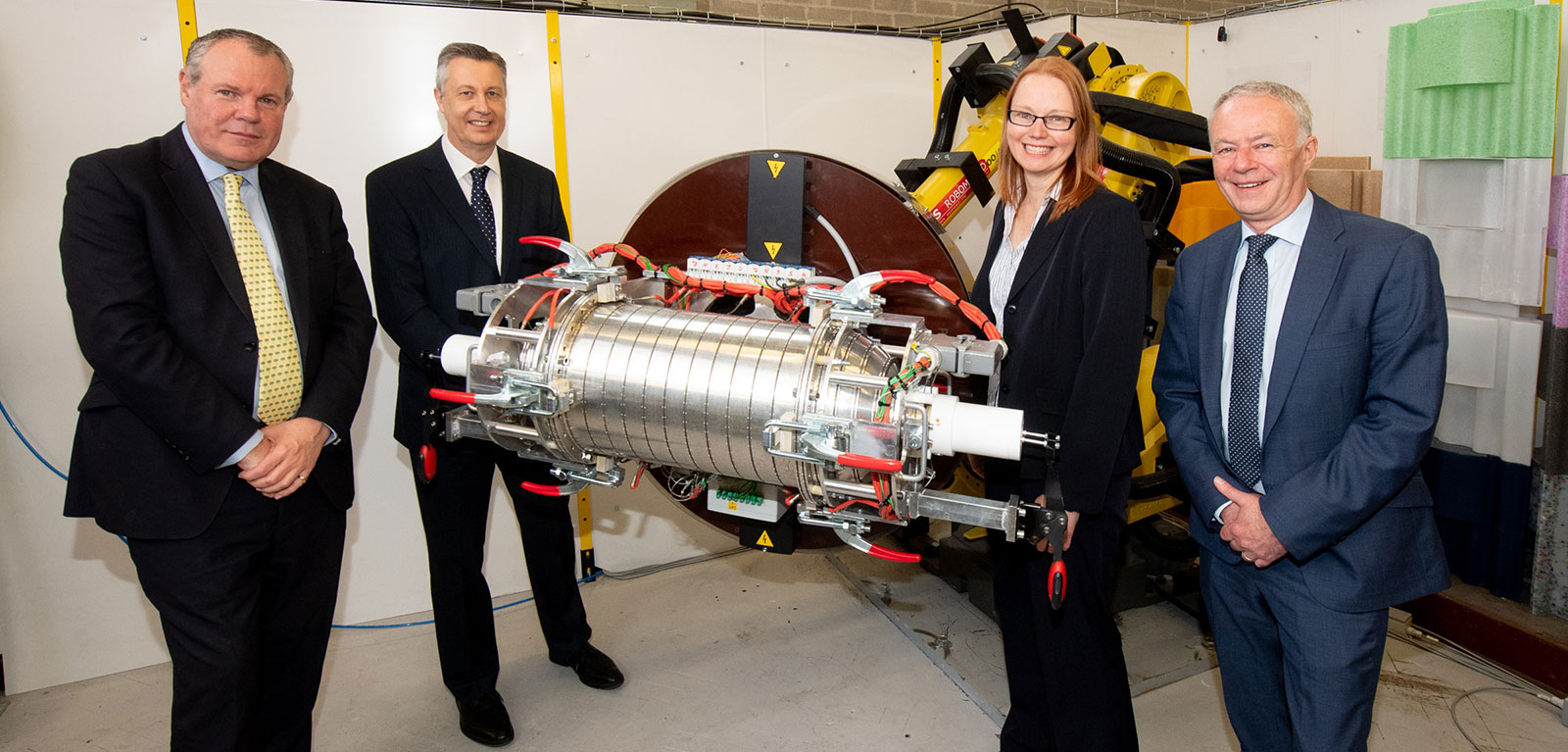 Minister Burns visited the Northern Ireland Technology Centre and the Polymer Processing Research Centre where he saw collaborative University-industry R&D and was updated on progress for the Advanced Manufacturing Innovation Centre (AMIC), a Belfast Region City Deal project, which will be a springboard for manufacturing innovation in Northern Ireland.
This week AMIC is hosting a two-day Technology Roadmapping event facilitated by the Institute of Manufacturing in Cambridge, set to be attended by over 30 local businesses including those from the aerospace, materials handling, food, health and ICT sectors, as well as academics from Queen's and Ulster University and representatives from industry organisations and government bodies.
The event is designed to help to set out a long-term framework for the technology support needed by Northern Ireland's manufacturing businesses and shape AMIC's proposed flagship facility, a new industry-focussed Factory of the Future at Global Point Business Park in Newtownabbey which will give advanced manufacturing and engineering businesses access to the very latest equipment and expertise.
It will build on 50 years of sustained innovation and industry support through the NITC, the Polymer Processing Research Centre (PPRC) and the more recent university-industry partnership, NI Advanced Composites and Engineering (NIACE) and will consolidate and enhance existing facilities in partnership with Ulster University and Antrim and Newtownabbey Borough Council.
The UK and Northern Irish governments are providing £170m funding towards three Queen's-led Centres - the Advanced Manufacturing Innovation Centre (AMIC), the Global Innovation Institute (GII) and the Institute of Research Excellence for Advanced Clinical Healthcare (iREACH).
Paul Maropoulos, Director of AMIC, said: "We were delighted to welcome Minister Burns to Queen's ahead of this week's AMIC Technology Roadmapping Workshop for the advanced manufacturing sector of Northern Ireland which will help shape AMIC to become a world-class facility for innovation R&D and industrial collaboration.
"It is vital that our industry, government and academic stakeholders are strongly involved in the development and establishment of AMIC and that our business plan and priorities are informed by industry, research partners and regional stakeholders, in what we hope is an inclusive and insightful process.
"At Queen's we have considerable expertise and a strong track record of manufacturing innovation working closely with industry, and AMIC will help us to further grow that engagement, positioning Northern Ireland alongside national and international networks of Centres of Excellence to create global impact."
Minister of State for Northern Ireland Conor Burns said: "I am delighted to have been able to see and hear about the significant progress being made on the Advanced Manufacturing Innovation Centre by Queen's University Belfast, one of the UK Government funded projects in the Belfast Region City Deal.
"The Centre will have a transformational impact on Northern Ireland, providing companies with unprecedented access to the latest manufacturing technologies and delivering real change for people and businesses in Northern Ireland.
"I look forward to learning more about Queen's University and Ulster University's collaborative work on innovative projects like AMIC and how the Government's funding for digital and innovation projects, provided through the Belfast Region City Deal, continues to benefit Northern Ireland."
John Walsh, Chief Executive of Belfast City Council said: "It's great to be here today with the Minister and our partners at Queen's University Belfast to share more about the ambitious Belfast Region City Deal plans for the £98m Advanced Manufacturing Innovation Centre (AMIC) ahead of further engaging with the industry. AMIC will be a state-of-the-art 'Factory of the Future' - a springboard for manufacturing in NI.
"We're all focused on making a robust contribution to the economy's recovery and prosperity by harnessing the potential of our most resilient sectors to drive innovation to deliver inclusive growth for both businesses and communities – and a decade of opportunities."
Mayor of Antrim and Newtownabbey, Councillor Billy Webb, said: "Success of the project to date is testament to the unprecedented levels of partnership working between the Council, Government Departments, UK Government, our universities and industry partners.
"With a decade of opportunities which will see an investment of £1billion in the Belfast City Region, the AMIC project aims to create over 1,000 new jobs from Newtownabbey and generate significant supply chain opportunities for businesses right across Northern Ireland."
The Belfast Region City Deal partners comprise Belfast City Council, five partner councils, Queen's University and Ulster University, and four of the region's further education colleges.
The NI Executive and the UK Government have each committed up to £350 million to the City Deal and the BRCD partners will contribute a further £150 million. By leveraging additional private sector investment, the partners will deliver a programme with an overall value of more than £1 billion, supporting the creation of up to 20,000 new and better jobs.
Media
For enquiries contact Andrea Kennedy, Communications Manager, Belfast Region City Deal at Queen's University, on a.j.kennedy@qub.ac.uk