Mechanical Engineering Student Ryan Burke, Awarded Science Shop Prize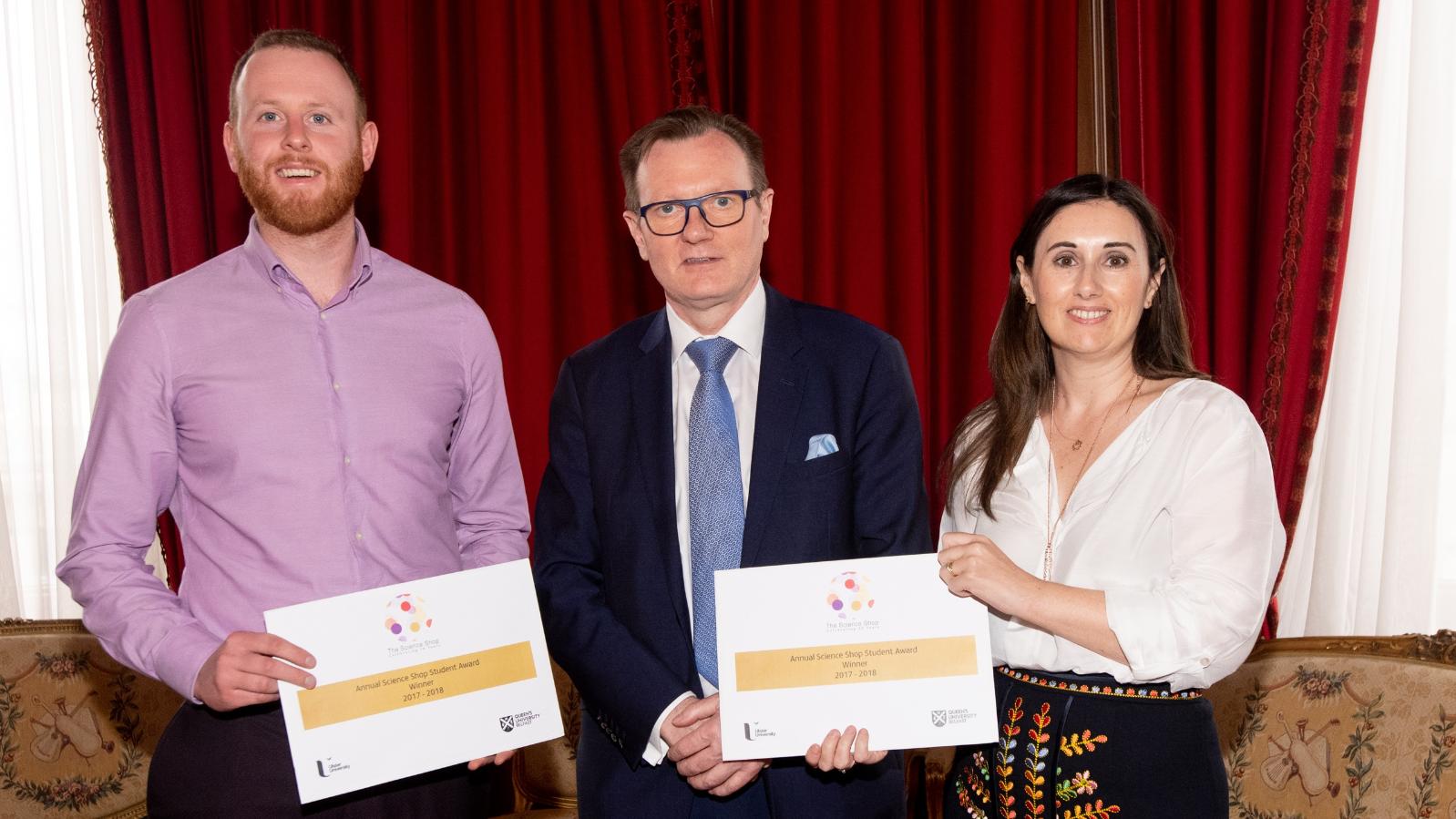 Congratulations to Ryan Burke (above, left), who was recently jointly awarded the Science Shop second prize for his work on his final year project at the School of Mechanical and Aerospace Engineering at Queen's. Mark's project investigated the use of a network of drones to increase the moisture content of heather, the main wildfire fuel, during periods of drought and thus reduce the risk of wildfires occurring. Ryan is currently working for Catagen, a Belfast-based company that specialises after-treatment systems to reduce tailpipe emissions in the automotive industry.
Wildfires can have serious implications, both in terms of cost and environmental impact. In mountainous areas, such as in the Mourne region, fires can quickly go out of control, leading to environmental damage and habitat destruction. Wildfires can pose a threat to human life, property, farmland and agricultural livestock, as well as having a detrimental effect on the tourism industry. Water from mountain areas is often used in drinking water supplies, and the pollution caused by wildfires increases costs at water treatment works. Following a wildfire near a water supply reservoir in the Mournes in 2004, it took almost two years for the raw water quality to significantly improve, resulting in an increase in cost for the treatment works of around £230,000. Managing and minimising the occurrence and impact of wildfires is therefore very important in terms of protecting the environment and avoiding increased expenditure for the government and cost to the public.
The Science Shop works across all university faculties linking the knowledge and skills of students and staff with community needs through course-based research projects and dissertations. Ryan, from the 2018 Mechanical Engineering MEng graduating class, undertook his final year dissertation on the topic of 'Managing the impacts of wildfires in the Mourne Mountains'. His project was supervised by Dr Beatrice Smyth and was carried out in conjunction with Mourne Heritage Trust, a registered charity that works 'to sustain and enhance the environment, rural regeneration, cultural heritage and visitor opportunities of the Mourne Area of Outstanding Natural Beauty and contribute to the well-being of Mourne's communities'.
Photo: Ryan Burke, Prof. Ian Greer (QUB, VC), Dr Joanne Murphy Queen's Management School (accepting the joint second prize on behalf of Rachael West).