Kelly McCaughrain: Notes on a Fellowship
Kelly McCaughrain reports on her time as Children's Writing Fellow for NI as her term draws to a close.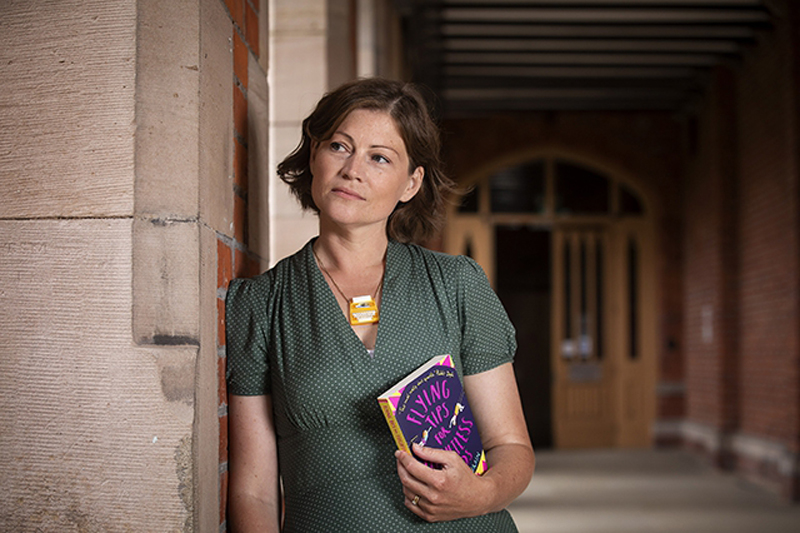 "When the very exciting fellowship you've been awarded coincides with a global pandemic, it's bizarre how two years can simultaneously crawl and fly by. I've been working from home now since approximately forever, and yet it seems no time at all since the fellowship began.
So it's hard to believe it's over, but it's been a huge honour and privilege, not to mention a lot of fun, to be the SHC Children's Writing Fellow. I'm so grateful and proud to have had the chance to contribute to areas that I'm passionate about, especially creative writing for teens. It's been wonderful to have a platform to help schools to set up creative writing clubs and I hope this will continue to be useful to them for years to come. Schools have had more to deal with than most lately and I know getting back on track will be a mammoth challenge, but I really hope that one of the many important lessons we take out of lockdown is the importance of creativity in stressful times. (Is there anyone who hasn't taken up a new lockdown hobby?) I know creative writing is a vital outlet to many young people and it would be wonderful if space, time, and encouragement to write was available to every child and teen who needs it.
The Children's Writing Fellowship really is a big team effort and I've made so many new friends along the way. I'm grateful to all the people over the last two years who have invited me to visit schools, speak at events, judge competitions, write articles, and have generously supported my own projects. It's been a tremendously uplifting experience to meet so many talented and enthusiastic people who are passionate about children's literacy and creativity in Northern Ireland, and it's been a privilege to work with them. My heartfelt thanks go out to the Education and Library Boards, BookTrust, Fighting Words, The Harbour Commissioners, BBC Radio, local newspapers, No Alibis Bookstore, the Arts Council NI, and the Seamus Heaney Centre, and especially to the many schools, teachers and librarians who encourage their young readers and writers every day.
Once again I'd like to applaud the Seamus Heaney Centre at Queen's University and the Arts Council for NI for establishing this role and affirming the importance of children's literature and their commitment to it. I wish the new Children's Writing Fellow all the very best and I hope they have as much fun over the next two years as I've had!"
Kelly McCaughrain, Children's Writing Fellow for NI (2019-21)
The Children's Writing Fellowship was created as part of Queen's University and the Arts Council of Northern Ireland's (ACNI) joint ten-year Seamus Heaney Legacy project supported by the Atlantic Philanthropies. Fellows are selected by an expert panel, to be based at the Seamus Heaney Centre at Queen's for two years, working with students and engaged in outreach activities.
Find out more about the Fellowship and Kelly's work over the past two years here.
Media
shc@qub.ac.uk