NI Children's Writing Fellow calls out to schools to explore visual literacy
One year on from taking up the position of Children's Writing Fellow for Northern Ireland, Paul Howard is on a mission to inspire creativity and the joy of books among as many young readers as possible.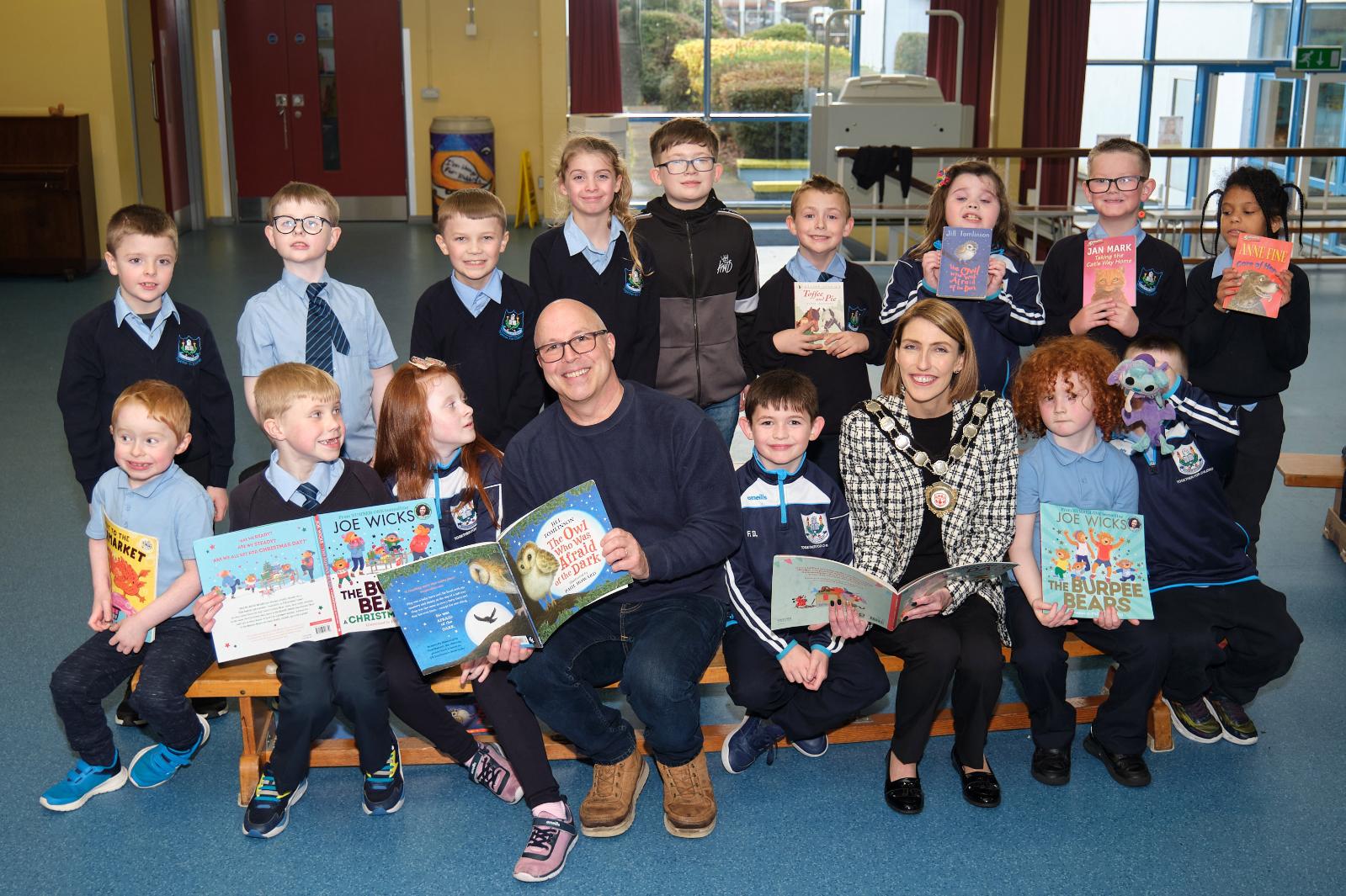 Appointed to the prestigious role at the beginning of 2022 by the Arts Council of Northern Ireland and Queen's University Belfast as part of their joint Seamus Heaney legacy project, Paul has been based at the Seamus Heaney Centre at Queen's for the last 12 months where he has been drawing up plans to use visual literacy as a tool to help children develop their confidence as both readers and storytellers.
As an award-winning author and illustrator, his interactive workshops encourage children to use drawing as a gateway to connect with books and put their own ideas on paper. Over the past year he has engaged with over 2,100 school children, visited 24 schools and learning centres, and held residencies at Belfast Book Festival and the Burnavon Arts Centre in Cookstown.
For his second and final year in post, Paul is continuing these free workshops and is encouraging schools, particularly those in Counties Fermanagh, Derry-Londonderry and Armagh, to apply for a place in the early summer or autumn 2023 term via the Seamus Heaney Centre at Queen's. Twelve schools have already confirmed workshop places, with a visit to the Burnavon planned for World Book Day in March confirmed too. Those lucky enough to experience Paul's workshops will be treated to an insight into his creative process, and encouraged to craft their own stories, drawing along with him to dream up the next chapter for one of his best-loved characters from The Owl Who Was Afraid of the Dark or create a new book cover for this classic book.
Paul Howard commented: "Visual literacy is telling narratives through images not words, which is how very young children first experience literature. But it can help all children with literacy as it offers an enjoyable, alternative way to tell stories, from which confidence can be built before words are introduced. Most children enjoy the freedom visual literacy offers and, as an illustrator primarily, visual literacy is where stories really begin to take shape.
"My first year as Children's Writing Fellow for Northern Ireland has flown by, with memorable moments found visiting Rathlin Island's only school and a week in Mid-Ulster spent within Special Educational Needs Schools and Learning Support Units. For my second year I look forward to engaging with more schools who have never experienced an author/illustrator visit before – particularly in the West, the North West and Southern counties – and would, in better weather, like to share some sessions outside of school grounds for children to find story inspiration in different environments."
Damian Smyth joint Head of Literature and Drama at the Arts Council of Northern Ireland, said: "It has been fantastic to hear feedback from schools and the children who have had a workshop with Paul over the past 12 months. He brings with him an incredible energy and passion and it has been wonderful to see so many of the schools using his visit as a starting point for encouraging pupils to experiment with their own writing and drawing. Paul is such a talented author and illustrator and we are hugely honored to have him as our Children's Writing Fellow for Northern Ireland."
About Paul Howard
After gaining a First Class Honour's Degree in Graphic Design & Illustration in 1989, Paul Howard worked at The Natural History Museum before becoming a full time illustrator. His work has since won acclaim from the publishing industry and children across the world.
During his 30 year long career he has collaborated with some of the greats of children's literature such as Allan Ahlberg, Michael Rosen, Geraldine McCaughrean, Anne Fine, Trish Cooke, Martin Waddell and John Boyne, and won numerous awards including a Blue Peter Award for The Bravest Ever Bear and The Primary English Award for The Year in the City.
Aside from his numerous school, library, bookshop and arts centre visits across Northern Ireland, Paul has appeared at many literary festivals, including Hay, the Edinburgh Book Festival and the Belfast Children's Festival.
Paul has lived in Belfast for over 20 years with his wife and their three children. Alongside illustrating for others, he has also had a range of his own stories published: young fiction titles, picture books and board books, the latest of which was 1,2, BOO! for Bloomsbury.
In February 2022, Her Royal Highness, the Duchess of Cambridge Kate Middleton chose The Owl Who Was Afraid of the Dark as the CBeebies Bedtime Story to mark Children's Mental Health Week (7th-13th February).
Teachers can register their interest in booking a free illustration workshop with Paul Howard for their school by contacting the Seamus Heaney Centre at Queen's University Belfast. Go to www.bit.ly/CWF-Paul-Howard for more details on how to apply.
ENDS
Media
For media enquiries contact Sarah Coburn, Communications Officer, Arts Council of Northern Ireland, scoburn@artscouncil-ni.org