The Digital Tech, Young People & Heritage conference (02/11/2017)
Measuring success, our impacts to date (01/11/2017)
Game of Thrones® production 05/09/2017)
Dear Mrs Pennyman - Newsletter (25/08/2017)
CDDA 3D MODEL (01/07/2017)
Mobius (India) (23/05/2017)
---
Using Digital Skills to Enhance your WW1 Project
In partnership with Living Legacies 1914-18
7th November 2017

| | | |
| --- | --- | --- |
| ‌ | ‌‌ | ‌ |
Using Digital Skills to Enhance your WW1 Project in partnership with Living Legacies 1914-18 on the 7th November 2017. This workshop is free of charge with limited spaces available Please RSVP to elaine.reid@qub.ac.uk 02890 972513/3883 by 31st October 2017

Please click for more information 

Location:

School of Natural and Built Environment
Queen's University Belfast
BELFAST
Northern Ireland, BT7 1NN
The Digital Tech, Young People & Heritage conference

Will take place at the Ulster Museum on Thursday 2 November, 2017.
Featuring input and contributions from a range of leading youth, digital, cultural and heritage practicioners from across the UK, including:

Mark Miler (Young People' Programmes, Tate Britain)
Dan Tucker (Curator, Alternative Realities)
Holly Gramazio (Matheson Marcault)
Charlie Cattel-Killick (Museum in a Box)
Catherine Spencer (HMS Caroline)
John Peto (Fab Lab)
Phil Morrow (Retinize)

The event will explore how creativity and digital technologies, including 3D printing, filmmaking and virtual reality, can be used as tools to engage young people with cultural and museum heritage.

ABOUT
The conference is being organised as part of the Reimagine, Remake, Replay project delivered by the Nerve Centre, National Musuems Northern Ireland, Northern Ireland Museums Council and Northern Ireland Screen. The project is funded by Heritage Lottery Fund's Kick The Dust programme.
---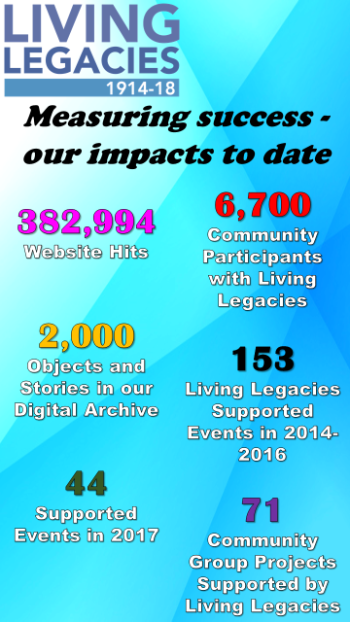 ---
In order to celebrate the continued success of Game of Thrones® production, Tourism Ireland have created the Northern Ireland Game of Thrones® Tapestry – a giant, over 80-metre-long medieval wall-hanging that brings to life the events, locations and story of the most popular television series of all time.
The Centre for Data Digitistation and Analysis, School of Natural and Built Environment, Queen's University Belfast were delighted to digitise and support this piece of history and heritage.
http://www.ireland.com/features/game-of-thrones-tapestry/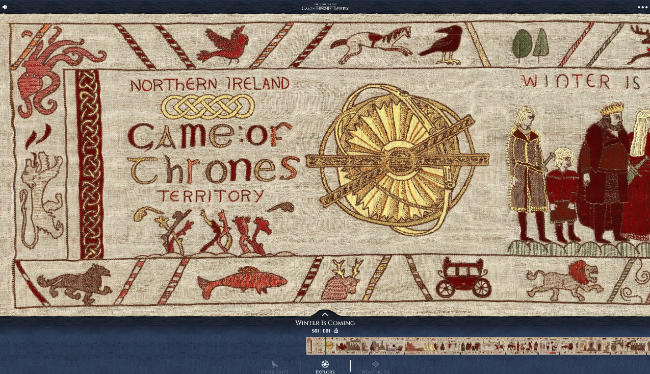 ---
A Message from Dear Mrs Pennyman
www.DearMrsPennyman.com
Below is the story of Mary Wright which has very kindly been written up for the project by Mary's great granddaughter, Carol Ellis. I am sure you will enjoy reading it as much as we did. Thank you Carol!
Mary Wright nee Crowther
By Carol Ellis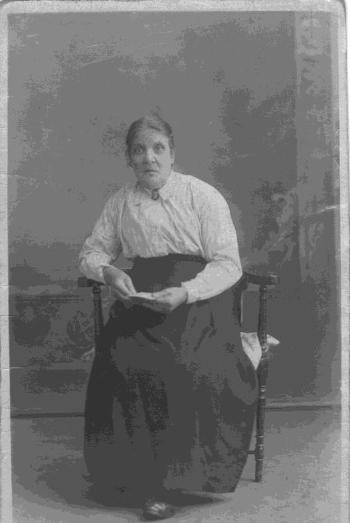 My maternal great grandmother was a Yorkshire woman who, as a teenager, took on the care of 3 children after their mother, Sarah Wright, died of consumption in 1875. John was 8, Christiana 6 and Mary Hannah 4. I have no idea if the young Mary was Sarah's friend, a neighbour or a carer but she must have been a support to my great grandfather, James.
Three years later, in 1878, twenty-one-year-old Mary, gave birth to William, the first of her 11 children with James.
The 1881 census says James was a drayman. His fourteen-year-old son is a coalminer and the household has seven to feed since the arrival of Dick in 1880.
Baby Jim arrives in 1883 and Mary gets her man; she and James marry in October 1883!
Ernest, Lawrence, Sam and Fred all arrive before the 1891 census which says that James is a carter and their home has seven children, and five adults. As well as James and Mary, there's James' older widowered brother and a boarder and wife. Hopefully these adults will provide some extra income for Mary.
Three more children, Harry, Hiram and finally a girl, Amelia, are born before the 1901 census. Sam died in 1896. My grandfather, Edward Wright, is born to James and Mary in 1902
James is still in work as a carter but whether the work is regular is not clear. They live in the working class mill town of Bradford, West Yorkshire, cheek by jowl with others who also may have come from farming stock in rural North Yorkshire, as he did, drawn by the hope of work.
Widowhood
Mary is widowed in 1905 and is left to care for the six children still at home. Edward is 3, Amelia 6, Hiram 9, Harry 12, Fred 14, Lawrence 19. I've no idea how she coped financially but folklore suggests that the weekly pay packet was given to the woman of the house and the man was given his spends. So, Harry, Fred and Lawrence would be the providers. Maybe the older boys, now married and living away, would still pass their Mum a few coppers.
The 1911 census confirms 11 children born, 10 living. Mary, aged 53, is living in a three-roomed back-to-back house in the crowded mill streets of Bradford, 6 persons, 4 males and 2 females. The three older boys Fred, Harry and Hiram are working in textiles; Amelia is 12, a part-time scholar but also a worsted spinner and my 8 year-old grandfather is a scholar, no doubt playing football in the streets. 'Dodger' Eddie Wright grew up to be a talented footballer.
It's hard to imagine the life of a 53 year old woman in 1911, washing, cleaning, shopping, baking and cooking in a smoky and dirty mill town but one interesting thing about her is that in 1883, when she married James, her marriage certificate signature is an illiterate 'X'. By 1911 the census is handwritten by the householder, Mary was the householder. I like to think of her as having been a strong-minded lady who alongside her children learned the skill of writing, maybe she and Amelia practised together by the light of the coal fire.
Hiram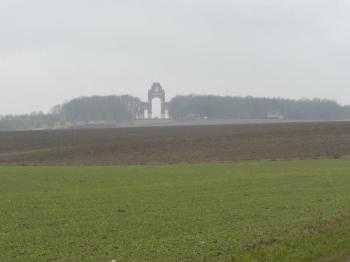 In 1913 her son Hiram enlisted in the King's Own Scottish Borderers, travelling to Halifax to do it. He was 16, therefore under-aged, as the minimum age was 18. Ian Martin of the KOSB Regimental Museum informed me that it's likely he gave a false date of birth and possibly chose to enlist in a Scottish regiment because of parental opposition. I guess Mary was not pleased.
So, six months in Berwick upon Tweed for basic training, then to Ireland and then to France, Nueve Eglise, late December 1914. To be eligible for front line service he would have to be 19 which would be approx. July 1915. Quoting Ian Martin again, 'on the 4/5th July 1915 the battalion moved into the line at Carnoy, then a very quiet sector, where it was able to rebuild over the ensuing months.' So, Hiram may have had a relatively gentle initiation for a few months.
But by the 1st March 1916 the battalion returned to the Somme and Hiram died on the 31st July 1916. His body was never found but Hiram is commemorated on the Thiepval memorial. He would have been 20.
My Grandfather
My Mary Wright story has to jump a few years now.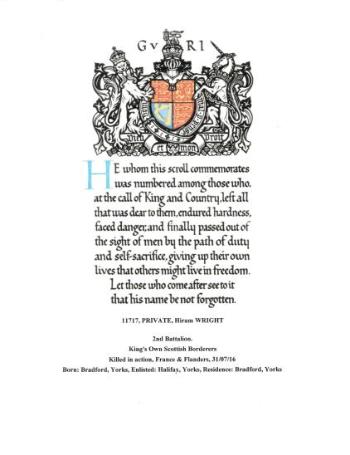 My grandfather Edward, the last child of James and Mary, married Clara Bradley in 1923 and they had two children, Kenneth and Wynne - my mother. Family stories begin to be shared and I start looking seriously at family history.
The rather stern photographs of Mary are embellished by information researched, a maiden name, Crowther, and some dates. My grandfather told the family story about 'Our Iram'(sic), he said, 'that he went to war, but didn't come home, wasn't dead and must have met and married someone over there, 'cos mother never got a pension for him.'
As family historian when looking for information about Hiram I was surprised to find out about the KOSB and indebted to the Regimental Museum for sending so much information including a copy of the memorial scroll that the next of kin would receive (left).
Family Memories
Goodness knows how Mary coped but that's what war mothers and widows did and my understanding of her life from 1911 to 1930 is very limited. My mother, Wynne, born in 1927 remembers her grandmother Mary living with her parents for periods of time as well as with Aunty Amelia, and Uncle Harry. She also remembers as a 3 year old being chased around a kitchen table by Mary because she would not go to bed!
Mary Wright died, aged 74, in 1932, at the home of her son Harry Wright.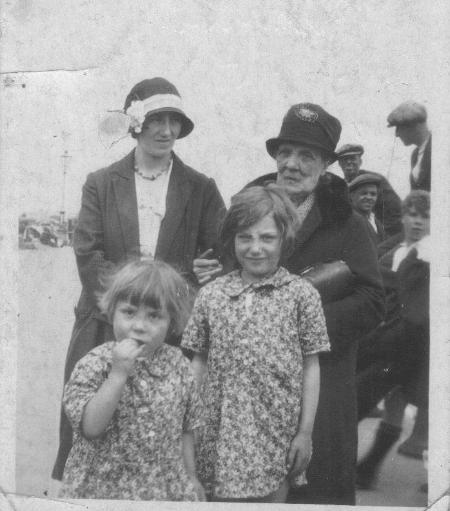 Mary photographed with Amelia, Hazel and Clarice.
Ulster's Linen Industry Community

Recording stories and objects from the linen industry

Reviving William Liddell's Damask Designs

Were you or a member of your family involved in the production or sales of linen in the twentieth century? Were they involved in spinning, bleaching, weaving, designing or any other aspect of linen production? Do you have any artefacts such as, tools, letters, ledgers, linen samples, or photographs to share your story or memories of working in the industry?

We would like to meet you.

Your stories will be recorded and your objects photographed to create an online archive of Ulster's great design and linen heritage.

Please click front and back to see flyer in full or go to the website shuttlesandshafts for more information.
---
Stunning 3D Model of the Centre for Data Digitisation and Analysis
‌3D Technologies
A stunning 3D model of the the centre has been put together using the latest technologies being pioneered by Peter McCready, please see the link and video below to explore this virtual world. This model combines audio/visual and web links to create an interactive model of the centres capabilties and projects completed todate.
Video Intro of the Centre for Data Digitisation and Analysis
'Matterport 3D photography by Peter McCready' p.mccready@qub.ac.uk
CDDA News UPDATE 23rd May 2017 Digitising Scotland
A very successful trip to Mobius Knowledge Services in India for the start of the Digitising Scotland project. We were all really impressed with the warm welcome, security, infrastructure and most of all their supervisory team.
TRANSFORMING HERITAGE WORKSHOP
Our "Culture & Society" research cluster
March 19th and 24th, 2017.
Led by Dr M. Satish Kumar, the workshop, on 'Transforming Heritage Networks in South Asia', was funded largely by a Global Challenges Research Fund (GCRF) grant of £25,000 awarded to Satish by QUB from the Department of Education (NI). The workshop involved Urmi Sengupta (Planning), Ruth Morrow (Architecture), Keith Lilley (Geography) and Paul Ell (CDDA), as well as M. Satish Kumar (Geography), and drew together academics, NGOs, third sector and government bodies from Nepal, Sri Lanka, Bangladesh, India (Jamshedpur, Jharkhand, Assam, Delhi, Kolkata), including the British Council and the UK.

The workshop was jointly organised with South Asian University, and the Indira Gandhi National Centre for Arts (IGNCA) and supported by the Indian National Trust for Arts and Culture (INTACH). It was officially opened by Professor Kavita Sharma, President and Vice Chancellor of the South Asian University (SAU) and Lord Diljit Rana, Honorary Consul for India in Belfast, followed by dinner hosted by the South Asian University.

‌‌

‌