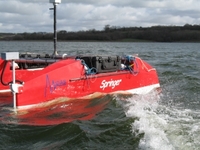 Springer USV
Springer Unmanned Surface Vehicle
Researchers: Prof. R. Sutton (Plymouth) and Dr W. Naeem (EPIC)
Project Description
The Springer unmanned surface vehicle (USV) is a multi-disciplinary research initiative to develop a low cost and environmentally friendly USV. The vessel ahs been designed primarily for undertaking pollutant tracking and environmental and hydrographic surverys in rivers, reservoirs, inland waterways and coastal waters, particulary where shallow waters prevail. An equally important secondary role is also envisaged for Springer as a test bed platform for other academic and scientific institutions involved in environmental data gathering, sensor and instrumentation technology, control systems engineering and power systems based on alternative energy sources.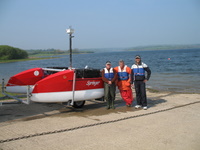 Prof. Sutton and M Sloman (Plymouth) and Dr. Naeem (QUB)
Technical Specifications
The Springer USV was designed as a medium waterplane twin hull (MWATH) vessel which is versatile in terms of mission profile and payload. It is approximately 4m long and 2.3m wide with a displacement of 0.6 tonnes. Each hull is divided into three watertight compartments. The NGC system is carried in watertight Peli cases and secured in a bay area between the crossbeams. This facilitates the quick substitution of systems on shore or at water. The 350kg of batteries which are used to provide the power for the propulsion system and onboard electronics are carried within the hulls, accessed by a watertight hatch. Leak sensors are used to detect breaches in the hulls. If a breach is detected the onboard computer can immediately give warning to the user and/or take appropriate action in order to minimize damage to internal components.
In addition, a mast is installed to carry the GPS and wireless antennas as illustrated in the figures. The wireless antenna is used as a means of communication between the vessel and its user and is intended to be utilised for remote monitoring purpose, intervention in the case of erratic behaviour and to alter the mission parameters. In order to minimize the noise pollution and eradicate diesel fuel, Springer propulsion system consists of two propellers powered by a set of 24V 74lbs MINN KOTA RIPTIDE transom mount saltwater trolling motors which are placed in the rear of each hull. Steering of the vessel is based on differential propeller revolution rates.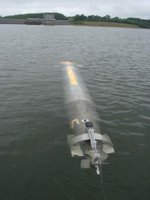 Hammerhead Autonomous Underwater Vehicle
---
Hammerhead Autonomous Underwater Vehicle
Researchers: Prof. R. Sutton (Plymouth), Dr J. Chudley (Plymouth), Dr. S. Tetlow (Cranfield), Dr. R. Allwood (Cranfield), Dr W. Naeem (ISAC), Dr. Dedy Loebis (Plymouth) and Dr. F.R. Dalgleish (Cranfield)
Project Description
The Hammerhead AUV is a low cost research vessel which was developed from a deep mobile target torpedo of 3m length and 30cm diameter that was purchased by Cranfield University. Initial modifications were made to transform the torpedo into a PC controlled AUV. Subsequently, research teams from the Universities of Plymouth and Cranfield successfully developed an integrated navigation, guidance and control system for the vehicle. Dr W. Naeem (Lecturer in ISAC) whilst at Plymouth developed and implemented an advanced guidance and control system for the Hammerhead. Data collected from trials conducted at Roadford Reservoir in Devon, showed the effectiveness of the integrated system.
---