REF 2021: QUILL Research Impact makes the difference
The REF (Research Excellence Framework) is the UK's system for assessing the quality of research in UK higher education institutions. The most recent one took place in 2021. Three assessed aspects that are assessed are: Outputs, Impacts and Environme
Working closely with the industry, QUILL has been actively working on translating fundamental research through higher TRLs to commercial technologies. Two out of three Impact Case Studies returned for Chemistry originated from QUILL: mercury removal developed with Petronas and alkylate gasoline production with Chevron (Add links to impact).
We were really pleased to receive very high marks for REF 2021 Impact (83% assessed as 4* - world-leading quality).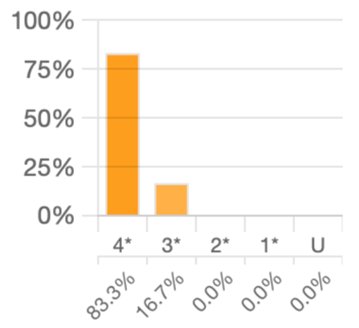 Figure: QUB Impact in UoA8 (Chemistry)
Read more: https://results2021.ref.ac.uk/profiles/institutions/10005343
Celebrating REF2021 results in the Great Hall.