PHARMACY RESEARCH AWARDED PRESTIGIOUS VICE-CHANCELLOR'S RESEARCH IMPACT PRIZE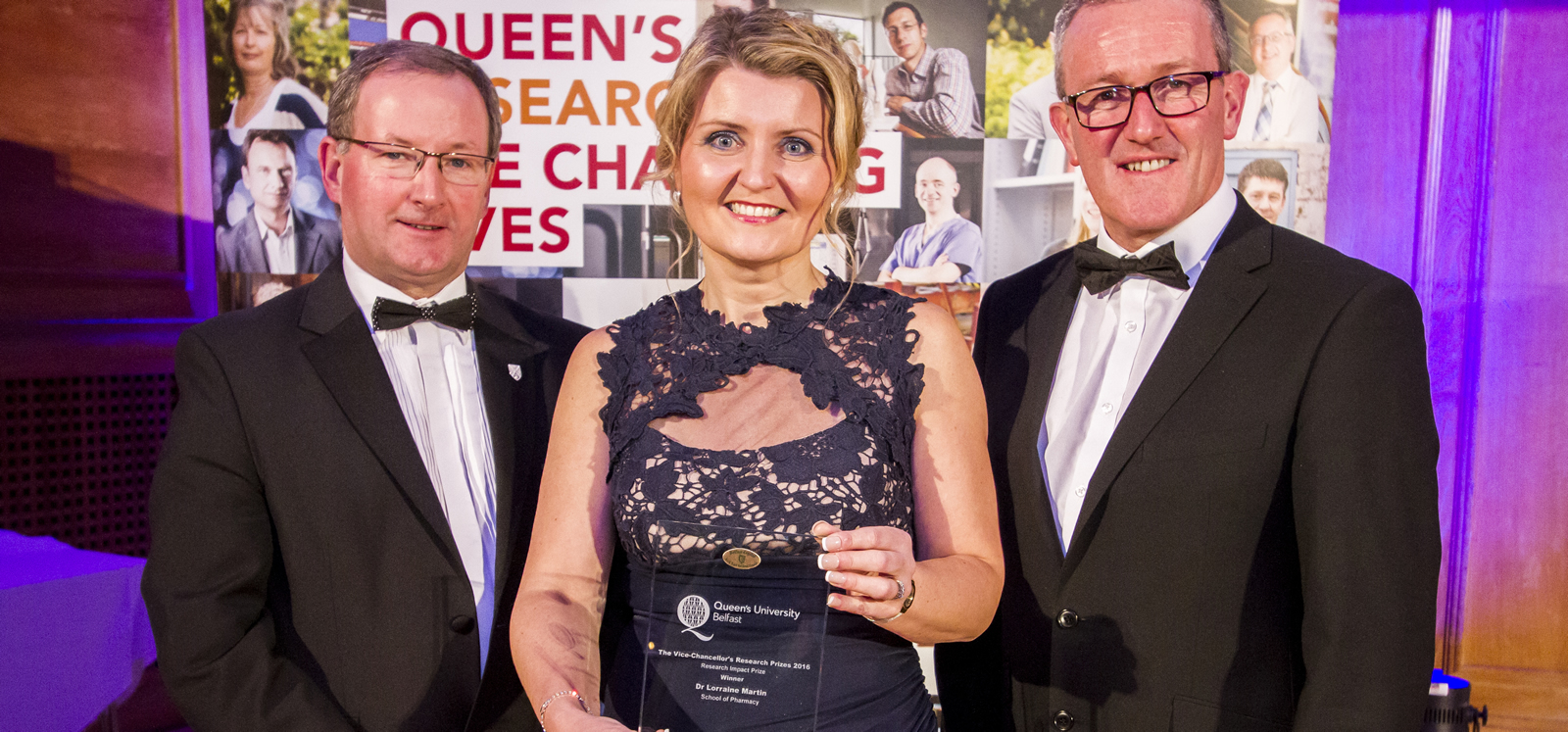 Dr Lorraine Martin, a Senior Lecturer in the School of Pharmacy, has been awarded the 2016 Vice-Chancellor's Research Impact Prize. These prestigious awards seek to celebrate the scope, ambition and success of research at Queen's.
Dr Martin's research area includes the role of active proteases in chronic airway diseases such as cystic fibrosis (CF) and chronic obstructive pulmonary disease (COPD). The Research Impact Prize recognises her work in the translation of a programme from Proof of Concept (Invest NI) through to the creation of a successful spin-out, ProAxsis Ltd. The company develops novel biomarker assays utilising a patented ProteaseTag® technology which allows for the measurement of active proteases in chronic diseases, in the first instance respiratory diseases such as CF and COPD.
ProAxsis Ltd. was founded by Dr Lorraine Martin (CEO) and Professor Brian Walker (CSO) in 2013, after winning the NISP CONNECT 25K competition (now INVENT) and is an excellent example of a programme of work transitioning from proof of concept to full commercialisation. To support these commercial activities, Dr Martin was awarded a Research Enterprise Fellowship (Research and Enterprise Directorate, QUB). Since then the company has met several significant milestones, from acquiring external investment to successfully launching its first product (July 2015). In October 2015, a commercial full-time CEO, Dr David Ribeiro was appointed and commercial office accommodation on the Lisburn Road was obtained. In August 2016, ProAxsis completed the spin-out process by acquiring purpose-built premises in Concourse III of Catalyst Inc. (previously the Northern Ireland Science Park). ProAxsis Ltd. currently employs six staff.
Researchers who successfully made the shortlist attended the annual Chief Executives' Club Gala on Friday (November 18) at the University where the Vice-Chancellor announced the winners.
Queen's University Vice-Chancellor, Professor Patrick Johnston, said: "These awards celebrate the scope, ambition and success of research that is taking place at Queen's University. As a world-leading research institution we are proud to be 8th in the UK for Research Intensity. This is a credit to our academics, who continue to inspire and astound with ground-breaking research, which is making a positive impact right across society."
In total, twelve academics were shortlisted across four categories: Research Impact, Research Innovation, Post-Doctoral Research and Early Career Researcher.
Professor Lorraine Martin
Molecular Therapeutics