Brave student's graduation tribute to dad who died from Covid-19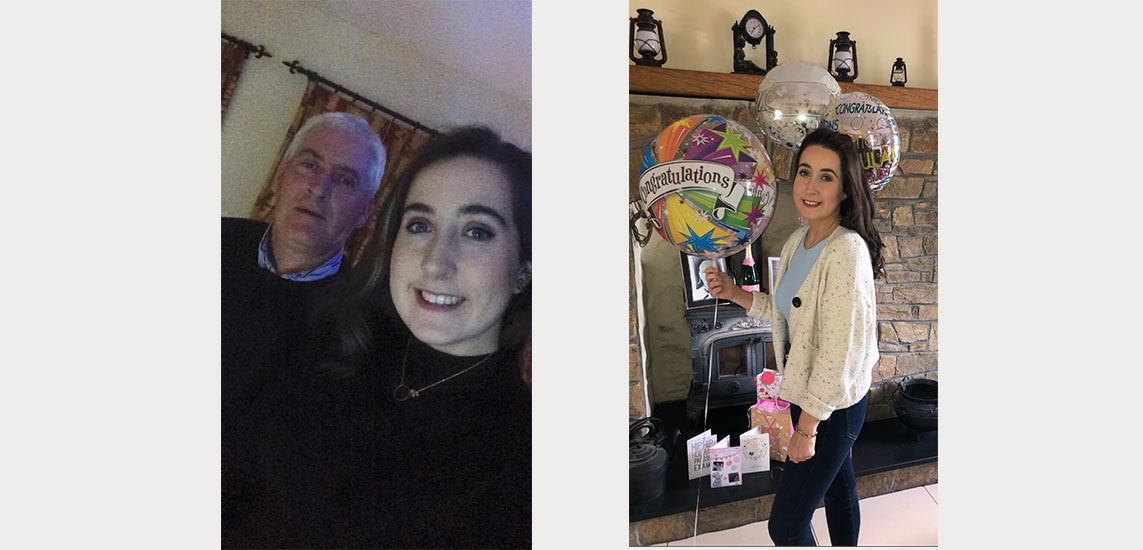 Nicola Ward, aged 22 from Cabra in County Down will graduate today with a Master's of Pharmacy degree (MPharm) with First Class Honours from the School of Pharmacy from Queen's University.
Nicola will graduate despite losing her beloved dad Eugene on 2 May this year after he spent three weeks in ICU fighting Covid-19. Nicola says: "Dad passed away the day after my exams started. I think the hardest part of it all was being stuck at home. The restrictions meant that it was almost cruel that we couldn't visit him. Even though he was surrounded by medical staff, the thought of him dying in hospital without us was absolutely heartbreaking.
"He was so healthy, and it came so unexpected how severe Covid-19 had affected him, while I had such mild symptoms. I was in two minds of whether to do my exams or not, but in the end, I decided to do them for him, I know he would of wanted me to after all of the work I had put in, especially in final year."
Remembering her dad, Nicola says: "My dad was quiet, like me, until you got to know him. He had the biggest heart. We were extremely close. Since no age, I was always his little shadow that followed him everywhere. He came from a huge family and he really was the heart of it all. He made everyone feel so welcome when they came to our house."
Despite the past few difficult months, Nicola found strength and support from her friends and fellow students from the School of Pharmacy. Speaking about her time at Queen's, Nicola comments: "I really enjoyed my time at Queen's. One of my highlights is definitely meeting all of the amazing people I have encountered along the way. My whole year group encourages and supports each other, something I felt really grateful for, especially during exam time when my dad passed away."
Following her graduation, Nicola plans to begin her pre-registration year in a few weeks in a community pharmacy, with the aim of becoming a registered pharmacist next year. She is looking forward to celebrating properly with her peers when the pandemic has eased. She continues: "I don't think any of the 2020 graduates could have ever imagined that the year we would be graduating this would be happening in the world. I definitely had never imagined a scenario where I'd be graduating without my dad by my side that's for sure.
"My dad, along with my mum have always been my biggest supporters no matter what I was doing. He was incredibly proud that I was persuing a career in Pharmacy, and he encouraged me every single step of the way. He gave the best advice. I always trusted his opinion the most and he was always honest whether I liked it or not. I know he will be very proud of me today."