Congratulations to Dr Lezley-Anne Hanna and Dr Maurice Hall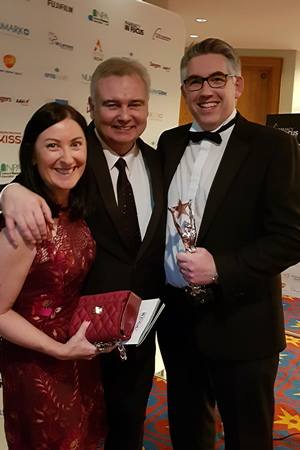 Congratulations to Dr Lezley-Anne Hanna and Dr Maurice Hall, authors of the app OTC Consult, who won the eHealth and Innovation in Pharmacy Practice at the Pharmacy in Focus Awards on Saturday night. The Awards, hosted by Eamonn Holmes, recognise and celebrate the highly important roles that pharmacists and their teams play in providing exceptional healthcare.
About OTC Consult
OTC Consult is an app providing quick access to evidence-based information on over 70 self-treatable conditions to aid decision-making in practice and professional development. Information about each condition is summarised under four main headings; clinical features, referral criteria (red flags), time frame to resolution and management strategy (best practice advice about non-pharmacological and/or pharmacological measures). A photo gallery is included to aid with visual diagnosis of relevant conditions. Other sections of the app include pertinent prescription-only deregulations, the UK Vaccination Schedule and UK adult screening programmes, and consultation skills (including commonly used mnemonics and an evidence-based communication model).