New Head of School of Pharmacy takes up position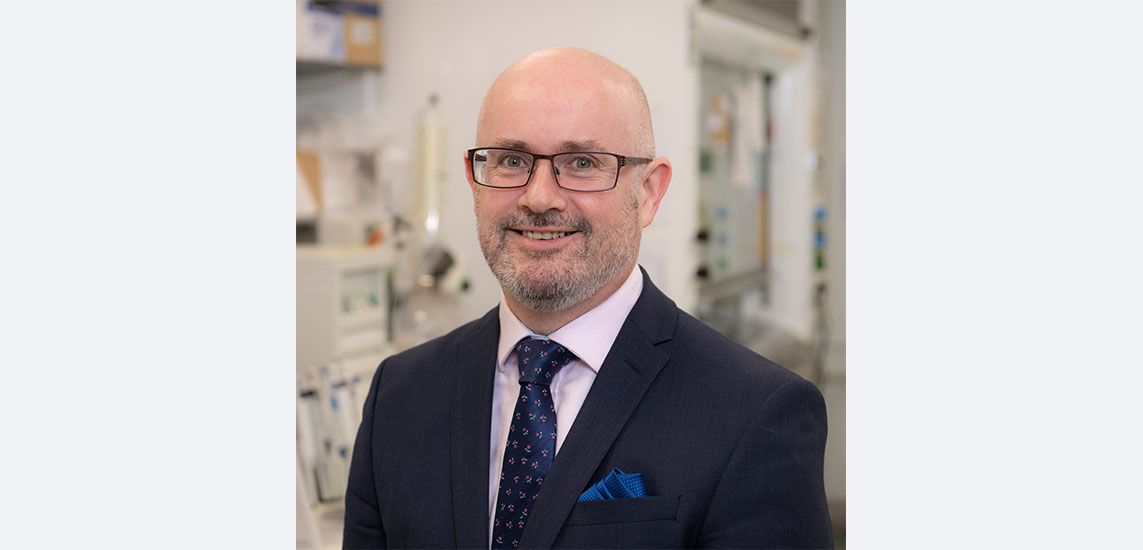 Professor Colin McCoy takes up the position of the new Head of the School of Pharmacy in the Faculty of Medicine, Health and Life Sciences on 1 August 2020.
Commenting on his appointment, Professor McCoy said "This is an exciting and challenging time to be taking up this position. The importance of the role of pharmacists and pharmaceutical scientists in the management of, and development of solutions to, the Covid-19 pandemic, as well as healthcare more generally, is very clear just now. Queen's is a world-class place to study and do research in these subjects."
Colin earned his PhD from Queen's in 1994, then took up a Royal Society Fellowship at the Collège de France, Paris, where he worked with Nobel laureate, Jean-Marie Lehn. He returned to Queen's in 1996, firstly in the (then) School of Chemistry, before moving to the School of Pharmacy in 1999 to take up a Royal Society University Research Fellowship, which he held for 8 years. He was promoted to Senior Lecturer in the School in 2006, to Reader in 2009, and to Professor in 2012.
In 2016 he was appointed Dean of Internationalisation for the Faculty of Medicine, Health and Life Sciences where he led the Faculty internationalisation strategy, and played a significant role in the development of the University's flagship transnational education initiative, China Queen's College (CQC), where undergraduates based primarily in Shenyang take Queen's degrees in Pharmaceutical Sciences and Pharmaceutical Biotechnology.
Colin's research interests lie in the design of triggered drug delivery systems, the development of infection-resistant biomaterials and the design of sensor technologies for drugs and biologically-relevant species. His research has attracted in excess of £5M of funding, and he is the author of more than 100 peer-reviewed publications and several patents.