Queen's scholarship recipients highlight outstanding research
Top Queen's University PhD students Erin Magee and Nathan Clarke received scholarships of £2,500 each to support their exciting and potentially far-reaching research projects.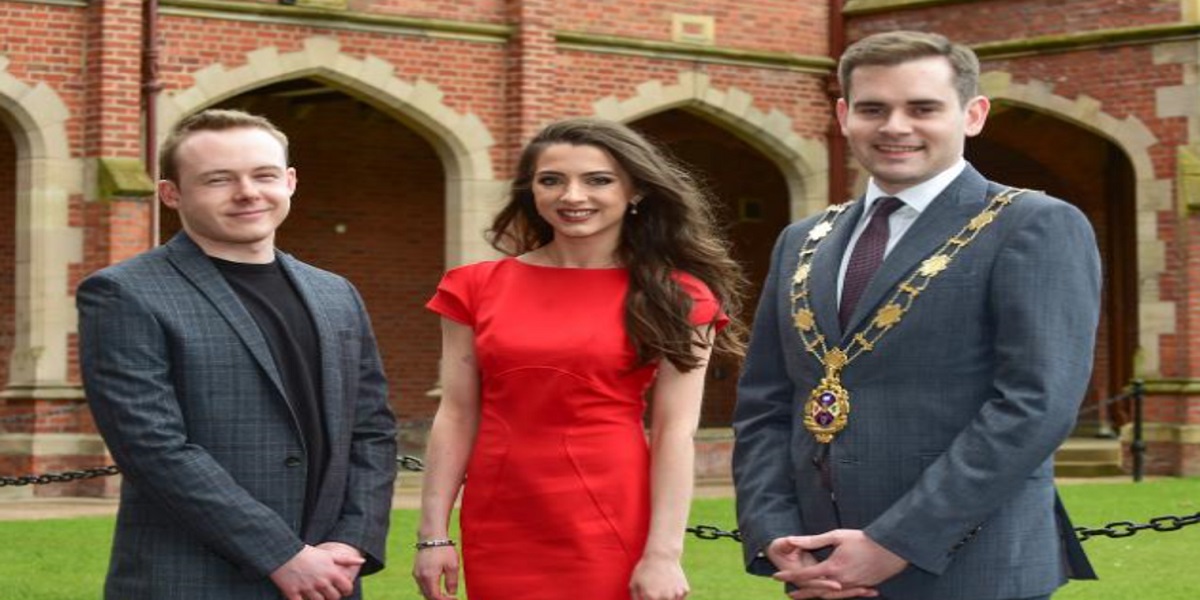 Awarded by the Queen's Graduates' Association (QGA), the two students were honoured at the QGA's annual President's Drinks Reception at First Trust Bank's University Road branch on 2nd May.
Erin, a first year PhD student at the School of Pharmacy, is conducting research to tackle the growing financial burden that chronic wounds present to healthcare providers.
The growing rate of chronic wounds in the UK is estimated at 12% per annum, coupled with an annual cost of £5.3bn, a figure which is expected to almost double in 5 years' time.
Erin's project aims to develop both a smart wound dressing and a smart ink which can be printed onto plastic surfaces to sense biofilm presence in a hospital setting; thus providing a 24/7, non-invasive monitoring system that could minimise unnecessary dressing changes and delays in treatment, resulting in improved patient outcome and an overall lower cost of care.
Nathan is a first year PhD student in the School of Biological Sciences whose project focuses on combatting the profound impact of the liver fluke parasite on the health of plants, animals and humans across the globe.
The parasite conservatively accrues economic losses of $3 billion US dollars annually to the agri-food industry through loss of livestock production, with particular emphasis on the cattle industry, which experiences losses of £300 million in the UK alone each year. The disease caused by this parasite is also now considered an emerging neglected tropical disease in man with up to 17 million people infected and close to 100 million at risk.
His project aims to further understand the potential mechanisms of drug resistance in the liver fluke parasite, with the ultimate goal of identifying novel drug targets for exploitation in the future.
President of the Queen's Graduates' Association Fergal McFerran said: "It's a great pleasure to award both Erin and Nathan with our annual scholarships on behalf of the Queen's Graduates' Association.
"Members of the QGA share a common bond of having benefitted from and had their lives shaped by the remarkable experiences and opportunities that Queen's University afforded us all and so we choose to invest in the future of the University by investing in some of the brightest of our current generation of students.
"We were incredibly impressed with the calibre of this year's presentations and would like to congratulate Erin and Nathan on their achievements," he said.
Speaking at the drinks reception, Erin Magee stated: "First and foremost, I would like to express my gratitude to the Queen's Graduates' Association for the generous provision of this scholarship. Receiving this award is one of the most significant events in my academic career to date, and one that I will treasure indefinitely.
"The experience that comes with travelling to different institutions to learn new skills, or presenting results at international conferences is invaluable. This scholarship will financially support me in this, enabling me to get the full benefit of my time as a PhD student.
"I am honoured to be affiliated with an association that provides indispensable support to the graduates of Queen's University Belfast, and strengthens the feeling of community we all experience after graduation. I hope I can merit this prestigious award as past recipients have done and endeavour to make the most of this great opportunity."
Nathan Clarke said: "Being nominated for a QGA scholarship was an honour for me, but to have received it was a privilege and a great start to my PhD. Not only has this scholarship afforded me to live comfortably during my first year of postgraduate research, but it has enabled me to travel abroad to attend courses that have allowed me to develop skills that would otherwise not have been possible.
"As a result of the scholarship I have also been able to dedicate time to traveling throughout the country as a voluntary stem-ambassador, promoting stem development and careers to school-aged children.
"I hope to continue making the most of the opportunities presented to me throughout my PhD and I'm forever grateful for the work that the QGA continue to do in supporting graduates in their work," he finished.
The Queen's Graduates' Association Scholarship programme rotates each year around each of the three University faculties, with each school within the chosen faculty tasked to put forward their best student for the award. The winners are chosen by an independent panel.