Three Teaching Awards for School of Pharmacy Staff
In May 2016, three School of Pharmacy staff were successful in the latest round of University Teaching Awards.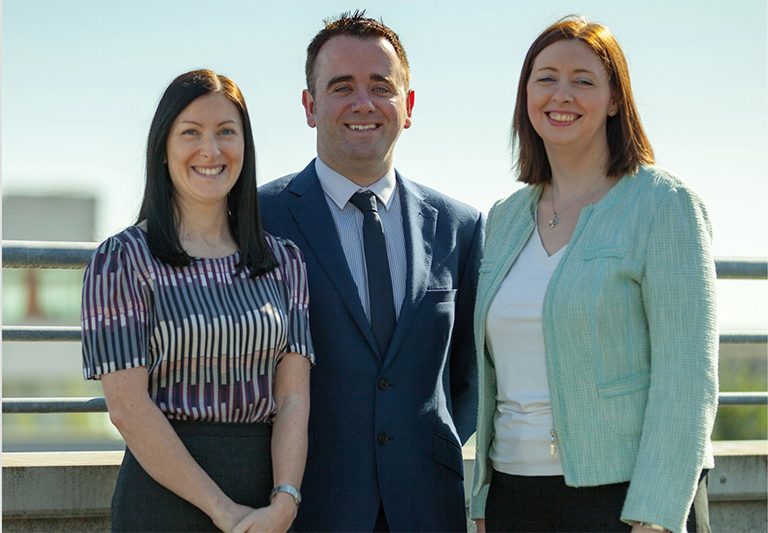 The QUB Teaching Awards Scheme recognises and rewards excellent examples of teaching and learning. This is a tremendous outcome considering a maximum of ten awards were available across the University this year. of the pharmacist recipients were delighted to receive recognition for their teaching on the MPharm course.
Dr Lezley-Anne Hanna and Johanne Barry, both previous Teaching Award winners, won their individual awards in the 'student nominated' category. Dr Paul McCague won his individual award in the 'rising star' category (a category specifically for those who have been teaching and supporting student learning for less than five years).
In response to the three awards Professor Carmel Hughes, Head of the School of Pharmacy, said: "These awards highlight once again the excellence of our teaching, and the outstanding commitment of the staff concerned. I congratulate Johanne, Paul and Lezley-Anne on this excellent achievement."
All of the prize-winners now look forward to disseminating their good practice to colleagues in the School of Pharmacy, across the University and to other peers in Pharmacy Education. This process of dissemination is considered an important element of the University Teaching Awards Scheme.
The awards will be presented at the School of Pharmacy graduation on July 4th 2016 when the winners will be presented with certificates of recognition and their prize money of £1000 each.