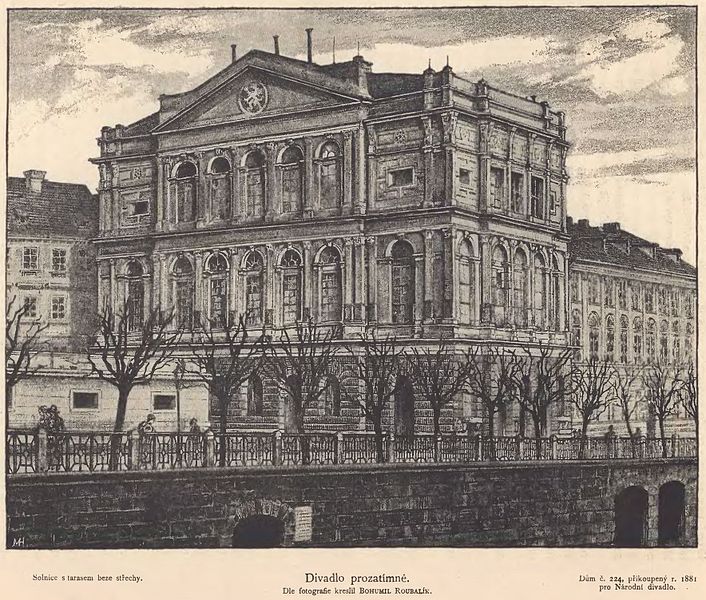 The Prague Provisional Theatre and its audiences – connections and disjunctions
In the last academic year, Jan Smaczny gave a guest seminar in the Music Department of the University of Southampton. The subject of his presentation was a new way of looking at the Prague Provisional Theatre. Opened in Prague in 1862, the Provisional Theatre was the first theatre in the Czech-speaking lands designated for the performance of plays and opera exclusively in Czech. In the extensive literature concerning music in the Provisional Theatre, the focus has been mainly on composers and librettists. The nature of the audiences has not been considered as integral to the burgeoning repertoire by such composers as Smetana, Bendl and Dvořák.. This situation is understandable to an extent since many of the leading composers of the Czech national revival were iconic figures who have dominated the prevalent view of Czech national music ever since. However, looking further down the pecking order, the management of the Provisional Theatre, often on short-term contracts, were well aware of the need to reflect the desires as well as the aspirations of the Theatre's audiences.
These audiences were comprised to a considerable extent of the developing intelligentsia of Prague (many of whom were first-language German speakers), but there was a large element of the new working and aspiring middle class, mostly first-language Czech speakers, many from rural Bohemia, who looked for reassurance from their composers as well as cultural leadership. Smetana, along with his librettists, chiefly Karel Sabina and Eliška Krásnohorská, was an example of a composer who understood the audiences' desire for the demotic accent by, for example, providing a circus scene in The Bartered Bride and stirring rabble-rousing choruses in The Brandenburgers in Bohemia. However, his more serious, modernist operas, Dalibor and the Festival Opera Libuše in many ways proved too high-minded for audience expectation in the early years of the Provisional Theatre. The growth of a compact between Czech national composers and their audiences remained a developing theme well into the twentieth century.
This presentation at the University of Southampton attempted to coordinate the demographics of audiences with the Provisional Theatre's repertoire will form the basis of the invited annual Masark Lecture sponsored by the Czech Government and given in the Czech Embassy in London this November.
August 13 2014