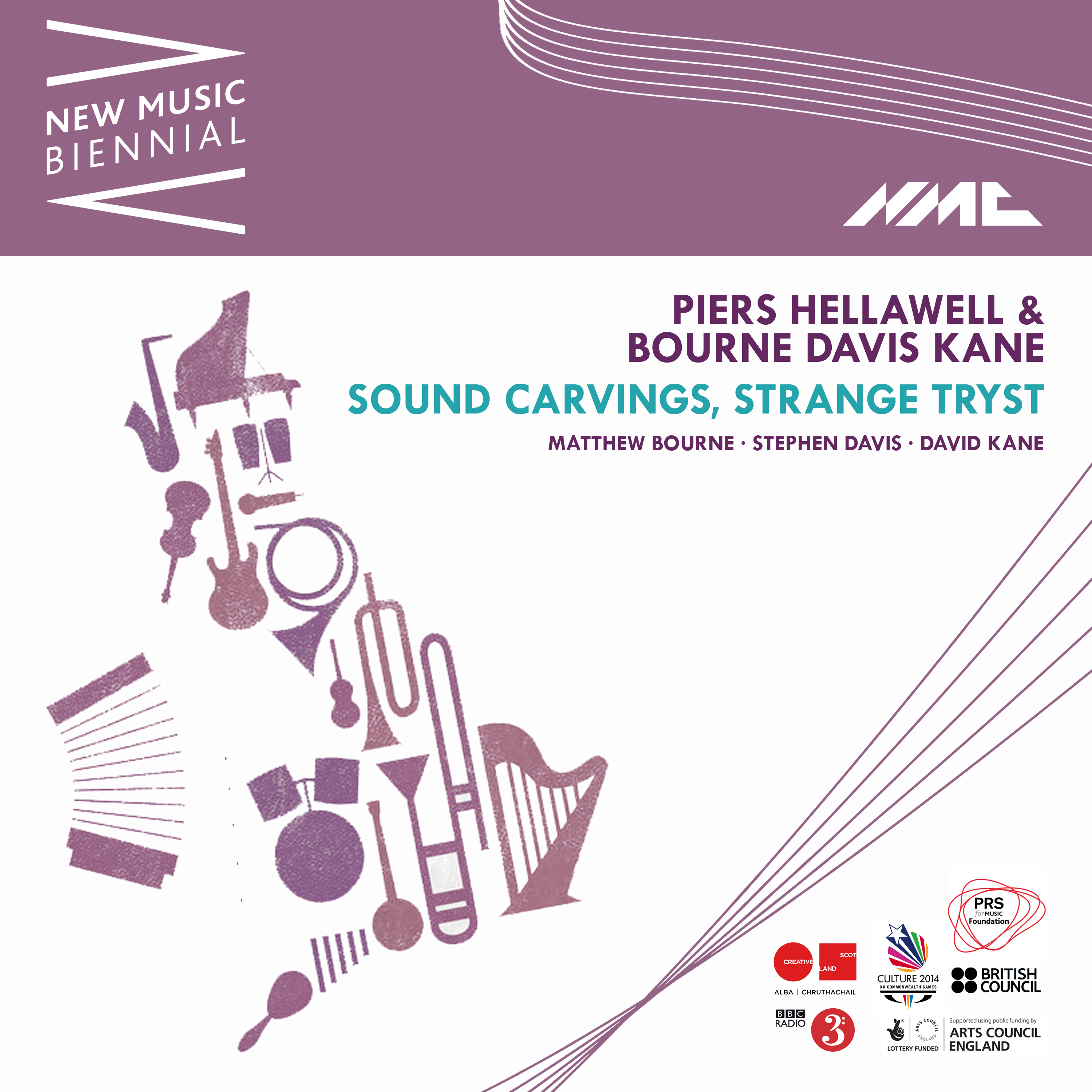 Diverse Collaborations
The spring and summer of 2014 have seen two diverse collaborations by composer Professor Piers Hellawell. In March 2014 the MAC (Belfast) played host to the world premiere by Bourne Davis Kane of Sound Carvings, Strange Tryst, one of twenty commissions across the UK from the PRS Foundation for Music's New Music Biennial; this experimental collaboration went on to London's Southbank Centre (QEH) and later the Glasgow Concert Halls, both as part of the New Music Biennial. Meanwhile September 2014 saw the world premiere at The Maltings, Snape (Aldeburgh) of Balcony Scenes for solo violin; this was commissioned for violinist Fenella Humphreys' long-term project 'Bach to the Future', in which senior composers were invited to respond in kind to Bach's unaccompanied violin works.
These two projects offered contrasting challenges. A focus upon musical freedoms in Sound Carvings, Strange Tryst was indicated by the collaboration, since Bourne Davis Kane (BDK) are an improvising trio – using small cells of written material as the basis for extended compositions that evolve with each performance. This suggested a work outside Hellawell's previous practice: he had to mediate the inherent tension between the acoustic composer's desire to pinpoint events via the page and his collaborators' desire to generate content within a performative synergy. For BDK, improvisation is composition carried out at speed; Hellawell correspondingly views his own painstaking compositional process as a slow-motion scan of an imagined music. The resulting collaboration, described at its premiere as 'brilliantly intricate, playful and intense', was broadcast on BBC Radio 3 'Hear and Now'; the download on NMC recordings is available at http://www.piershellawell.com/ (click on image).
Balcony Scenes for solo violin, by contrast, lies mostly within notated musical norms during its four pieces – each of which, says Hellawell, 'explores a dialogue between lower and upper registers in some way - one voice aloft and the other calling up to the balcony, or the stairs, or the stars…' This aspect arose from the need to introduce registral contrast into the discourse, giving the violin the sense of a 'bass' to offset its celebrated upper echelons. The most extreme register contrast comes in the section 'Bicinium I', whose slow chorale is intercut with twittering fragmentary sounds from the violin's highest register – 'as if two simultaneous, unrelated musics, one terrestrial and the other definitely not, are alternately audible.' Violinist Fenella Humphreys workshopped and premiered Balcony Scenes over three days of a residency with three composers at The Maltings, Snape, hosted by Aldeburgh Music (see clip below); she records these works in November 2014, touring them over the coming seasons. She gives the local premiere of Balcony Scenes in Queen's on Thursday 18th December 2014.
The October 2014 edition Tempo (no.270) carries a new article on Piers Hellawell's work: the full article can be read at http://www.piershellawell.com/interview.pdf