‌My name is Katie Fusco and I went to Ballynahinch High School. My favourite subject at school was Music and IT. I didn't do very well on my GCSE's and School really was not my favourite place due to being bullied, it had a big effect on my confidence. I have an identical twin at college, but she is doing a child care course.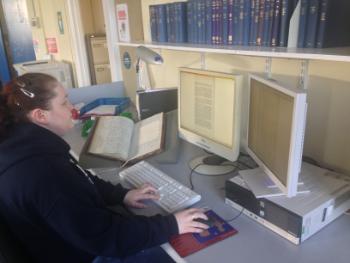 I heard about Hugh J O'Boyle for the first time when one of the Directors came to my school to give us a talk about the college and the courses available. I was impressed and started Hugh J O'Boyle where I was then placed on work placement with The Centre for Data Digitisation and Analysis, Queen's University Belfast. I have been at placement with CDDA for 2 years and have really enjoyed the experience. At college I have completed my ICT National Vocational Qualification Level 1 and am working towards my Level 2, I have also achieved Level 1 in Maths and English. CDDA has also paid for me to complete my European Computer Driving Licence ECDL, I am confident that these qualifications will help me in my future job searches.
I have learned many new skills working within the unit e.g. using specialised pieces of hardware, Flatbed, Bookpage and Map scanners, using specialised pieces of software, FineReader, Omnipage, and some non-windows based products. I have seen first-hand how difficult it is to capture materials from raw form and make them digital. Whilst being supervised, I have gained experience working on several small projects, one being 'The Nevin Spence Centre' museum at Ravenhill.
Both places have helped improve my skills and confidence the staff are friendly and very supportive. At Hugh J O'Boyle I have worked on my interview skills and also learned a lot about myself in employability. At CDDA I have given PowerPoint presentations to students and staff and been able to see day-to-day how a busy IT unit works.