My name is Steven Archer I studied at Lagan College Integrated secondary school where I worked towards ICT website design, game making, movie making and maths exams. I have received work experience in retail and also got the opportunity to spend a week at a fire station learning how things worked for example what firemen/firemen technicians do day in day out and got to participate in some fireman training programmes such as testing equipment, repairing equipment and putting out fires. I decided not go onto sixth year as I wanted to focus more on IT and was recommended by a teacher to join Belfast Centre of Learning in Belfast.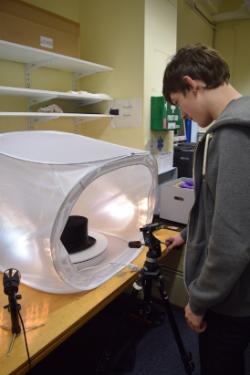 At present I'm studying at Belfast Centre of Learning working towards completion of English, Personal Life Skills and Information Communication Technology (ICT). My core subject is ICT which I enjoy, as I have always had a passion for working with computer hardware and software. I would like to pursue a career within one of these fields in the future and currently I am on work placement at Queen's University Belfast within the Centre for Data and Digitalisation and Analysis (CDDA) who specialise in the digitisation of difficult historical material.
Since stating in CDDA I have learnt a lot of new skills in several different areas starting from scanning material using flatbed, bookpage, microfish, map scanners and digital cameras to a high standard whist not damaging historical or fragile material. I have been trained to bring this into professional software packages including Word, Excel, Finereader and Adobe photoshop to enhance the quality. My favourite project at present is 3D scanning and modelling of historical objects such as WWI military uniforms (3d Technologies) . I have worked on several other projects throughout my time within CDDA which also include transcription of Ulster Museum historical records into digital form.
I am also currently completing my ECDL which the centre is kindly encouraging me to pursue to improve my range of skills and hope this will help pave the way for my future in a computer based environment.