Sequencing of SARS-CoV2 – Uncovering an ever-changing virus
Researchers at Queen's are working as part of the COVID-19 Genomics UK Consortium (COG-UK), which has been backed by a £20 million investment from government to perform whole genome sequencing of the SARS-CoV2 virus.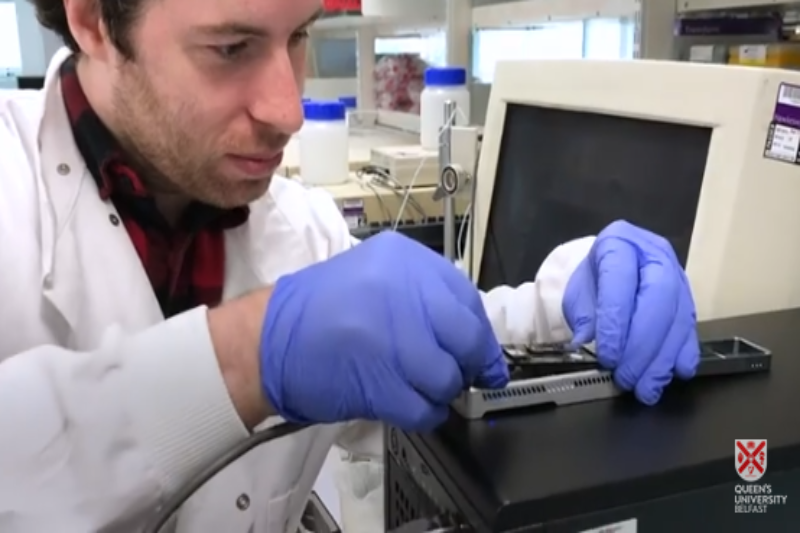 Belfast is one of a network of centres throughout the UK involving academic institutions and public health agencies which has been sequencing samples from local confirmed cases of COVID-19. The Belfast hub is led by Belfast Health and Social Care Trust's Dr Derek Fairley (Regional Virus Laboratory, RVL), Dr Tanya Curran (RVL) and in Queen's University Belfast by Dr David Simpson (the Wellcome-Wolfson Institute for Experimental Medicine (WWIEM)).
Dr David Simpson, WWIEM, explains, "Sequencing the SARS-CoV2 virus that causes COVID-19 is a really important addition to the routine testing used to determine whether the virus is present. The virus changes or 'mutates' over time and we can use these changes in the DNA sequence to build up a 'family tree' that indicates how the isolates from different COVID-19 patients are related to each other. This information can then be used to track the spread of the virus through the community and guide development of vaccines and therapies.
We are working with samples at a local level and then feeding our results into the Consortium each week. By pinpointing specific genetic changes, we can identify new clusters and chains of infection. The results will support track and trace, which will be key in the recovery phase."
Of almost 30,000 UK SARS-CoV2 virus sequences released by the Consortium to date, 486 are from Northern Ireland. Many viral lineages that became common on the mainland and subsequently declined have been identified through the whole genome sequencing effort. While some of these more common viral lineages have also been identified in Northern Ireland (NI), Dr Simpson and the team have also identified several lineages found almost exclusively in NI. The Centre for Genomic Pathogen Surveillance maintain a website which shows the lineages circulating in the UK. As a fuller picture of the genetic makeup of the virus in NI is developed, it will be easier to track new lineages.
Dr Simpson's team use the latest long read 'nanopore' technology to sequence samples more quickly than conventional approaches. Samples can be processed in batches of 24 or individually for even more rapid results. This enhanced turnaround time will be valuable in combatting any second peak of infections.
Sequencing COVID-19
Watch Dr David Simpson explain how Derek Fairley and Dr Thomas Thompson process COVID-19 samples for sequencing at the WWIEM.
The Wellcome-Wolfson Institute for Experimental Medicine (WWIEM)