Stakeholder Evaluation of Planning Project - Have Your Say
This project is designed to explore:
Experiences of stakeholder engagement in the planning systems of Northern Ireland, the Republic of Ireland and Wales;
Views of these planning systems in relation to the public interest and related issues;
Changes in perceptions, based on a survey of a comparable stakeholder population in Northern Ireland, carried out in 2011;
Perceived relationships between various stakeholders;
Priorities for reform or change.
PLEASE TAKE PART IN THE SURVEY THROUGH ONE OF THE FOLLOWING LINKS
Select the jurisdiction in which you are a planning stakeholder:
Northern Ireland Republic of Ireland Wales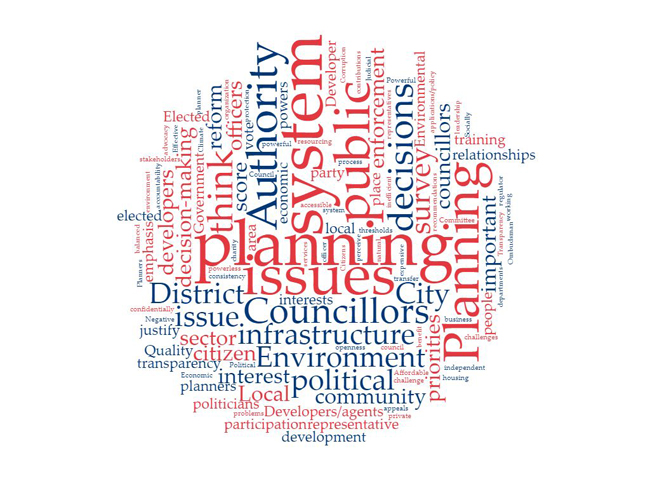 The survey is open from 26th June to 30 September 2019.
Outputs
The research is designed to not only contribute to the development of academic research into planning theory and evaluation, but also to directly inform the discussion, design and delivery of planning policy and the governance, resourcing and regulation of development. A report of our findings will be published in early 2020.
Contact details:
The survey is a collaborative project involving academics from the School of Natural and Built Environment at Queen's University Belfast, the School of Geography and Planning at Cardiff University and the School of Management at Cardiff Metropolitan University: Dr Jenny Crawford, Prof Geraint Ellis, Dr Linda Fox-Rogers, Dr Selyf Morgan, Dr Francesca Sartorio and Ms Amanda Scarfi.
If you would like any further information, please contact:
Stakeholder Evaluation of Planning Project
School of the Natural and Built Environment c/o Dr Jenny Crawford
Queen's University Belfast
David Keir Building
Belfast
BT9 6AX
Email: e.crawford@qub.ac.uk / l.fox-rogers@qub.ac.uk