Athena Swan renewal puts Biological Sciences in Top 1.5% of UK university depts. for gender equality
The School of Biological Sciences has renewed its Athena Swan Gold Award - making it a third, consecutive Gold for the School.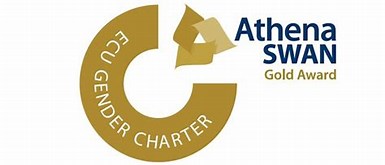 Only 12 departmental Golds are currently awarded across UK universities and there is only one other departmental Gold (School of Psychology) at Queen's.
This puts the School of Biological Sciences in the Top 1.5% for gender equality in UK university schools.
The Athena SWAN Charter recognises commitment shown by the higher-education sector to advancing gender equality.
Queen's currently holds an institutional-level Silver Award and the latest round brings the University's departmental awards to a total of two Gold, seven Silver and six Bronze awards.
In this latest cycle, Queen's Management School was successful in its application for an Athena SWAN Bronze Award, while the School of Biological Sciences renewed its Gold Award, and the School of Mechanical and Aerospace Engineering, School of Electronics, Electrical Engineering and Computer Science, and the School of Medicine, Dentistry and Biomedical Sciences renewed their Silver Awards.
Dr Edel Hyland, Swan Champion for the School of Biological Sciences, said: "Achieving Athena SWAN gold underscores the commitment the School of Biological Science management has towards equality, diversity and inclusivity. Since our last SWAN award, our actions have led to a marked increased in the number of females at all academic levels and we have impressively gone from 2 to 10 female professors.

"But more than that, the success of SWAN within our school is a reflection of people's willingness to engage with the process, and to support the SWAN self-assessment team. Over time I believe more people have become aware that by promoting the SWAN agenda, everyone, regardless of what category they belong to in the school, benefits from the outcomes of our work.

"The school as a whole should be very proud of this achievement and strive not only maintain this high standard in fairness and equality, but to keep reaching higher."

Head of the School of Biological Sciences, Professor Geoff McMullan said: "We are striving to develop a working environment that recognises the values and talents of all.

"I hope this latest recognition will spur us on to even greater achievements in research and education so that our School and research institute IGFS continue to be workplaces with high levels of career satisfaction and to which all staff - whether academic, research, clerical, technical or professional - are proud to belong."
Commenting on the success of Queen's as a whole in the latest round of Athena Swan awards, Professor Karen McCloskey, Director of Queen's Gender Initiative, said: "Congratulations to all colleagues who have contributed towards our four Athena SWAN Gold and Silver Award renewals and, of course, to colleagues in the School of Management who have now secured a Bronze Award. We all have a role to play in advancing gender equality and I am delighted to see colleagues driving this agenda in their academic areas and achieving this important recognition of their efforts."