Offer Holders Event 2020
Offer holders for the undergraduate programmes are invited to attend a virtual offer holders event on Friday 29th May 2020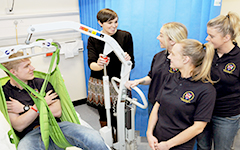 How to use this event
First, watch the information videos. We have posted up videos onto our YouTube channel. There is one for each field, and a few about the school that will give you a feel for what we're all about. Watch them all, or pick the subjects you're holding offers for – it's up to you. You'll find them all here
Then come and join us for chats. There will be 40 minute chat sessions throughout the day when you can meet staff and students and find out more about how this all works. There are 2-3 sessions for each subject, so don't worry if you can't get into one session – just try again later. People may also choose to drop in and out of sessions so spaces can become free if you hang on.
Not only will there be chats for each of the courses, but there will be chats for Accommodation, Finance, Sport and Childcare, and you'll be able to chat with Admissions if you have any queries about your qualifications or your offer. Come and meet the Student Societies and find out what they do as well – we have a Midwifery Society, a Nursing Society and a Men of Nursing society, who all form a great part of school life.
Our QUBSU Finance Adviser, Debbie Forsey, will be hosting two chats at 11am and 2pm, and will let people in one at a time to discuss their personal situation. You will have to queue for this one!
The timetable of the event and how to access the chats is below.
Privacy:
To facilitate this event the University is utilising the collaboration tool Zoom. Please take some time to read through their privacy policy available online here https://zoom.us/privacy. If you have any questions or concerns in relation to your privacy please contact our Data Protection Officer at info.compliance@qub.ac.uk
Timetable of events: