Professional hierarchies have no place in clinical practice
Professional hierarchies have no place in clinical practice: Gosport must draw the line under them for good – Queen's University Professor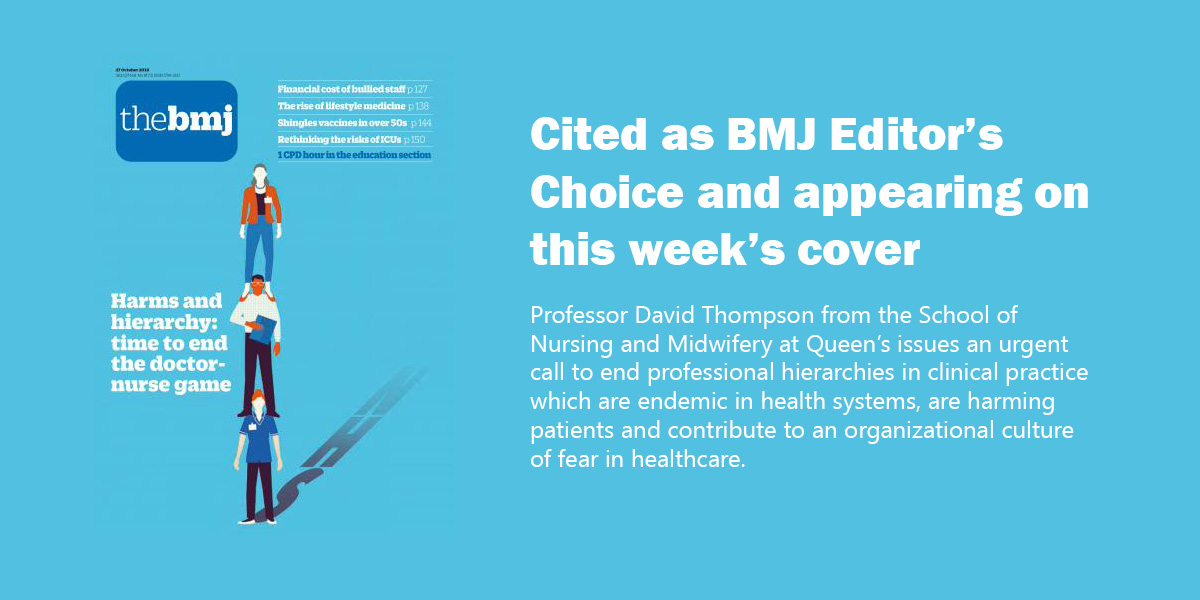 On the front cover of the recent publication of British Medical Journal (BMJ), Professor David Thompson from the School of Nursing and Midwifery at Queen's University Belfast has appealed for the end of the Doctor – Nurse Game.
Professor Thompson said "Professional hierarchies appear to be endemic in health systems, but we have now got strong evidence that they harm patients and contribute to an organizational culture of fear in healthcare". As a nurse who has held leadership roles for more than thirty years, Professor Thompson cites the recent report into deaths at Gosport War Memorial Hospital, where around 600 people received fatal doses of opioids and where there appeared to be a culture of uncritical deference to doctors by nurses and a fear of raising concerns with managers.
Professor Thompson continued: "Subservience and deference are not benign traits or signs of a good nurse, in fact we can see that they contribute to a culture that is killing patients, with professionals fearing dire consequences if they question or challenge colleagues in terms of their practice or behaviour."
There are good ways to challenge that culture, and Thompson suggests that an environment of interprofessional education builds the team approach that could demolish these hierarchies. Professor Pascal McKeown, Head of the School of Medicine, Dentistry & Biomedical Sciences at Queen's University, is very supportive of this approach to delivery of healthcare education: "Cognisant that healthcare is delivered by multi-professional teams, we now ensure that professional practice, leadership and teamwork are embedded as core elements in our undergraduate and postgraduate programmes."
The BMJ paper by Thompson suggests that strong leadership is required to create a safe, open, questioning healthcare organisations. Professor Donna Fitzsimons Head of Nursing & Midwifery at Queen's University added: "The new Simulation Centre being developed at Queen's will help to imbed such a culture at a formative stage of development between doctors, nurses, and allied professionals.
"It gives us the opportunity to cultivate far more than clinical skills in our students. By learning together in a realistic clinical environment they will develop the leadership and autonomy that characterises professional practice. This BMJ paper demonstrates that healthcare needs nurses and doctors willing to challenge poor practice and stand up for patients to ensure these scandals are a thing of the past. At Queen's we take that responsibility seriously."
You can access this essay from here - Click Here
You can also read an accompanying editorial by Navjoyt Ladher - Click Here