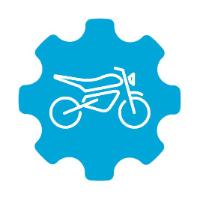 STABLE (Slashing Two-wheeled Accidents By Leveraging Eyecare) aims to combat Vietnam's twin epidemics of uncorrected shortsightedness and motorcycle crashes in the young. STABLE stands for Slashing Two-wheeled Accidents by Leverageing Eyecare. STABLE is the first ever trial to examine how vision interventions could improve road safety in low and middle-income countries (LMICs) In developed countries, driving safety regulations restrict the majority of people with a vision impairment from driving. There is however a strong association between vision impairment and road crashes in LMICs, and many studies document the large number of vision-impaired drivers on the road in thse settings.
With $2.3 million in funding, the STABLE trials will examine the impact of glasses for short-sighted drivers on reducing motorcycle crashes in Vietnam. The leading cause of death globally between the ages of five to 29 years old is road injuries, and 90 percent of these deaths occur in LMICs. Fully 50 percent of all motorcycle deaths in the world occur in South-East Asia, and in Vietnam, 90 percent of households use motorcycles as their primary mode of transport. Research shows that at least 20 percent of university students in Vietnam have poor vision due to inadequately-treated short-sightedness.
STABLE aims to reduce motorcycle crashes linked to poor vision by delivering a simple pair of glasses and tracking motorcyclists using the latest on-bike technology. Simple eyecare and safer roads for all Vietnamese citizens take us closer to achieving the United Nation's Sustainable Development Goals. The research has the potential to influence local and international policy and make real change that saves lives.
You can download the STABLE trial summary and the ENGINE Slide Deck about the Project in detail.
Trial registration number: NCT05466955 at ClinicalTrials.gov