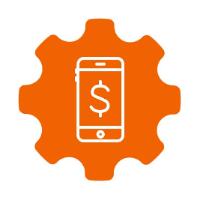 THRIFT (Transforming Households with Refraction and Innovative Financial Technology) capitalises on the Bangladesh government's plan to digitise all social safety net payments to the elderly by providing free glasses and training to help older adults use smartphones and improve their financial independence.
THRIFT stands for Transforming Households through Refraction and Innovative Financial Technology.
Our research shows that 75 percent of potential recipients of old-age social safety net payments in Bangladesh cannot use a smart phone due to vision problems. The idea behind THRIFT is simply to provide glasses and basic smartphone training to elderly recipients of old age payments in Bangladesh. The trial will then compare the financial independence of people who receive a smartphone alongside glasses and training with a control group who receive a smartphone alone.
The study also tests the hypothesis that, by improving access to online banking, participants will experience improvements in many areas of their life, including food security, COVID-safe behaviours, and financial security. The ultimate aim of the programme is for vision care to be included as an integral part when Bangladesh's innovative program of online banking for the elderly is reolicated throughout the world.
You can download the THRIFT brochure and the ENGINE Slide Deck read about the Project in detail.
Trial registration number: NCT05510687 at ClinicalTrials.gov