Choosing to study at Queen's could be one of the best decisions you make. We're a Russell Group university that prioritises academic excellence, meaning a relevant and valuable degree for you.
We offer 200+ degree options across all fields of study.
Making your decision?
Explore every aspect of Queen's through our recent virtual talks and tours. Gain an insight into life at Queen's plus useful advice.
How to Apply
Join a webinar, or chat online with us - we'll help you prepare for applying to Queen's by the 29 January UCAS deadline.
MOST AFFORDABLE PLACE TO BE A STUDENT
Northern Ireland has the lowest student cost of living in the UK (Which? University, 2018)
Start something amazing
Northern Ireland is the happiest place in the UK (Lloyds Bank Happiness Index, 2020)
ENHANCE YOUR CAREER PROSPECTS
96% of Queen's graduates are in employment or further study 6 months after graduation (HESA Destination of Leavers from Higher Education Survey, 2016/17)
An amazing place to live
Belfast is in the safest region in the UK (British Crime Surveys, 2018/19)
A UNIQUE LOCATION, THAT'S CLOSER THAN YOU THINK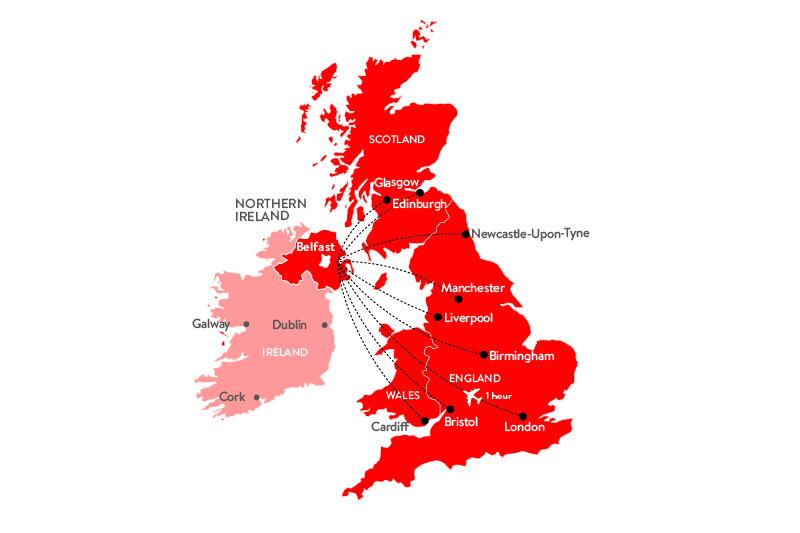 Belfast - Northern Ireland's capital city
Belfast is connected to the rest of the UK, Ireland and Europe by sea, road, and air.
Key information:
58 direct flight destinations from Belfast to the UK, Europe and the USA
99 cross-channel sailings each week
2 airports in Belfast
Dublin airport is just 90 minutes away
Don't let travelling put you off, once you get here Belfast has the lowest cost of living in the UK (Which? University, 2018).
Belfast is a compact city that is really easy to get around on foot. If you need to take public transport, the metro bus stops right outside Queen's main building.