Visit Northern Ireland
Belfast (www.visitbelfast.com) is the capital of Northern Ireland (www.discovernorthernireland.com), famous for being the birth place of the Titanic and more recently the location of The Game of Thrones film studios. The region is famous for its stunning coastal scenery and attractions such as the Giant's Causeway and Dunluce Castle, all easily accessible from Belfast. It has been rated as the number one region in the world to visit in 2018 by Lonely Planet.
Notable attractions
Some notable attractions include Giant's Causeway - 60 million years of history, The Titanic Museum, Carrick-a-rede Rope Bridge, Bushmills Distillery (1608) – the world's oldest distillery, The landscapes that have been used as the backdrop for HBO's Game of Thrones TV series, Famous locals (Seamus Heaney, C.S Lewis, Van Morrison, George Best, Rory McElroy), Dunluce Castle - once owned by Winston Churchill, The Crown Bar – a Victorian gin palace dating back to 1826, Marble Arch Caves Global Geopark – UNESCO World Heritage site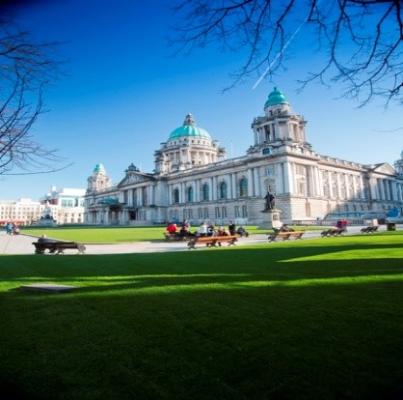 Belfast City Hall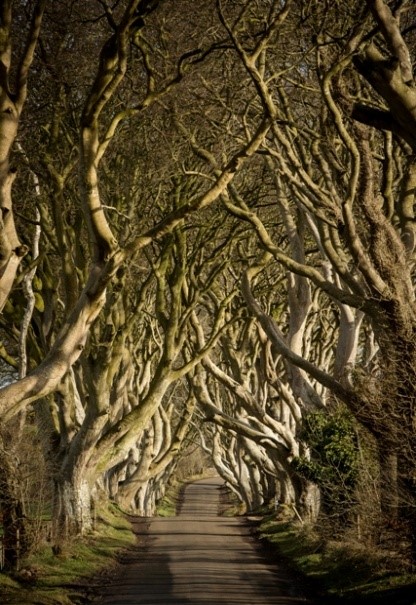 The Dark Hedges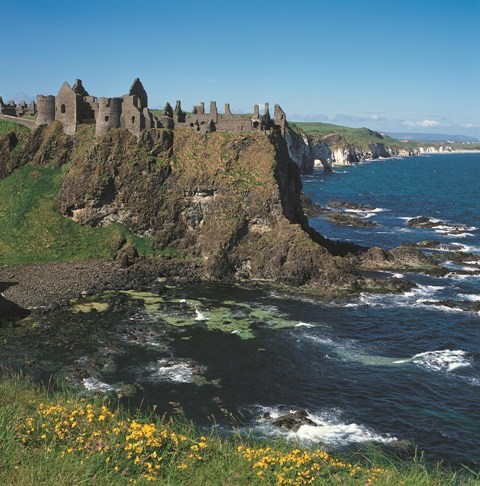 The North Coast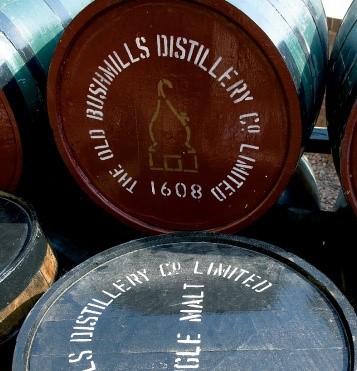 Bushmills Distillery
Travelling to Belfast
Travel to and from Belfast is remarkably easy and efficient. There are many inexpensive flights connecting Belfast with most major UK cities, especially London and a range of European cities. There are also extensive ferry, bus and train connections.
Air
There are two airports serving Belfast:
George Best Belfast City Airport is just two miles from the city centre, served by a frequent Ulsterbus Airport Express 600 bus service to the city centre and its main bus and rail stations.
Belfast International Airport is nineteen miles from Belfast at Aldergrove. The Ulsterbus Airport Expres 300 service connects with the city centre.
Additionally, Dublin International Airport, located approximately 100 miles to the south, provides connections to airports throughout Europe and further afield. The Ulsterbus Goldline Express 200 service travels between Belfast and the airport, with a journey time of a little over two hours.
Sea
Fast ferry services including Stena Line and P&O Ferries make multiple daily crossings from Northern Ireland to ports in Scotland and England:
Belfast Port is located approximately one mile from the city centre and can be reached by bus, taxi or on foot.
Larne Port lies approximately 20 miles east of Belfast, with bus and rail connections.
Coach
The following companies provide long-distance services to Belfast, including cross-channel routes and Belfast-Dublin:
Rail
Rail connections are available from both the UK and Dublin.
Road
Within Northern Ireland, the road network is good. Motorway sections leave Belfast to the north (M2), the west (M1) and the east (M3). A city ring road, the Westlink makes it easy to navigate Belfast's traffic system. A good road link connects Belfast with Dublin in the Irish Republic to the south.
The main campus is easily and quickly reached from the city centre. View maps of Belfast and the surrounding area.
Bus
Local bus services within Belfast are provided by Translink Metro services. Long-distance express services across Northern Ireland are operated by Translink Ulsterbus.
Note: All Northern Ireland bus and rail services (NI Railways, Ulsterbus and Metro) are operated by Translink. For all timetable enquiries and further travel information phone 028 90 66 66 30 (7am-8pm weekdays, Sat-Sun 8am-6pm) or view timetables and/or the journey planner.
Taxi
Taxis are relatively cheap and easily available. Black taxis opperate at most airports and railway stations, private taxis are waiting at airports and railways too but can also be hired and prebooked by phone. Many buildings will have a taxi free phone to use to book a taxi otherwise the main taxi numbers are 02890 809080 and 02890 333333. All taxis have meter's which will calculate the cost of your journey, some taxi's can even accept credit/debit card payments.
Bicycle
The University campus is easily reached from the city centre (1.5 km) and most student accommodation including the Queen's Elms Village.
Bringing a bicycle on public transport: all ferries accept bicycles, usually free of charge. Train services will only accept up to 4 bicycles free of charge as long as they are contained in the designated bicycle area. Bicycles are not permitted on trains Monday to Friday before 09.30. Coach services are generally less willing to carry bicycles, although it is often discretionary; check first. The policy of airlines varies a lot, so again enquire before travelling.
The road system can be busy in and around Belfast, although pleasant cycling can be found on the Lagan Towpath (to Lisburn) and in the surrounding countryside.
Bicycle hire is available in Belfast - check with the Northern Ireland Tourist Board.
Foot
A fifteen-minute walk from the city centre brings you to the University campus.
Parking at the University
Parking space at the University is limited and at a premium. It is advisable to make alternative arrangements or find on-street parking in the local area. However, if you require access to the campus by car because of a mobility restriction or disability, please contact the disability services officer in advance of your visit to arrange access.
Other Useful Links