Life after prostate cancer diagnosis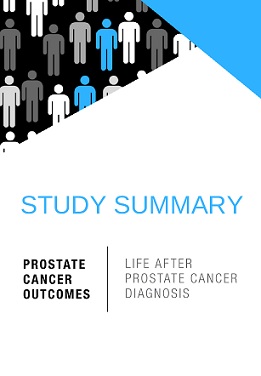 Life after prostate cancer diagnosis
Prostate cancer is the most common cancer in men in the United Kingdom, however, the treatments given can impact on the men's quality of life and also the quality of life of their partners/spouses. This project aims to find out what effect prostate cancer has had on men's physical, emotional and social wellbeing, as well as exploring the impact on their families. The combined results will lead to a detailed picture of what life is like for men with prostate cancer across the UK. Information will be gained on how circumstances can change over time, what helps the men cope with any problems and what gaps there are in support and care services.
Patients will be asked a range of questions on generic, cancer specific and prostate cancer specific patient reported outcome measures. The topics covered will include urinary and bowel functioning, sexual functioning, psychological and social well-being as well as physical social and financial concerns.
The English arm of the investigation is due to start July 2015 and it is hoped that Northern Ireland, Scotland and Wales will begin to issue questionnaires in Jan/Feb 2016 to men diagnosed between 1st November 2012 and 31st October 2014. In order to track changes over time, the men surveyed in Jan/Feb 2016 will be resurveyed in Jan/Feb 2017. A further separate cohort of men diagnosed between 1st November 2014 and 31st October 2015 will also be surveyed; this separate cohort will be used to monitor service changes over time.
A normative study is also going to be carried out in Northern Ireland, this is to allow the hypothesis testing that significant differences in health outcomes in prostate cancer patients exist when compared to the general population. Individuals in the normative study will be aged matched within a 5 year band, and also matched on socio-economic quintile to those on the LAPCD.
Ethical approval has been granted for the English arm of the investigation, whilst ethical approval is currently being sought for the normative study and the devolved nations arm.
Below is a link to a webinar presentation which was given by Dr Anna Gavin and Dr Therese Kearney via Prostate Cancer UK in June of 2015. The webinar discusses some of the results from the All Ireland patient reported outcomes study on men with prostate cancer (2010-2013) and also gives an overview of the planned research within the Life After Prostate Cancer Diagnosis Study (2014-2017).
Project objectives
To provide information on urinary, bowel and sexual problems among older men from Northern Ireland (NI). This will aid service provision within the NI population for general health purposes. It
will also provide data that allows direct comparison of the frequency of these conditions experienced by the general population with that experienced by prostate cancer survivors; an important comparison when evaluating the impact of specific treatments on quality of life.
What we did
A survey of 10,000 older men was conducted in NI by post during September and October 2016. These men were asked a range of questions on their general health as well as specific questions
relating to urinary, bowel and sexual problems. Further information on the characteristics of these men was asked such as age, marital status, employment status, height, weight, physical activity level and whether they experienced a range of specific long-term medical conditions (e.g. heart condition, high blood pressure, diabetes). Using this data we report on the frequency of urinary, bowel and sexual problems in the NI population and investigate how these conditions vary by the attributes of older men.
Our results
One in three men aged 60 and over reported sexual problems to a moderate or big degree, while one in eleven reported urinary problems, and one in fourteen reported bowel problems. In all, two out of five men reported at least one of these problems and one in fifty reported all three. These problems were associated with increasing number of long-term medical conditions, low physical activity levels, higher body mass index (BMI) and unemployment. Urinary and sexual problems also increased with increasing age. On a scale of 0 to 100, where 100 is the best possible health, men reported an average score of 77. Health declined with a range of factors: increasing age, living in deprived or urban areas, unemployment, and greater number of long-term medical conditions, obesity and lack of physical activity. Men reporting urinary, bowel and/or sexual problems were also more likely to report poorer general health.
Conclusions and implications for service improvement
These data provide an insight into sensitive issues seldom reported by elderly men, but could be addressed given adequate service provision.
The relationship between urinary, bowel and sexual problems, raised BMI and low physical activity offers the prospect of additional health gain by addressing public health issues such as obesity. The results also illustrate that these problems
are not uncommon among the older male population.
This will facilitate better understanding of the impact of surgery, radiotherapy and hormone therapy on the quality of life of prostate cancer survivors and help redress any overvaluation of the potential side effects of these treatments.
For more information about the likely effects of treaments for prostate cancer based on the Life after Prostate Cancer Diagnosis Study please click here. To access the Life After Prostate Cancer Diagnosis website please click here.
To download the LAPCD Study Summary click here.
Some members of the LAPD Research Team
Conan Donnelly
David Donnely
Therese Kearney
Anna Gavin