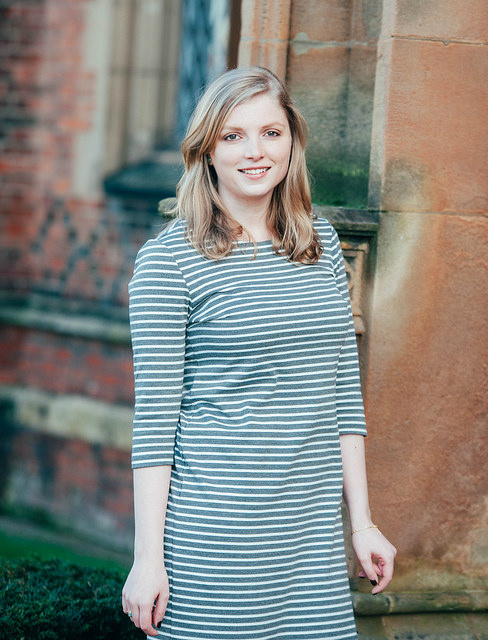 ‌Research Theme: Maternal & Child Health
Research Title: A Music-based Intervention to Reduce Stress in Pregnant Women
Research Interests: Women's health, maternal health, mental health and health behaviour change.
Supervisors: Dr Fiona Lynn, Dr Jennifer McNeill, Prof Fiona Alderdice
Email: kcorbijnvanwillenswaard01@qub.ac.uk
Twitter: @KyrstenCorbijn
Personal Bio
I moved from the Netherlands to Scotland in 2009 to start my undergraduate degree in Psychology at the University of Aberdeen. During this time I realised that I enjoyed health-related research, and decided to do an MSc in Public Health & Health Services Research at Newcastle University. Although I've always been interested in women's health it was my dissertation in maternal obesity that made me realise that maternal health was what I wanted to research. I started my PhD at the School of Nursing & Midwifery in October 2013.
Project Summary
Stress in pregnancy has been shown to have adverse effects on the health of both mother and infant. There is a growing body of evidence in healthcare settings supporting the use of music to promote a sense of wellbeing. Using mixed methods I hope to design an intervention by finding out what is wanted/needed from an intervention and the best outcome measurement tools to assess levels of stress. A music-based intervention can potentially be a low-cost, and easily accessible way to improve the mental well-being of pregnant women.
My Perfect PhD Day
When I go home at the end of the day feeling like I've achieved everything I wanted to.
Other Activities
Student member of the School of Nursing & Midwifery Research Ethics Committee
When I'm not PhDing…
I'm (trying) to learn a new language
Conferences & Publications
Corbijn van Willenswaard, K.; Lynn, F.; McNeill, J.; McQueen, K.; Dennis, C-L.; Lobel, M.; Alderdice, F. (2015, 15th September). A systematic review of non-pharmacological interventions to reduce stress in pregnant women. Oral presentation at the 35th Annual Society for Reproductive Infant Psychology (SRIP) conference, Nottingham, UK.